HTC One M8 Android 4.4.3 KitKat Update Continues
The HTC One M8 Android 4.4.3 KitKat updates continue to arrive for U.S. users this month, as one more carrier has joined T-Mobile and Sprint. While most manufacturers are busy pushing their devices to the latest Android 4.4.4 KitKat, HTC is delivering 4.4.3 to its latest flagship smartphone.
June was a busy month for Google, who released three versions of Android. An update from Android 4.4.2 to 4.4.3, then a few weeks later to Android 4.4.4 which fixed a few problems and security concerns. Then at Google I/O they revealed Android L, which will be coming this fall as Android 4.5 or 5.0.
Read: LG G3 vs HTC One M8: What Buyers Need to Know
Lately we've seen Motorola update many of its devices to Android 4.4.4 KitKat, and Samsung's still busy catching up with KitKat updates too. However, HTC chose not to go to 4.4.4 and instead said they added the security changes to Android 4.4.3, and are rolling that out to all users.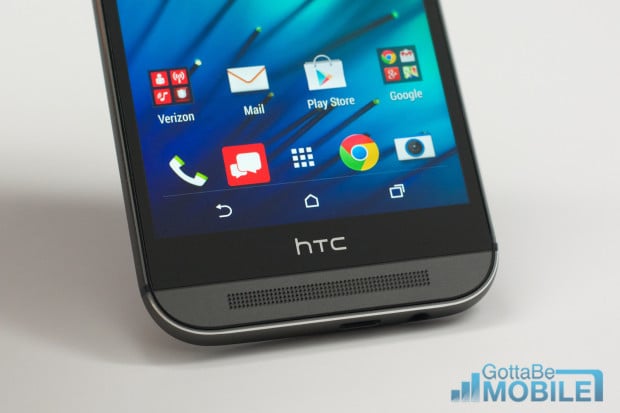 Android 4.4.4 KitKat updates deliver Android 4.4.3′s bug fixes, enhancements and the patch for the OpenSSL issue, but those have all been fixed by HTC as they continue to deliver the 4.4.3 update to many of their popular smartphones.
Earlier this summer the HTC One M8 Android 4.4.3 KitKat update arrived for both Sprint and T-Mobile owners, and today the same treat is starting to show up for those on AT&T. The changelog is quite long, and this is fixing more than just a few bugs, so it's certainly something owners will want to be on the lookout for, and accept once it finally arrives.
Read: HTC One M8 Review
The HTC One M8 was announced and released back in March with Android 4.4.2 on board, so this is a pretty big update for those on AT&T. While nothing major will be changing, there are a lot of good tweaks going on under the hood. According to AT&T and HTC the update to Android 4.4.3 KitKat will deliver:
Security fixes
Wi-Fi fixes
Bluetooth fixes
Mobile network fixes
Camera app update
Gallery (Image Match)
Settings (Power History)
HTC Sync Manager
Boomsound optimization
Extreme Power Saving Mode optimization
Motion Launch optimization
Quick Setting optimization
Again, nothing major, but all changes or fixes that should be welcomed by owners. The security patches are important, and WiFi or Bluetooth connections should be stronger and have less tendencies to drop. The same can be said for 4G LTE mobile data. Then of course like the other carriers we're seeing an update and slight redesign to the HTC Sense camera gallery app, settings for power history controls, HTC Sync, and reportedly improved audio with those stunning front facing speakers.
Extreme Power Saving mode is a neat feature of the HTC One that turns the phone into a more traditional dumbphone, in order to get extremely long battery life in case of emergency. This has been improved, as well as tons of other software "optimization" from HTC.
#HTCOneM8 owners on AT&T can start grabbing their 4.4.3 update today! #HTCAdvantage

— Leigh Momii (@jetleigh) August 27, 2014
So when can AT&T HTC One M8 owners expect to see the Android 4.4.3 KitKat update? HTC confirmed the update has started as of this afternoon by posting a quick comment to Twitter, and that means it's officially rolling out.
Most owners can expect to see the over-the-air notification today, or tomorrow, but in some cases these software updates can take upwards of two weeks to arrive for all users. You can also head into settings > about phone > software > and check for updates yourself. As for those on Verizon, we're hearing a mid-September release for the same update, as it's facing a few delays.
We'll be on the lookout for more details, and hopefully this software update fixes problems that have been frustrating many HTC One M8 owners since launch.

As an Amazon Associate I earn from qualifying purchases.