HTC One M8 Android 4.4.4 KitKat Update Continues to Arrive
Yesterday HTC announced on Twitter that more users of the popular HTC One M8 could expect the Android 4.4.4 KitKat update to arrive soon, and today it has started rolling out over the air for more users.
Over the past few months we've seen the HTC One M8 Android 4.4.3 KitKat update arrive for most users in the United States and around the globe, but now the missing HTC One M8 Android 4.4.4 KitKat update is rolling out to multiple carriers, and along with it comes the new Eye software experience and improved camera features.
Read: iPhone 6 vs HTC One M8: What Buyers Need to Know
Most manufacturers have been busy pushing Android 4.4.4 KitKat to devices, but instead HTC opted to add some of those improvements to Android 4.4.3, with no word on an update to 4.4.4 KitKat. That said, rumors swirled last month that they'd changed their minds and would send it out shortly, and that all started earlier this month, and again today with T-Mobile.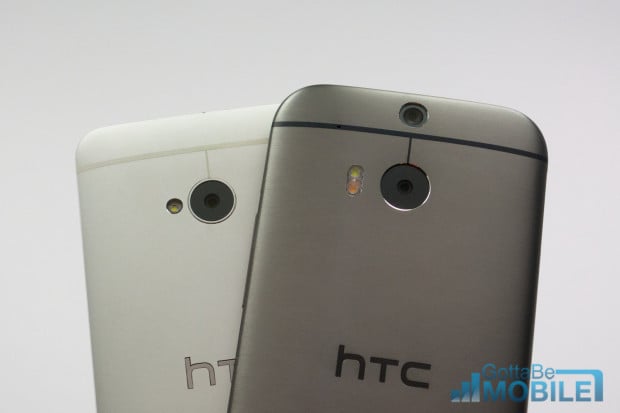 Users with a T-Mobile HTC One M8 can expect the update to Android 4.4.4 KitKat to arrive starting today, and along with it comes a lot of changes. Interestingly enough though, the latest version of Android isn't the important aspect of this update.
While getting Android 4.4.4 KitKat is a great update, and something many users should be excited about, it's the new HTC Eye Experience that's been bundled in the update. This was announced earlier this month by HTC, and it delivers tons of additional functions and features to the already great camera experience. It won't give you more pixels, but it does have a lot to offer.
The T-Mobile HTC One M8 Android 4.4.4 KitKat update is arriving as of today, but it could take upwards of two weeks for it to arrive on all owners handsets.
Read: HTC Android 5.0 Lollipop Update Plans Detailed
So what else is new aside from Android 4.4.4 KitKat? As mentioned above, the entire Eye experience is coming to your smartphone. Below is a screenshot of the changelog, which details tons of the new features. Courtesy of AndroidPolice.
As you can see some of the new features include facial tracking, photo booth where you can merge four photos into a single shot for the best image, voice selfies (yes, because everyone needs more duck faces) face fusion, as well as the new split camera which lets you capture images or video from both the front and rear cameras at the same time.
Of course the facial tracking and split camera features sound best, as being able to merge faces with face fusion may be more of a gimmick than anything else.
This is currently rolling out for the T-Mobile HTC One M8, but other devices and carriers will be delivering something soon to their respective customers in the near future. The changelog states this comes in roughly a little over 255MB in size, meaning owners may want to download and install the latest Android 4.4.4 KitKat HTC One M8 update on a WiFi network, instead of using your data plan.
HTC has promised this update for multiple devices and for all carriers in the United States. Stay tuned as we'll have more details regarding the update, and more carrier rollouts in the near future.

As an Amazon Associate I earn from qualifying purchases.