HTC One M8 Android 4.4.4 KitKat Update Starts Rolling Out
The HTC One M8 Android 4.4.4 KitKat update has been a bit of a mystery, but today we're now starting to see reports that it has finally arrived for select users.
Over the past few months we've seen the HTC One M8 Android 4.4.3 KitKat update arrive for most users in the United States and around the globe, but now the missing HTC One M8 Android 4.4.4 KitKat update is about to start hitting users devices after the company switched plans and decided to push out the update.
Read: iPhone 6 vs HTC One M8: What Buyers Need to Know
Most manufacturers have been busy pushing Android 4.4.4 KitKat to devices, but instead HTC opted to add some of those improvements to Android 4.4.3, with no word on an update to 4.4.4 KitKat. That said, rumors swirled last month that they'd changed their minds and would send it out shortly, and as expected, it's starting to roll out as of this morning.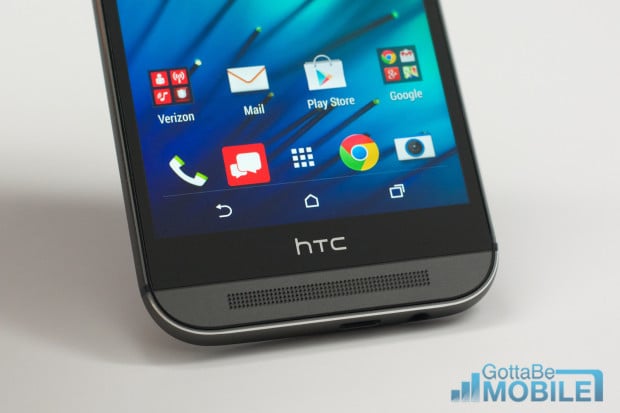 This is a quick change of pace considering just a few months ago HTC stated they would not be updating to Android 4.4.4 KitKat, and instead simply add the changes to the currently under development Android 4.4.3 KitKat update. However, they've made a few changes, and the update started today in Europe, but we've yet to hear of any other regions getting the same treatment.
Android developer @LlabTooFer confirmed things again this afternoon on Twitter, stating that not only is the popular HTC One M8 getting Android 4.4.4 KitKat, but an array of new features announced yesterday by HTC called the "Eye Experience" that delivers tons of new camera features to the smartphone.
Along with changes to Android 4.4.4 KitKat the "Eye Experience" delivers a new auto-selfie mode, voice-activated shutter controls for things like "say cheese", and "take a picture" to name a few. Even more impressive is the ability to take a photo with the front and rear cameras at the same time. Essentially capturing a moment, and the viewer at the same time.
Read: HTC One Max Rumored to Take on iPhone 6 Plus
Users can launch the camera and say "cheese" to take a photo like we mentioned above, or say "action" to instantly start recording video, and even more features can be found on the new HTC Zoe app from the Google Play Store.
New features aside, the update comes in around 252MB in size according to a few reports, so a WiFi connection is suggested for those looking to download and update to the latest version of Android on their HTC One M8.
As for carriers in the United States, no official details have been confirmed thus far, but it's likely all major carriers will push the update out in the coming weeks or months. Sprint ant T-Mobile were first to the previous Android 4.4.3 KitKat release, and we could be seeing the same thing this time around. While most of the Android 4.4.4 changes were delivered in the 4.4.3 KitKat update there isn't too many other new features, but we'll update once a full changelog is made available. Stay tuned for more details.

As an Amazon Associate I earn from qualifying purchases.