HTC One M8 Android 5.0 Lollipop Update Delayed for Some
Over the course of the past few weeks we've started to see the all-important Android 5.0 Lollipop update arrive for an array of devices, and that includes the popular HTC One M8. However, today we received bad news that the update has been pushed back for some, and the Verizon HTC One M8 Android 5.0 Lollipop update won't be here until next month.
This January HTC announced they'd miss the 90 day deadline they set themselves for the HTC One M8 Android 5.0 Lollipop update, but since then we've received plenty of good news and it's now rolling out to many carriers in the United States. It has arrived for Sprint and T-Mobile owners, but those on Verizon will have to wait at least a few more weeks.
Read: HTC One M8 Android 5.0 Lollipop Update: What U.S. Owners Can Expect
Back in October Google announced the Nexus 6, Nexus 9, and a newly improved Android 5.0 Lollipop software update. After the announcement HTC promised many key devices would see updates within 90 days, which was February 3rd for those keeping track. They achieved that goal many regions, but missed the mark in a few areas as well as the entire United States, but the past two weeks it has arrived for many.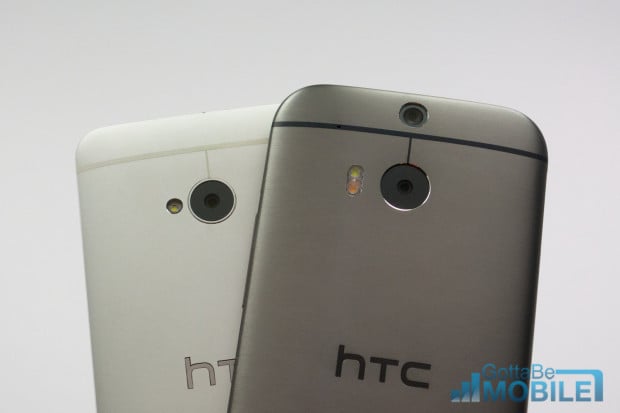 The HTC One M8 Android 5.0 Lollipop update first arrived for the Google Play Edition last year, and then rolled out to a few small select markets, as well as for unlocked international models and the developer HTC One M8 here in the US. Then earlier this month it started hitting T-Mobile devices, as well as throughout Canada.
Today though, the HTC One M8 Android 5.0 Lollipop update news is taking a turn for the worst for many owners, and that is a delay from Verizon Wireless pushing the update back into March, over a month later than the initial promise. HTC is great at keeping users informed on Twitter, and when asked about the Verizon One M8 Android 5.0 update here is what they had to say.
@RyGi2001 it's in the lab, we're expecting approval first week of March.

— Mo Versi (@moversi) February 15, 2015
Mo Versi, a Senior VP of product marketing at HTC who is usually extremely good at answering questions, received one users request for more details about the HTC One M8. Here you can see that the update is currently "in the lab" being tested, and they expect the update to be approved by Verizon and ready to rollout in the first week of March.
That being said, this is just an estimate on when they expect it to be approved, this doesn't mean it will actually arrive for owners that first week. This means the Verizon HTC One M8 Android 5.0 Lollipop update is at least a few more weeks away, if not longer.
With Android 5.0 Lollipop users can expect many changes and improvements. From a redesigned lockscreen, improved notifications and controls, a new notification pull-down bar, improved multi-tasking and more. This is all on top of security enhancements, new animations and effects, and other changes to the general look and feel of Android. Of course this is all covered by the HTC Sense UI interface, which is HTC Sense 6, and a new HTC Sense 7 is expected to debut on the new HTC One M9 in early March.
Read: Android 5.0 vs Android 4.4 KitKat: What's New in Lollipop
We've been receiving good news regarding the Android 5.0 Lollipop update for the HTC One M8 all month long with T-Mobile, Sprint, Canadians carriers and more, but sadly today wasn't what many owners were hoping to hear.
The good news here though, is that Verizon is currently in the testing phase for the update and it shouldn't be much longer of a wait. Yes, longer than expected, but it will be here soon enough for eager HTC One M8 users.

As an Amazon Associate I earn from qualifying purchases.