HTC One M8 Android 5.0 Lollipop Update Hits the US
The highly anticipated HTC One M8 Android 5.0 Lollipop update officially kicked off for owners back in January, and over the past few weeks has continued to arrive for more and more proud owners. It arrived throughout Canada this week, and now today ahead of schedule the first update in the United States has arrived for the Sprint HTC One M8.
Back in October Google announced the Nexus 6, Nexus 9, and a redesigned and improved Android 5.0 Lollipop software update. Shortly thereafter, HTC promised many key devices would see updates within 90 days, which was February 3rd for those keeping track. They achieved that goal many regions, but missed the mark in a few areas as well as the entire United States.
Read: HTC One M8 Android 5.0 Lollipop Update: What U.S. Owners Can Expect
The HTC One M8 Android 5.0 Lollipop update first arrived for the Google Play Edition last year, and then rolled out to a few small select markets, as well as for unlocked international models and the developer HTC One M8 here in the US. Today though, the HTC One M8 Android 5.0 Lollipop update is finally underway in the United States.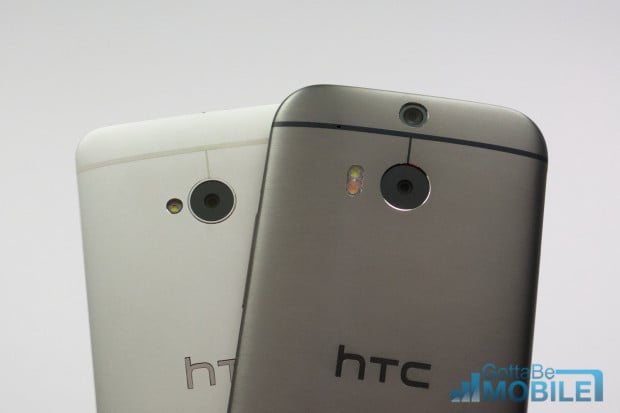 Back in January a few rumors surfaced suggesting the HTC One M8 Android 5.0 update was moving along extremely quick, and that it could arrive within the next 1-2 weeks, well ahead of the February 3rd deadline. That was correct for many regions, but not the United States.
HTC quickly made an announcement confirming they'd miss the February 3rd date and 90 day upgrade timeline, but not by far. They didn't reveal any actual release date plans though, still leaving potential owners in the dark. Then, yesterday a leaked image suggested the Sprint HTC One M8 update would be the first update in the US, kicking off on February 13th.
This morning though, Sprint confirmed the HTC One M8 Android 5.0.1 Lollipop update is starting today, and rolling out to select users as we speak. This is a staged rollout, mind you, so not all HTC One M8 owners will receive it at the same time. That said, most can expect it to arrive today or over the weekend.
Sprint added the update details to its support page, confirming the update is now available and rolling out well ahead of the leaked February 13th date. That same leak suggests the LG G3 Android 5.0 update is coming on the 16th, and that could arrive early as well.
Read: Android 5.0 vs Android 4.4 KitKat: What's New in Lollipop
Earlier this week Sprint kicked off the original HTC One (M7) Android 5.0 update as well, another first in the United States, and appears to be working hard with manufacturers to deliver Google's latest software update as quickly as possible.
This all said, Sprint has only updated the software page for the device, and we've yet to hear an actual confirmation that the update is indeed rolling out today. If you're the owner of a Sprint HTC One M8 head into settings and check for updates. It could start arriving today, this weekend, or finally arrive on the original date that leaked which is February 13th. That's Friday the 13th, so take that as good or bad luck.
This is a good sign that the HTC One M8 Android 5.0 update for the United States is finally here, and likely other carriers will start pushing the update out as well in the coming days or weeks. If any announcements are made, we'll be sure to update with all the details.