HTC One M8 Android 5.0 Lollipop Update Starts Rolling Out
The HTC One M8 Android 5.0 Lollipop update has officially started today after just over two months of waiting since Google first released the software back in November. HTC promised quick and timely updates for many of its smartphones, and today they've started delivering exactly that in the form of the HTC One M8 Android 5.0.1 Lollipop update for unlocked and developer devices.
Back in October Google announced the new Nexus 6, Nexus 9, and the completely redesigned and improved Android 5.0 Lollipop update. A few days later, HTC promised many key devices would see updates within 90 days, which is February 3rd for those keeping track, and now they're happy to announce they've beat that mark by a few weeks.
Read: HTC One Android 5.0 Update: What You Need to Know
Owners of the HTC One M8 that purchased either the unlocked model or the developer edition can expect an update to Android 5.0.1 Lollipop starting tonight, and we're already getting reports of users receiving the over the air update as of early this morning. Read on for more details.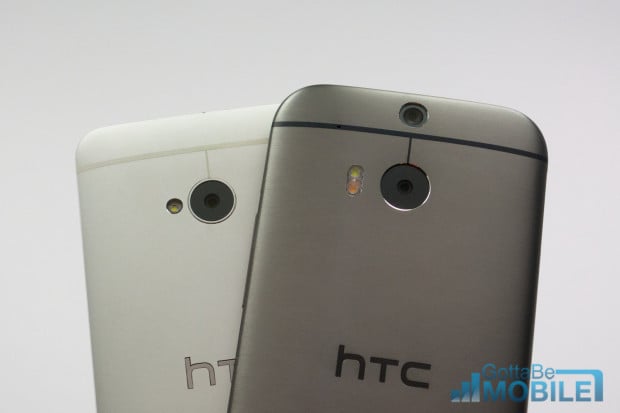 In November the first HTC One and HTC One M8 Android 5.0 updates arrived for those with the Google Play Edition HTC One or One M8, and after a few delays they received the latest Android 5.0.1 Lollipop well ahead of most Nexus devices. HTC has done an excellent job with updates, as well as an outstanding job at keeping users up to date on Twitter.
Last week a few rumors popped up suggesting the HTC One M8 Android 5.0 update was moving along extremely quick, and that it could arrive within the next 1-2 weeks, well ahead of the November 3rd deadline. It looks like the popular developer LlabTooFer was right, because today HTC confirmed the good news themselves.
HTC One (M8) Unlock and Dev Owners! We have received TA from Google on Lollipop + Sense 6. OTA will be out starting tonight. #HTCAdvantage

— Mo Versi (@moversi) January 13, 2015
Today Mo Versi, HTC's VP of product marketing took to Twitter like he's been doing for months and months, and shared the good news you see above. Confirming the HTC One M8 Unlocked and Developer Edition smartphones will start getting the Android 5.0.1 Lollipop update tonight.
Confirming both Android 5.0 Lollipop and HTC Sense 6 will arrive, and ends it with the #HTCAdvantage hashtag, as HTC is claiming one advantage to buying their phones are quick updates. The company wasn't the best with updates a few years ago, but have become one of the quickest manufacturers to update its devices as of late.
Now that the news is official we're already starting to receive tips and details about the HTC One M8 Android 5.0 Lollipop update. In fact, the image below is from one lucky user with an unlocked HTC One M8 that already received the update this afternoon.
However, this update is only for the unlocked and developer HTC One M8 units. This means that those in the United States with a handset from any of the major carriers, the update isn't coming just yet. HTC will need to send the Android 5.0 Lollipop update to Verizon, AT&T, and the other carriers offering the HTC One M8 and let them test it and give approval as well, and then we can expect the update to begin.
If previous updates are anything to go by, HTC is most likely finishing the updates for all carriers right now as well, which usually take an additional 4-6 weeks to be approved by each individual carriers. We can't confirm if they've already started testing, but if not, owners with a carrier HTC One M8 can expect Android 5.0 Lollipop in the next 4-6 weeks.
For now we have no additional details regarding the HTC One M8 Android 5.0 update for regular users, but if you have the unlocked or developer edition go check for updates, as Android 5.0.1 should be ready and waiting.

As an Amazon Associate I earn from qualifying purchases.