HTC One M8 Android 5.0 Update Release Rumored
In November following the global release date of Android 5.0 Lollipop by Google, HTC and many manufacturers promised quick Android 5.0 Lollipop update for many key smartphones. Among those promises was the HTC One M8 Android 5.0 update within 90 days of November 3rd.
Quickly after Google released Android 5.0 Lollipop running on the new Nexus 6 and Nexus 9, we begun seeing software testing and updates by HTC for Google Play Edition phones, and now it looks like more HTC owners are about to get the much anticipated Android 5.0 update.
Read: HTC One Android 5.0 Update: What You Need to Know
A few weeks after the initial release, Google started pushing the Nexus 6 Android 5.0.1 update to users. The Android 5.0.1 update comes just a few weeks after Google's initial Lollipop release, aimed at fixing a few small problems with the initial software rollout last month. This same update is headed to all devices, including the HTC One and HTC One M8. And now today new rumors have surfaced suggesting it's coming in 1-2 weeks.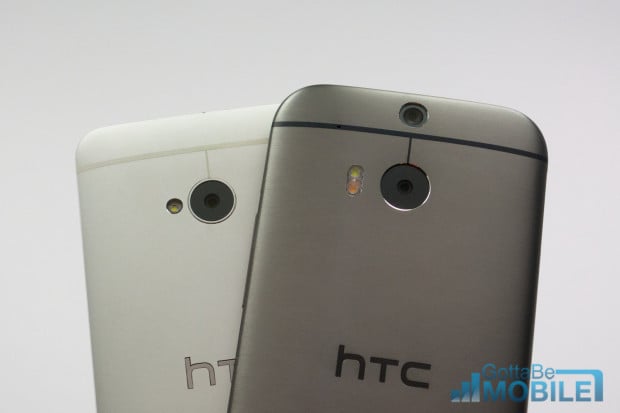 We've seen some leaked images of Android 5.0 Lollipop and Sense running on the HTC One M8, and a few sites have reported the update could actually arrive much sooner than the 90 day window initially outlined by HTC. If that 90 day window is accurate, the update should start rolling out by February 3rd.
Today popular developer and HTC user @LlabTooFer posted some details to Twitter, which are usually accurate from his sources, and revealed some key details about the HTC One M8 Android 5.0 update that should have owners excited.
According to his sources the HTC One M8 Android 5.0 Lollipop update is moving along quickly, and if we're reading his Tweet right it should be approved and start rolling out to to owners in the next 1-2 weeks, beating the February 3rd window by a few weeks.
Latest news from HTC kitchen. Final M8 Android L (WWE EU) build should be in range 4.16.401.x… ETA – 1-2 weeks…

— LlabTooFeR (@LlabTooFeR) January 7, 2015
Above are a few of the details he was able to report, mentioning the EU (European model) but this doesn't share anything too revealing. We know the update is coming, but at least now a potential release window is being mentioned.
What this does mean, however, is that those with the HTC One M8 international or European models can expect to get the Android 5.0 Lollipop update first. Potentially in the next 1-2 weeks if all goes according to plan. This does also mean that those in the United States with an HTC One M8 are looking at a longer wait.
While it's possible the HTC One M8 Android 5.0 Lollipop update for carriers in the United States have already been submitted to carriers for testing, that's not likely. Most carriers require an additional 4-6 week testing phase before pushing these updates out to owners. Which means those with a Verizon or AT&T HTC One M8 could be looking at another month, if not more before the highly anticipated Android 5.0 Lollipop update does arrive.
Read: Android 5.0 vs Android 4.4 KitKat: What's New in Lollipop
Sadly this report mentions nothing of the HTC One M7 that was released in 2013, and most likely HTC is looking to update its latest flagship smartphone first, then proceed to other models. However, we saw the Android 5.0.1 Lollipop update arrive for both the HTC One M7 and M8 Google Play Edition handsets at the same time, so they could be working closely on the update for the older models as well.
We should know additional details about all HTC Android 5.0 updates in the near future, hopefully in the next 1-2 weeks if reports and release date rumors are accurate.

As an Amazon Associate I earn from qualifying purchases.