HTC One M8 Android 5.1 Update: What You Need to Know
As we push deeper into 2015 and into the Lollipop release for HTC smartphone owners, more details have continued to emerge. Over the past month or so we've seen multiple HTC One M8 devices receive updates to Android 5.0 Lollipop, but today the Android 5.1 update has arrived for some. Here we go over a few things HTC One M8 owners can expect regarding the Android 5.1 Lollipop update.
In November Google released the initial Android 5.0 Lollipop update, and shortly after it arrived the HTC One M8 and original HTC One M7 Google Play Edition handsets received the new software. However, the regular version had to wait a few months, and HTC missed its initial goal of all owners getting it by February. We're now in April and almost all US carriers have delivered Android 5.0, with AT&T starting the rollout as of yesterday.
Read: HTC One M9 vs HTC One M8: What Buyers Need to Know
While Google and HTC are still busy getting the original Lollipop update out to HTC One M8 owners, those with a Google Play Edition HTC One M8 can expect to see the latest Android 5.1 Lollipop starting today. Google's latest release aimed at fixing some of the many bugs plaguing the initial update.
The HTC One M8 Android 5.0 Lollipop update is finally here and delivering tons of new features and changes to HTC's flagship smartphone, but the Android 5.0 Lollipop update is also causing problems for many. The update initially started outside of the US for unlocked or developer devices, and then in February the HTC One M8 in the US finally received Android 5.0 Lollipop for some.
Over the past few months the rollout has continued, but we're seeing a lot of complaints from owners who've received Android 5.0 Lollipop on the One M8. While Android 5.0 Lollipop brings tons of new features, improved interface and lockscreen controls, and a tweaked notification bar, there are a lot of issues too.
Owners have mentioned apps crashing, freezes, device reboots, lag with the keyboard, and other small issues. Not to mention terrible battery life. That said, we've heard a lot of success stories where the update has been nothing but positive for most.
HTC One M8 Android 5.1 Update
With that, we move to Android 5.1 Lollipop. Google announced it back in March and slowly started pushing it out to many Nexus smartphones and tablets. Motorola updated a few devices to the release, and now starting today the HTC One M8 Google Play Edition is getting the same treat. Android 5.1 Lollipop isn't too much different, but has some neat new features, and fixes most of the bugs users have been experiencing.
Read: Android 5.1 vs Android 5.0 Lollipop: What's New
Google tweaked the quick settings, improved screen pinning, changed the notification and do not disturb features, and fixed a lot of bugs. However, we're hearing the memory leak that is causing apps to crash is still present, and may not be fixed until Android 5.1.1 Lollipop arrives. That means we may see Android 5.1 for the One M8, or HTC may wait and deliver Android 5.1.1 Lollipop instead, but we'll have to wait and see.
The Google Play Edition runs stock Android, so the update is already done and rolling out now. One M7 owners can expect it to arrive soon as well. For the rest of you HTC One M8 owners with HTC Sense UI, the update could take a little longer.
Android 5.1 Lollipop Update Release
Aside from the Google Play Edition getting Android 5.1 Lollipop starting today, we have no new details regarding when regular variants will see the update. That said, like previous updates, owners can expect the developer edition and unlocked international units to see it first, then some regions outside the US, and eventually carriers stateside will begin the push.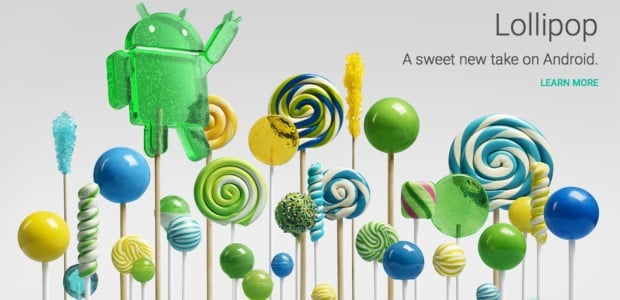 The original Android 5.0 Lollipop update hasn't even completed yet, with AT&T only starting to push it to select owners as of yesterday. Most other carriers in the United States delivered it in February and March, but that still isn't a good sign for the latest release. This means Android 5.1 Lollipop for regular owners is still a month or more away.
Delays
Most likely HTC is already working on Android 5.1 Lollipop for the One M8, but we don't have any additional details at this time. Carriers in the United States have a 4-6 week testing period, so even if it was ready today, it won't start rolling out until 4-6 weeks later once testing is finished. That means that most owners will be on the current Android 5.0.2 Lollipop that's out right now, at least for the next month or two.
At the same time, there are only a few small changes in Android 5.1 and the update shouldn't take HTC too long to implement, unless they plan on merging the new Sense UI 7.0 from the HTC One M9. If that's the case, the update will be delayed even further. Possibly not arriving until sometime in June, and hopefully as Android 5.1.1 Lollipop instead.
Android 5.1 Problems
Android 5.1 Lollipop has a few problems of its own, and Google's quickly released a few different versions of it for the Nexus 6, and we're already getting reports that Android 5.1.1 Lollipop is coming soon. What this means is that while we're seeing 5.1 for the Google Play Edition HTC One M8 today, the regular HTC One M8 may skip it and see Android 5.1.1 instead, sometime this summer. Carriers are silent when it comes to updates, but HTC employees will keep us up to date on Twitter, and we'll be sure to follow all the news and update as we learn more.
For now, those with a Google Play Edition HTC One M8 can be on the lookout for a small 240 MB update bringing their device to the latest Android 5.1 Lollipop update. Once HTC or carriers confirm it's headed to regular units, we'll be sure and update.