HTC One M8 Android 6.0 Update Arrives for Some
On September 29th Google officially announced Android 6.0 Marshmallow after a few months of beta testing, and it was released to manufacturers on October 5th. Now, just over a month later, the HTC One M8 is already receiving the latest software. Here's what HTC One M8 Google Play Edition owners need to know.
Late last night we learned that one variant of the HTC One M8 is getting Google's new Android 6.0 Marshmallow software update already. Of course the carrier models, international option, and even the unlocked developer unit hasn't seen it yet. Instead, this is strictly for the Google Play Edition HTC One M8.
Read: HTC Android 6.0 Marshmallow Update Breakdown
A few years back Google shocked many when the company announced a Galaxy S4 with stock Android, rather than the software on most Samsung phones. It was the first of many Google Play Edition pure stock Android devices, updated directly from Google rather than Samsung, HTC, Sony, Motorola and others. Today, one of those phones is the first to see an update to Android 6.0 Marshmallow.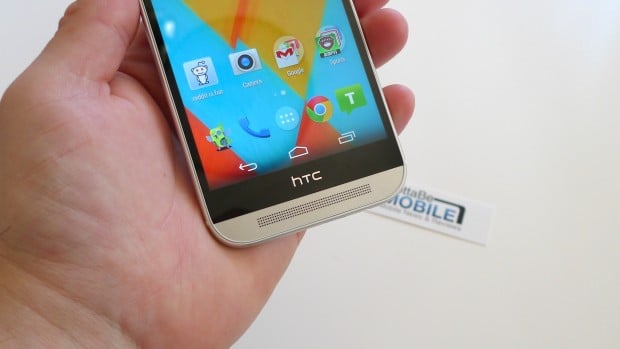 HTC initially promised updates to the HTC One M8 and One M9 Google Play Edition phones would be released in October, which was less than 30 days after Google released the software. Obviously that didn't happen, and One M9 owners are still waiting, but for the few that bought the Google Play Edition HTC One M8, the latest software release is now ready.
HTC One (M8) GPE Owners! Thank you very much for your patience. Update for Marshmallow OS is live now!! Enjoy…

— Mo Versi (@moversi) November 6, 2015
Google Play Edition phones are not a Nexus, like the new Nexus 6P, but get treated similar. They run stock Android, rather than HTC Sense or Samsung TouchWiz, get frequent updates by Google, and are fully unlocked devices that work on most carriers.
Samsung hasn't been as friendly in updating the Galaxy S4 Google Play Edition, but HTC and Google have continued to push out updates quickly for their devices.
Above is the tweet from HTC, confirming the Android 6.0 Marshmallow update has started for some HTC One M8 owners. There's no mention of the HTC One M9, or when regular versions of the phone will see software updates.
Read: Android 6.0 vs Android 5.1 Lollipop: What's New in M
The link above is a detailed comparison and breakdown showing owners what to expect from Google's latest Android 6.0 Marshmallow software release. There are tons of new effects and animations, improved lockscreen and notification bar controls, and much more. Owners can expect a significant increase in performance, and more importantly, battery life, not to mention Android Pay and other goodies.
Regular HTC One M8 & M9
So what about the regular HTC One M8 or HTC One M9 that was released earlier this year? They're still on track to start getting the latest Android 6.0 Marshmallow before the end of 2015. HTC confirmed that 90 day target window back in October, and so far we're hearing that's still on track.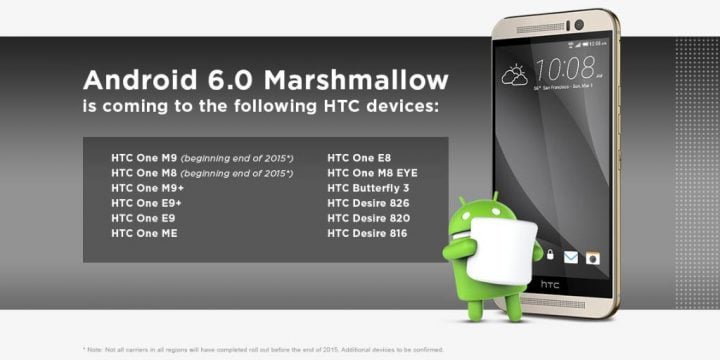 The image above is from HTC, confirming when they plan to begin updates. It's worth noting that's just the HTC One devices in general, and not carrier versions. What this means is that those with the HTC One M8 or HTC One M9 from AT&T, Verizon, or US carriers, will likely be waiting until very late December or sometime in February before the update arrives.
No formal announcements from HTC or carriers have been made yet, but we can expect more details to emerge as December nears. LG already started the Android 6.0 update for the LG G4, Samsung is making good progress, Motorola has started soak tests, so HTC shouldn't be too far behind.
We'll update the moment we know more about the regular versions of this phone. For now, those with the HTC One M8 Google Play Edition, check for updates, as the latest version of Android right from Google should be ready and waiting.

As an Amazon Associate I earn from qualifying purchases.