HTC One M8 Google Play Edition Hands-on: Here's What's Different
If you're not an Android enthusiast you may be asking yourself what a "Google Play Edition" smartphone is, and below we'll explain everything while showing off the latest HTC One M8 getting the Google treatment.
Last year at Google's annual developer event the company announced a brand new option for smartphone buyers looking for the Google experience. It started with the Galaxy S4 Google Play Edition smartphone, and eventually the option arrived for multiple smartphones and even a tablet throughout last year and into 2014. So what is it? A smartphone from Samsung, Sony, HTC, Motorola or even a tablet from LG running stock Android.
Read: Why The Galaxy S5 Google Play Edition is Worth Waiting For
Most manufacturers completely change and tweak stock Android the way Google designs it. Whether that be simply to offer something different, or to add a host of other impressive features tailored around what their device brings to the table for consumers, or how they feel it should be used. Read on for more details and our first impressions on the new Google Play Edition HTC One M8.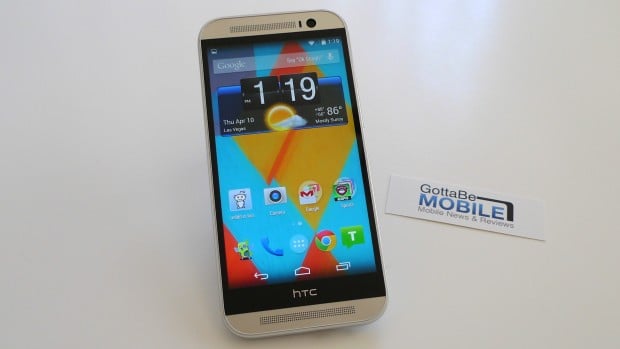 As many of you know, the Samsung Galaxy S5 or HTC One M8 software looks absolutely nothing like stock Android the way it is on the Nexus 5 sold directly from Google. HTC makes everything black, gray, and white with a more complex user interface, and Samsung's notorious for not just changing how Android looks and feels, but adding a slew of software and apps to "improve" the experience.
A fine example is HTC Blinkfeed in the new HTC One M8. This takes over an entire homescreen and curates information which is delivered to the user all from various sources. Pulling Facebook updates, Twitter posts, news, alerts, and even sports updates all into one easy to use and view place. Blinkfeed is an awesome news and social aggregator, and is only available on HTC phones.
Many consumers love what HTC or Samsung does with special software features or add-ons, but there's also a growing number of users that want plain, stock, unaltered Android. This is where the Google Play Edition program comes into focus. Google hand selects top tier smartphones like the Galaxy S4 last year and puts the latest version of stock Android on it. No carrier changes, manufacturer interface tweaks, nothing. It's original right from the source.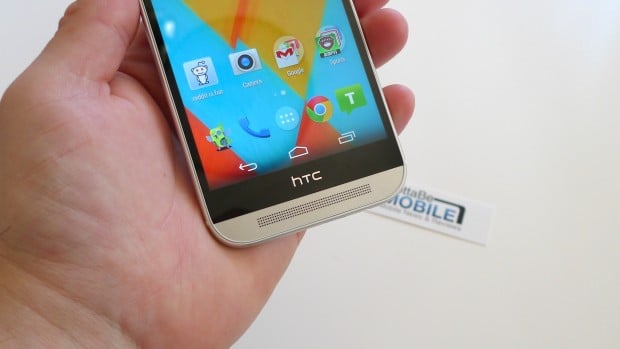 This isn't just about stock Android, it's also about having the latest version of Google's OS too. The program ensures all Google Play edition devices get the latest version of Android within a few weeks of it being released. Rather than wait 4-6 months (or more) for Samsung or HTC, and then carriers all to approve and deliver an update, it comes right from Google extremely fast.  Google Play Edition phones have pros and cons, and below we'll give you a quick look at what to expect from the all-new HTC One M8 GPe, and there's also a video of the standard model from HTC for a comparison.
HTC One M8 with Stock Android
When HTC announced the new One M8 in March, they confirmed a Google Play Edition would arrive too. One important thing many prospective buyers may be worried about though, is all those added features on the smartphone. The HTC One M8 has a Duo Camera on the back, front facing boomsound speakers, an Infrared port to act as a remote control, and much more. There's no reason to pay for extra hardware if it doesn't work, so they've made it all compatible.
Without further ado, here's a look at the new HTC One M8 Google Play edition running stock Android 4.4.2 KitKat.
Google and HTC deliver the same stock Android 4.4.2 KitKat experience we all expected, but surprisingly they managed to leave a few key important software features in place. In order to use that second camera on the back you need HTC's software, which is thankfully still included. The Boomsound speakers still sound excellent, the IR blaster works with select remote control apps from the Google Play Store, and the motion controls are included as well.
As a comparison, the video below is a quick glance at what to expect, and what's different on the regular model.
Read: HTC One M8 Review
What this means is everything that was important and we loved from the HTC One M8 in our full review above, is still included in the Google Play Edition smartphone. Buyers won't be losing some of those key features just to get stock Android, although not everything is included. HTC Zoe for camera highlights is missing, and HTC Blinkfeed as we mentioned above sadly isn't included either.
The HTC One M8 features are there, they're just not extremely noticeable. We have the standard Android camera and gallery app, but once you tap the pencil-shaped edit tool button, you'll see the option to edit with HTC's software instead. This is where you get all those benefits of the Duo Camera on the rear.
From here users can do tons of post-processing unlike almost any other Android smartphone available today. The entire way this is done, and the processing, isn't quite as fast as the regular HTC One M8, but still works wonderfully well. You can blur and change focus points on photos, just as I've done in the photo below of my new puppy.
All the 3D effects, editing tools, filters and even borders are included once you head into the HTC Photo Edit. There's still plenty of decent options in stock Android, but you won't want to miss these HTC additions, so they've included them.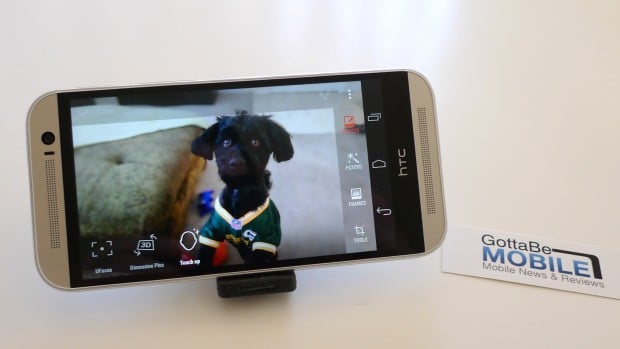 Then as we mentioned in the video above everything else appears to be working wonderfully. The quad-core processor and 2GB of RAM keep this phone plenty fast and stable. There's dedicated InfraRed Blaster apps on the Play Store that let you use the on-board IR port as a remote control for your living room, and the motion gesture controls are included too.
The motion controls, while borrowed from LG, are one of my favorite features. Double tap the screen (while off) to instantly turn it on without fumbling for a power button. Pick up your phone in landscape mode and tap a volume button to quick launch the camera, and even easy unlock while holding the phone with a swipe. They're all neat little added features that Google and HTC kept on this device.
The Dot View Case we got our hands on last week works wonderfully as well, as long as you download the app from the Play Store, but it only displays notifications, and doesn't work with voice calling.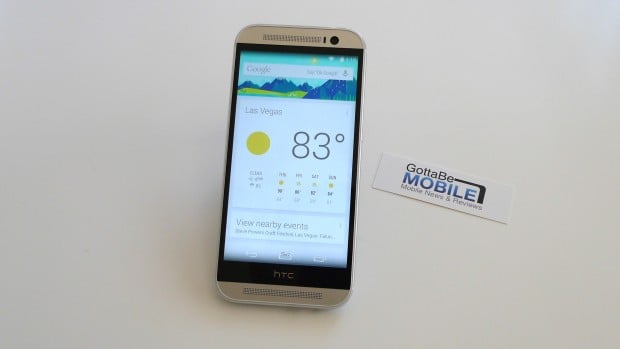 If you're like us and absolutely love the brand new HTC One M8 hardware, but prefer a stock Android experience delivered right from Google (and timely updates) the Google Play Edition is your best choice. Again, it isn't cheap coming in at $699, but that's only a little more than some carriers are asking off-contract.
As a reminder, the Google Play edition model is fully unlocked, and works on all GSM networks. AT&T users will enjoy it the most, as T-Mobile LTE bands aren't the same as the experience won't be as fast, and this phone will not work on Verizon Wireless.
All said and done the HTC One M8 Google Play Edition is exactly what you'd expect it to be. Nexus-like stock Android 4.4.2 KitKat on a beautifully crafted all aluminum smartphone. Yet it has a few software additions to let users enjoy everything that makes the HTC One M8 one of the best smartphones on the market.

As an Amazon Associate I earn from qualifying purchases.