HTC One M8 Mini Photo Leaks: What We Know So Far
Before the all new HTC One M8 was announced and officially released to the public it was the victim of several leaks revealing all of the details well ahead of the release. One rumor that was floating around with it was a mini variant on the way, the HTC One M8 Mini.
Now that the HTC One M8 is readily available from most carriers in the United States and around the globe, new details are starting to resurface about the smaller variant we heard about earlier this year. In 2013 HTC released a Mini version of the original One, and now it looks like they'll do the same in 2013.
Read: HTC One M8 Mini Rumors Fire Back Up
While most of the focus and attention as of late has been on the HTC One M8 or Samsung's Galaxy S5, consumers may be interested in an impressive M8 Mini similar to the larger model, but for those wanting a smaller device. Today we received our first purported photo of the HTC One M8 Mini, but the details are still slowly arriving.
With the HTC One M8 here and available to all, there's been countless comments regarding the sheer size of the device. We loved the HTC One M8 in our full review, but the device is rather long. Due to having a bigger 5-inch display, front facing speakers top and bottom, the HTC logo and bezel around the display, and on-screen keys, it ended up being longer than most expected.
If consumers love the all aluminum design of the new HTC One M8 but want it in a smaller package, below is what you need to know about the HTC One M8 Mini that's reportedly coming soon.
Reports from rather accurate sources have confirmed the HTC One M8 Mini is on the way, and today we have our first photo (shown above) which is reportedly the new Mini smartphone. There's a few key things to take a way from the photo, if indeed real, and prospective buyers will want to know what to expect.
Aluminum Design
Just like last year, the new HTC One M8 Mini will keep the exact same overall design and aesthetics of the larger variant. One key selling aspect of the device is the brushed aluminum frame, and here we see HTC keeping that on board for the smaller option.
The rounded edges and curved back all closely resemble the new HTC One M8 that was announced earlier this month, and it looks essentially exactly the same expect for one big different. The camera, which beings us to our next topic.
No uFocus Camera
The HTC One M8 has two cameras on the rear, which offers some neat features for photographers, users, and enthusiasts. The 4 Ultrapixel camera is accompanied by a secondary lens to capture depth, and add a host of post-processing features. It even lets the user choose the point of focus after the photo. Sadly this is missing on the HTC One M8 Mini. If the photo above is accurate, HTC will drop the two camera setup in favor of a lower price point for the Mini. There's some blur in the image suggest it could be hidden, but we can't say for sure.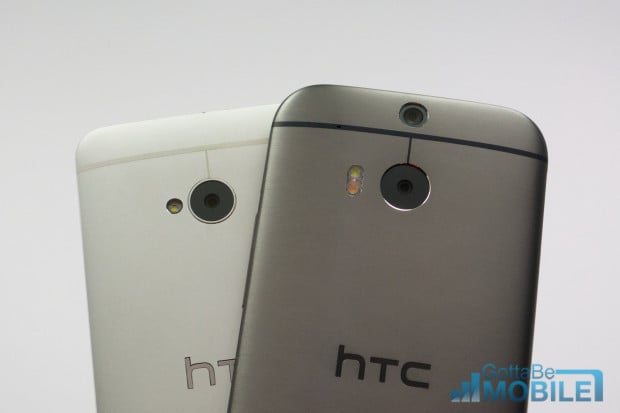 We have heard it could arrive with something as stunning as a 13 megapixel camera to compete with the 10 megapixel camera on the Moto X, or anything that arrives in the iPhone 6, but so far there's no evidence to support that. We clearly see one camera on back, but that could be the same 4 Ultrapixel camera as the regular HTC One M8 available today.
Specs
Motorola, Samsung, HTC and others have all started offering "Mini" versions of their respective devices. Even an LG G2 Mini arrived and we're already hearing an LG G3 Mini is coming. One problem with all these smaller phones is the specs are always poor, and they're more a budget option for emerging markets.
While we can't be certain as to what HTC has planned, the leaked photo came with some news specs users can expect with this phone.
Read: HTC One M8 Google Play Edition Hands-on Video
The HTC One M8 Mini should support a 4.5-inch 720p HD display, be powered by a 1.2 GHz quad-core Snapdragon 400 processor with 1GB of RAM, and come with 8 or 16GB of internal storage. Users will be happy to see the quad-core on board, and we'll likely have a micro-SD slot like the bigger sibling. Talks of a 13 megapixel camera, and large 2,500 mAh battery have all been rumored.
Lastly we've heard the HTC One M8 Mini could be an exclusive to Verizon Wireless, possibly sometime this summer. Those specs certainly make it a well-rounded mid range smartphone, but we'll have to wait for more details to surface.
Release Date
The original HTC One launched in 2013 was on the market for more than a few months before we even heard reports or saw a Mini version get announced. As a result it arrived months and months later, only for AT&T in the US, and wasn't very successful.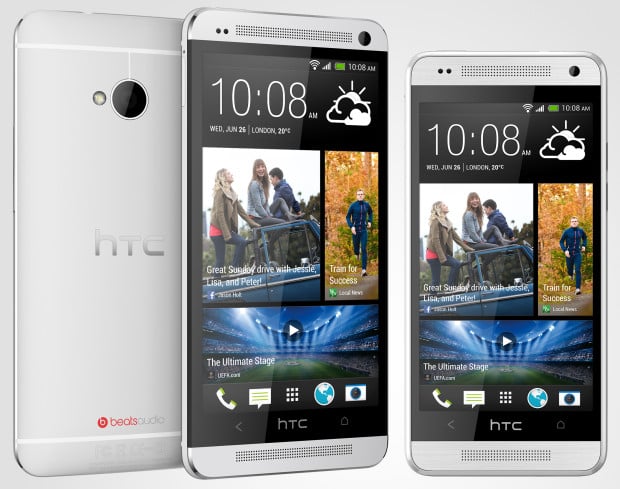 This year however we've been getting details about the HTC One M8 Mini all along, confirmations that it will at least arrive for Verizon Wireless, and this new leak could mean a release is closer than expected. With a new Moto device coming this summer, the LG G3 arriving before the end of June, and an iPhone 6 incoming many are speculating that HTC will release this phone sometime in May.
There's no solid details regarding a release date, but given HTC's aggressive release of the HTC One M8 back in March, the Mini could arrive in a similar fashion sooner rather than later.
Price
The HTC One M8 is an expensive smartphone. Wrapped in brushed aluminum and having two cameras certainly makes it a pretty penny. Most carriers are asking $649 for it outright, or $199 with a new contract. The HTC One Mini however was just $99 on contract, and under the $500 mark to purchase outright and off contract.
Lately rumors are swirling that an HTC One M8 made of plastic will arrive at a lower price point to combat the Galaxy S5 and LG G3, but HTC could also deliver the Mini at an even lower price point to steal even more sales. Rumors state the plastic M8 will be $475 or less, which means we're expecting the HTC One M8 Mini to come in under the $399 mark.
The biggest competition will be the Moto X, or even the $130 Moto G, but until HTC actually releases more details we're only guessing based on previous releases, and rumors.
Final Thoughts
At this point multiple rumors and past releases all but confirm an HTC One M8 Mini is in the works and coming soon. The only questions are when, how much, and how well it will perform against some of the competition.
The image provided today is reportedly the real deal, and the first view of HTC's Mini smartphone, but we'll continue looking for more details as summer approaches.