HTC One M8 Pictured as More Details Surface
We still don't know what HTC will call its flagship smartphone for 2014, which is expected to be announced near the end of the month, but we do know almost everything else about it already.
Still being called the HTC M8, HTC's new smartphone for 2014 is looking better and better with each new set of details, and today we're getting our first actual image of the device. Leaked over on Twitter by HTCFamily is an image of the back, which has only stirred rumors and reports even further regarding what the company has in store. Whether that be dual rear cameras, a second camera sensor for optimal photography, or a fingerprint sensor.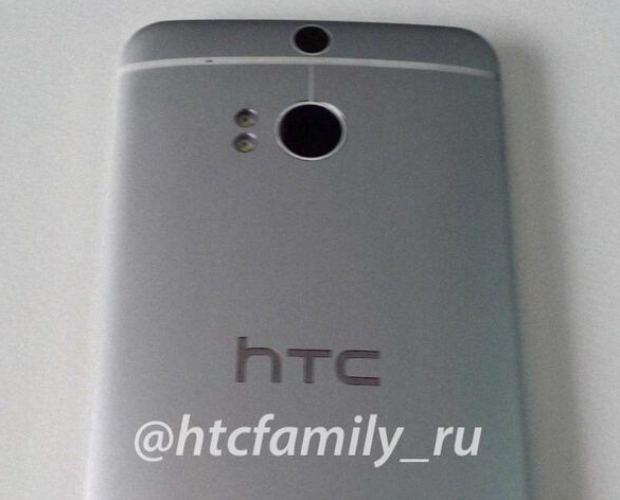 At this point all reports and rumors are pointing to a better overall smartphone, but HTC's biggest focus was on the camera, on both the front and the back. The leaked image today shows us what appears to be a second camera above the original 4 Ultrapixel lens, and previous reports suggested that will be an additional sensor.
Instead of a fingerprint scanner like the HTC One Max and iPhone 5s (and possibly the Galaxy S5) the HTC One+, HTC Two, or whatever it will be called with have a second-stage sensor on back. This will allow tons of post-processing with photos. From refocusing after you've snapped a photo, to different angles, and potentially much better low-light photos. Whether this is what that circle actually is remains to be seen, but we'll know soon enough.
Read: HTC One M8 vs. Galaxy S5: Early Look at What to Expect
You'll also notice the new HTC One (2014) has dual-LED flash this time around, and the device will be slightly bigger coming in at 5-inches of screen real estate vs the 4.7-inch display from the last generation. The rest of the specs and details have already been narrowed down, so all we're waiting for is an announcement, and more details on this mystery cutout up top.
This isn't all the news we received this week either. It appears that HTC is focusing most of their efforts on the camera technology and features, and sticking to a very similar design as last year. Considering it was an award-winning smartphone with an exceptional aluminum design and front facing speakers.
Our second set of details arrive by way of the usually accurate @LlabtooFer who states the image above has been slightly adjusted in photoshop, and the design (while similar) will actually differ slightly from the model last year. It will also be different than what's shown in the photo above. We'll have to wait for more leaks to confirm, as the waters are starting to get muddy with rumors.
Read: HTC M8 Release & Rumor Roundup
That being said, LlabTooFer didn't waste any time by also adding one more rumor to the already massive pile. He states HTC has tossed out the impressive wide-angle 2.1 megapixel front facing camera on the new HTC One M8, and this year we'll get a 5 megapixel camera on the front. Of course, this will allow for awesome selfies and other photos.
To round things out we're expecting Android 4.4.2 KitKat and a new Sense UI 6.0 on board with on-screen keys. HTC will have a 5-inch 1080p HD display, quad-core Snapdragon 800 processor with 2GB of RAM, 16GB of storage with a micro-SD card for expansion, and a pretty big battery on board as well. We're hearing 3,000 mAh.
At this point the jury is still out on what's on top of the device, but with a few reports stating a fingerprint sensor, and others claiming a secondary camera sensor, we'll have to wait and see. It's worth noting that circle looks quite similar to the new TouchID home button on the iPhone 5S, and HTC did put tons of effort into the fingerprint tech on the HTC One Max.
As a reminder the latest reports suggest a February announcement, with a March and early April launch in the US on all major carriers.

As an Amazon Associate I earn from qualifying purchases.