HTC One M8 Prime Image and Details Leak
With the HTC One M8 and Samsung Galaxy S5 both here and readily available, rumors and leaks have started to focus on what's next for the mobile market. Over the past few weeks we've received a few reports that an HTC One M8 Prime is coming soon, and today we have our first look at the rumored device.
Not to be confused with the reportedly aluminum Galaxy S5 Prime coming this summer, the HTC One M8 Prime should also be released sometime later this summer to take on Samsung, the LG G3, and even the upcoming iPhone 6.
Read: HTC One M8 Prime Details Emerge in Huge Leak
Earlier this week tons of details and information arrived as linked to above, but today the popular leakster @evleaks is taking thing even further by revealing the first image of the all-new HTC Prime smartphone. This device is still largely a mystery for now, but read on for everything we know so far.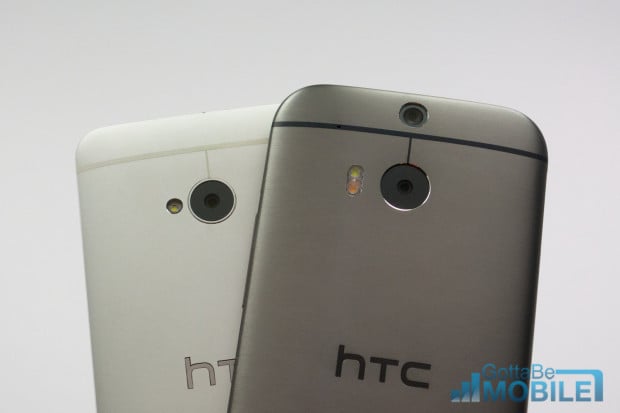 Following a similar approach as 2013 HTC released the One M8, and will be following it up with an even larger variant. The HTC One Max in 2013 wasn't very successful, and was an extremely large 5.9-inch smartphone wrapped in heavy aluminum. However, this year HTC is taking a very different approach and could have an excellent smartphone for consumers to get excited about. Well, if the rumors are true.
According to various reports and rumors that have surfaced over the past few weeks, the HTC One M8 Prime will be taking direct aim at anything released from Samsung, including the Galaxy Note 4. At the same time this will compete with the upcoming LG G3 smartphone, and possibly a bigger iPhone 6 later this year.
Rumors
Based off multiple rumors, most of which were revealed by @evleaks yesterday, the One M8 Prime will be quite the smartphone. The HTC Prime should have a 5.5-inch 2560 x 1440 Quad HD display, and the latest 2.5 GHx quad-core Snapdragon 805 processor with 3GB of RAM. While that's all nice, having a phone this large we'll need a different build material to keep the size and weight in check.
Liquid-metal or a new composite of aluminum and liquid silicon blend into one is what's being reported. This will make it lightweight and durable, yet handle thermals better, amongst other things. HTC has been experimenting with a neat brushed aluminum design on the HTC One and One M8, and we could see what's next for the company later this year.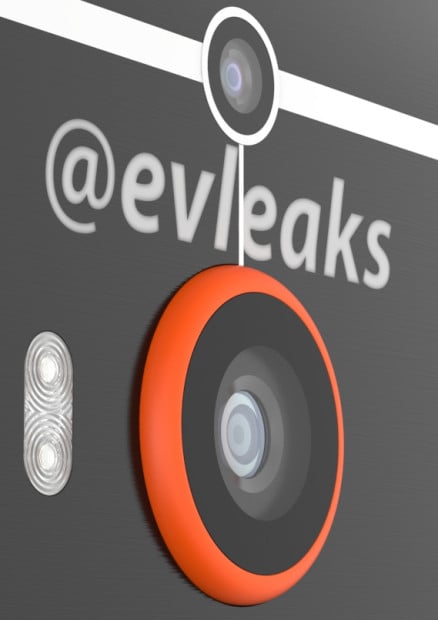 The image above is the first leaked render of the all-new HTC One M8 Prime. Clearly you'll notice the metal-like design, the signature Duo Camera system like the current HTC One M8, but that second lens is just massive. Rumors have it the new HTC One M8 Prime will drop the 4 Ultrapixel camera the company has been using for the past two years, and instead employ a brand new 18 megapixel camera, which would explain the hump.
We're also hearing the HTC One M8 Prime will be water resistant and have a new Cat 6 radio and technology to deliver some of the fastest 4G LTE and WiFi speeds on a mobile device.
If accurate, the HTC One M8 Prime will feature one of the best displays available, the fastest quad-core processor, tons of RAM and storage, and what could be one of the best cameras of any Android smartphone. It sounds too good to be true, but this leakster claims it is "coming soon".
Lately HTC has put tons of focus and effort into offering beautiful and sleek designs on its smartphones, front facing speakers, and flush cameras around back, so this is certainly an odd approach and we'll be looking for more details.
Read: HTC One M8 Review
In our HTC One M8 review we concluded that the biggest flaws were the large bezel around the display and speakers, and of course the camera. While the Duo Camera has awesome post processing and ufocus features, the 4 Ultrapixel camera simply wasn't big enough for quality photos outside of Facebook and social networks. Having a large 18 megapixel lens on the new Prime could be a very welcomed change for prospective buyers.
This is just a leaked render for now, which means it could change drastically before being released later this year. That being said, the leakster has an excellent track record and even mentioned the HTC One M8 Prime is coming soon. So while this could be released sometime this summer, it's much more likely that a late August or September release is in store.
Expect more details, leaks and rumors to surface in the coming days and weeks regarding the all new HTC One M8 Prime.

As an Amazon Associate I earn from qualifying purchases.