HTC One M8 Prime Rumored to Battle the Galaxy Note 4
Lately all the attention has been on the Samsung Galaxy S5 and new HTC One M8, with good reason, but there's a few other impressive devices coming later this year that buyers may be interested in.
Of course the iPhone 6 is in the works and coming soon, not to mention the LG G3 is poised to be one of the better devices of 2014, but if the newest rumors are anything near accurate HTC isn't done quite yet. A new rumor suggests an even more impressive flagship HTC One M8 Prime is coming sometime in September to battle the iPhone 6, and Samsung's Galaxy Note 4.
Read: HTC One M8 Review
If the name Prime sounds familiar, it's because the Galaxy S5 Prime is another rumored device that is reportedly coming out later this year. Essentially being a Galaxy S5 with an aluminum design and a few other features we expected on the Galaxy S5, but that never came to fruition. That said, this isn't about Samsung, it is about a brand new device coming later this year from HTC.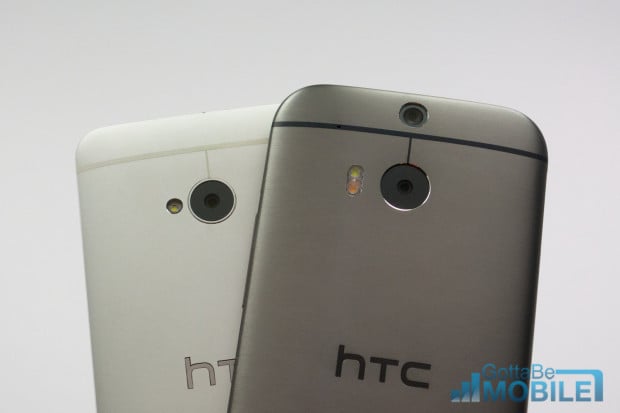 HTC has been having fun with Twitter, claiming those who buy the Galaxy S5 will have buyers remorse and should pick up the HTC One M8 instead. However, it these new rumors are accurate it looks like HTC owners could have some buyers remorse in a few months as well.
This isn't the first time we've heard the name "HTC One M8 Prime" but it's the first solid rumor with actual details that could have some substance to them. According to HTCSoku the HTC One M8 Prime is real, and coming sometime later this year to take on the LG G3 and Galaxy Note 4.
Last year HTC released the HTC One and then eventually delivered a large 5.9-inch HTC One Max phablet. The device was huge, all aluminum, heavy, and even had a fingerprint scanner on the back. Overall it wasn't wildly successful, but the new HTC One M8 Prime could be a better option in 2014.
Read: HTC One Max vs Galaxy Note 3: 10 Key Differences
According to rumors the new HTC One M8 Prime will come with a 5.5-inch 2560 x 1440 Quad-HD display, offer the same stunning aluminum design and front facing speakers, and be powered by the latest mobile hardware available. That being Android 4.4.2 or 4.4.3 KitKat and a 2.5 GHz Snapdragon 805 quad-core processor with 3GB of RAM.
The leakster states the Duo Camera feature from the current HTC One M8 will be included, but be much improved. The main UltraPixel camera will be 5 megapixels, instead of 4MP like we have now, and the second "Duo Sensor" for depth and other features will actually be 18 megapixels. That sounds too good to be true, but it's highly possible HTC comes out swinging against the LG G3 and Galaxy Note 4.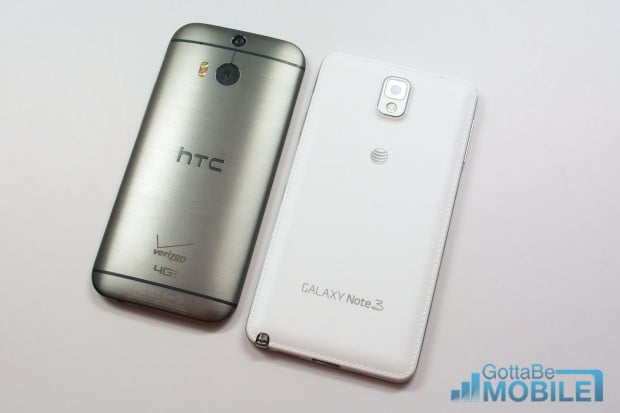 Instead of offering a similar HTC One Max like last year, with minimal results, this rumor suggests HTC will be releasing another high end flagship device with the latest and greatest hardware later this year. It will reportedly arrive sometime in September, which is around the same time we're expecting the new Galaxy Note 4, but dates that far away are always subject to change.
Adding this to other leaks this year HTC is poised to offer an entire suite of smartphones under the One M8 branding and design. The current HTC One M8 is available today around the globe, and a new HTC One Mini 2 is coming sometime this summer if latest leaks are to be believed. Add in another high end HTC One M8 Prime in time for the holidays and HTC could have a good year in 2014.
At the same time, a Galaxy S5 Prime is reportedly coming sometime this summer, possibly in June, which would beat this new HTC flagship smartphone to the market. Rumor has it that many of the features many consumers and buyers expected from Samsung and the Galaxy S5 will actually arrive in a new variant. Possibly called the Samsung Galaxy J. At the moment nothing is set in stone, most of the reports and details thus far are only rumors, but we should be hearing more and learning additional details regarding both devices as the summer progresses.
Those who've purchased the brand new HTC One M8 may see something bigger and better arrive in a few months, although by then the LG G3 will already be available and likely stealing customers.
We don't have concrete evidence that an HTC One M8 Prime actually exists at all, but we'll keep an eye out for any and all details as they arrive.