HTC One M8 Setup Guide: 5 Steps to Get Started
The all new HTC One M8 is finally here after months of waiting and a few weeks being exclusive to Verizon, and is now available in stores around the US. Your new smartphone will be up and running great out of the box within minutes, but below are a few tips for getting started.
In just 10 or so minutes, this guide will get your new smartphone prepared for the future with better security, backup options, improved battery life, and much much more.
Read: HTC One M8 vs LG G3: What We Know So Far
The HTC One M8 runs the latest Android 4.4.2 KitKat and HTC's Sense UI 6 interface, which has an excellent start-up and initial setup, but the steps below will benefit all users whether advanced, or just getting their first smartphone.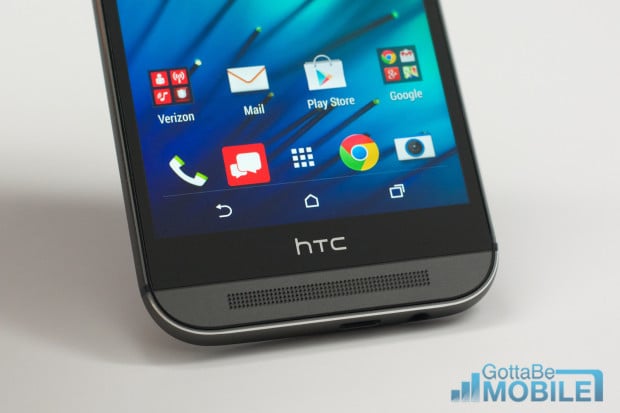 Announced at the end of March the new HTC One M8 is available right now, and has tons to offer over the model last year. With a bigger and brighter HD display, dual cameras on the back and better performance this will make an excellent smartphone for most users. If you haven't picked one up we'd suggest checking out the review below, then read on for a few tips to getting started.
Read: HTC One M8 Review
Once a user turns on the HTC One M8 for the first time you'll go through a few initial steps. Whether that be on the phone, or a tailored experience by the carrier such as AT&T. Sign into your usual Gmail account, and then do the below steps to be ready to enjoy that new phone.
Better Security
One option that's been available on Android smartphones for years, yet we still see many users never using, is a passcode or pattern on the lockscreen. With smartphones having so much information, banking accounts, and email access these days, security is extremely important and your device needs to be secured.
Once you finish the initial few steps, heading into settings to quickly add a password pattern is highly suggested. It takes about 30 seconds to set up a passcode or pattern lock, and your device will be protected from prying eyes or in case of loss/theft, and here's how.
Simply slide down the notification bar from the top of the display and tap the round gear-shaped settings icon near the top right. Scroll down to security, then select screen lock at the top and use the option of your choice.
Settings > Security > Screen Lock > and select Pattern, PIN, or even Face Unlock
It is recommended that most users at least have an option for a pin or pattern, as security is extremely important these days. There's also apps on the Play Store where you'll only need a password if you're not home, or if the phone has been off for more than 10 minutes, or other options for those who'd rather not put in a pin every single time they use a device.
Backup & Restore
While we won't get into transferring from an old device to your new HTC One M8 here, we will explain a few simple steps you'll want to take to keep your new phone backed up and ready to go. Google's backup options will be brought up during setup, which we'd recommend most users agree to, but you can always control more backup & sync options in settings later.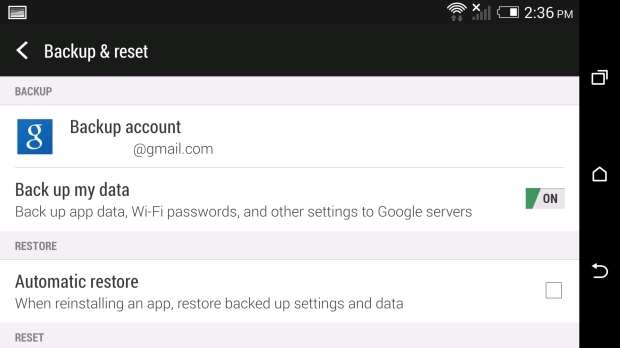 Settings > Backup & reset > Back up my data
Using the same steps as mentioned above you'll want to head into settings and scroll down to backup & reset. Here is where you can turn on/off Google's backup solution. It isn't an all-in-one solution, but will backup (and restore on a new device) your WiFi passwords, app data (and game saves) wallpapers, and other settings. This is extremely convenient.
Users can also check or uncheck the restore option where Google will automatically restore any available settings or data from an app being reinstalled.
Also, while were here you'll want to backup your photos so even if you lose the phone, you'll always have your photos from that impressive Ultrapixel camera.
Read: How to Automatically Backup Photos on Android
Whether you use a cloud storage option like Dropbox or Google Drive, or just prefer to let Google+ Photo's (on all Android phones) to do it for you, the link above explains multiple easy ways to automatically save and backup full resolution copies of all your photos.
Android Device Manager
Find My HTC is an option on most HTC smartphones, but recently Google's rolled out a pretty good Device Manager and locator service of its own. There's almost no setup once you download the app from the Google Play Store, then just let Android's device manager find your lost phone if you ever need to.
Users can lock it, wipe out a smartphone to erase data from theft, or even make your phone ring if it's lost somewhere in your house, all using the Android Device Manager site from a PC.
Set Mobile Data Limits
Another thing many owners never do, but will save you money, is set mobile data limits. Whether you have a 2GB data plan with AT&T or Verizon, or are on a family plan with T-Mobile sharing data across multiple devices, it's always smart to set limits. This way users can't go over, and end up with a huge smartphone bill at the end of the month.
Settings > More (under Wireless & Networks) > Data Manager > and set to the amount of data your carrier plan offers.
This will ensure that once you reach your data limit (or even close) you'll be notified not to keep streaming 1080p YouTube clips or watching Netflix, as you may incur charges. This would be a good time to switch to the WiFi at home to save data, and not get overage charges.
Improve Battery Life
One of the biggest impacts to battery life besides the display and having too many apps syncing 24/7 is Google location services. Whether your phone is always tracking you location to deliver weather updates, or you use Google Now or Google Maps for directions or navigation, this is a big drain on battery life. In Android 4.4 KitKat Google added a new location option which allows for more control here, and the battery saving option is your best route.
Settings > Location > Mode > Battery Saving
Battery saving mode turns off GPS, so turn by turn navigation may not be as accurate or need to be re-enabled, but for those who rarely use navigation, Battery saving mode is your best bet. This uses WiFi and your cellular network for location services, rather than the phone draining your battery with GPS.
Users can also head into settings > display > and lower the brightness to 30% or so, rather than automatic, which can also improve battery life and extend the phone usage into the next day without a charge.
Final Steps
From here users will want to set up a host of services and options that will improve your smartphone. Google Now is an excellent option, and customizing HTC Blinkfeed for news and social status updates right from your homescreen is a nice option as well. Once you're all set up and enjoying the HTC M8, the link below is worth taking a look at to get the most from your new phone.
Read: 38 HTC One M8 Tips, Tricks & Hidden Features
Don't forget to pickup the HTC One M8 Dot View case for protection, and for those with the original HTC One considering an upgrade, here's what you need to know about the new HTC One M8 released last week.