38 HTC One M8 Tips, Tricks and Hidden Features
The HTC One M8 includes many smart features that deliver unlock the full potential of the new smartphone.
This guide will show you nearly 40 HTC One M8 tips and tricks to let you do more with the new smartphone and Sense 6. We even share a few HTC One M8 hidden features that are tucked away in the menus and are hard to find.
The majority of these HTC One M8 tips and tricks do not require spending any more money on apps or accessories, but there are a few that will require small purchases. When a tip requires a HTC One M8 accessory to function we will note the accessory and link to where you can buy one.
New HTC One M8 owners can use this guide to learn everything that the HTC One M8 can do. We start with some of our favorite HTC One M8 features and also share small hidden features that can help users really enjoy the new phone.
Users do not need to root the HTC One M8 to use these features. All of these tips and tricks are standard HTC One M8 features. There is a HTC One M8 root available for users that want to explore other options and root apps.
Read: HTC One M8 Review
All of these HTC One tips and tricks are available on the new HTC One M8, and some of them may work on the older model. The HTC Sense 6 update for the HTC One 2013 model may also bring some of these features to the older device.
38 HTC One M8 Tips, Tricks and Hidden Features
Watch the fifteen-minute video to see the top HTC One M8 tips, tricks and a few HTC One M8 hidden features that will help you do more with your new phone. The list below describes the tips and tricks and shows you where to enable them if needed.
1. HTC One Dot View Case
The HTC One Dot View Case is a $45 accessory that attaches to the HTC One M8 and allows the owner to protect the phone while still seeing notifications.
Once the HTC One M8 case is attached there is no need to turn anything on. A double tap on the screen will show the time and weather and a swipe down will activate voice dial. The small holes in the display let users see incoming calls, texts and other notifications.
 2. Motion Gestures
When you pick up the HTC One M8 you can control the phone with motion gestures to quickly access the information and apps you need. These are on by default and are easy to use.
Double tap to go to the lock screen.
Swipe in from right to Widgets
Swipe in from left for Blinkfeed
Swipe up from bottom for Home
Swipe down to access voice dialing
 3. Customize BlinkFeed
BlinkFeed is now set to the left of the home screen, and less in-your-face than on the original HTC One. This allows users to quickly swipe over to the left and see updates from a variety of social networks and news services.
Swipe over one more time to add news topics and sources that matter and to link up with social networks. When you install Facebook or Twitter the BlinkFeed service will also identify and ask for access to further personalize.
When you have tied the accounts to BlinkFeed you the service can also learn what you like from Facebook to offer more suggestions.
4. Fast Access to Camera
If you need to access the camera in an instant you can pick up the phone and press the volume up button. This will launch the camera with whatever setting you last used.
From here press the volume button and choose to use it to take a photo and from that point forward you'll be just two presses on the button away from taking a photo.
5. Quick Access Settings
If you need to get to  the dozen or so Quick Settings options faster, swipe down from the top of the phone with two fingers when the display is on.
This will open the settings toggles instead of the notifications, so you can quickly control brightness, do not disturb and more.
6. Customize Quick Settings
When you swipe down the notification panel there is a toggle to see Quick Settings. This offers fast access to a dozen HTC One M8 settings that you can toggle for fast changes.
If you don't use the default ones you can tap the small edit button in the upper right to re-arrange and remove some of the items from the list. This simplifies using the quick settings.
7. Change the HTC One M8 Theme
The HTC One M8 and Sense 6 includes an option to pick a new theme which allows you to change more than just a background.
Go to Settings -> Personalize -> Theme -> and pick one of the four themes.
This will change the color that shows up in BlinkFeed and in various other places on the HTC One M8.
8. Quick Access to Google Now on the HTC One M8
The HTC One M8 includes Google Now which shows information about your web searches, location and other important topics as well as offers fast access to searches.
Put your finger on the HTC One M8 home button on-screen and slide up to access Google Now from any screen.
9. Fast Access to HTC One M8 Settings
When you want to control a setting on the HTC One M8 you can long press on the Quick Settings icon to go directly to the settings screen.
Combine this with the customization tip and the two finger swipe down for fast access trick for nearly instant access to settings.
10. Use Do Not Disturb on the HTC One M8
If you go to bed early and need to avoid interruptions this is the best HTC One M8 tip you'll find. Turn on Do Not Disturb mode and calls and texts will not bother you.
Tap on the Do Not Disturb shortcut in Quick Settings to turn it on manually, and hold to access settings where you can set up a schedule to automatically turn it on and off.
11. Use the HTC One M8 to Buy Groceries and More
The HTC One M8 features NFC which Google Wallet and ISIS can use to make a payment at many grocery stores, gas stations and restaurants like McDonalds.
Download Google Wallet and follow the on screen directions to set it up for your cards and to turn on NFC and switch the Tap & Pay app from ISIS to Google Wallet.
Once this is done you can pick the card you want to use and simply tap the HTC One M8 on a compatible credit card terminal.
12. Change the Font on HTC Sense 6
If the text on the HTC One M8 is too small to read you can increase it all the way up to a "huge" setting. The largest font size only works in HTC apps, but the other large sizes work in most Android apps.
Go to Settings -> Display & gestures -> Font size -> pick the size you need.
There is also an option to pick a smaller font.
13. Customize the LED Notifications
The HTC One M8 features a small LED in the top speaker grille. This is a nice way to know when you have a new email or text without turning the display on, but sometimes the flashing light can be a hassle.
Go to Settings -> Display & gestures -> Notification light -> pick the items you want it to flash for. 
This makes it easy to to turnoff email LED notifications and avoid blasting the bedroom ceiling with light while you try to sleep.
14. Use the HTC One M8 as a TV remote
The HTC One M8 features an IR port that you can use to control your HDTV, cable box and home theater. Open the app drawer and tap on the TV app to get started.
You'll enter in a little information about your TV provider, streaming services and then set it up to work with your HDTV and cable box to get the right lineup and controls.
15. Auto Answer Calls
When you get a phone call on the HTC One M8, pick it up and place it next to your head to automatically answer the call. This works with the Dot Case on or off using sensors to tell when it is next to your head.
16. Add USB Storage
If you buy a $5 USB OTG cable from Amazon or another retailer and grab a USB drive you can add additional storage to your HTC One M8. This is in addition to a Micro SD card and is handy for watching videos that you transfer from a computer.
17. Use a Micro SD Card
Go to Amazon and buy a cheap Micro SD card for about $20 and you can double the storage on the HTC One M8 by plugging it in. Use it mainly for photos and videos you shoot instead of trying to move apps to it. The HTC One M8 will install some apps to the Micro SD card, but not all will run from it.
18. Flip to Mute
If you get an incoming call on the HTC One M8 that you cannot answer flip it over to mute the call. This will not end the call and the caller will not know you are ignoring him. This is a handy HTC One M8 feature if you are in a meeting and need to quickly silence the phone.
19. Show Battery Percentage
There is a small battery icon that shows approximately how much battery life is left on the HTC One M8, but if you want a more specific number you need to turn on the battery percentage.
Go to Settings -> Power -> Show battery level.
This will make the phone show the exact amount of battery left at a glance.
20. Use Kid Mode
The HTC One M8 ships with Kid Mode. This child friendly mode lets parents lock the phone to educational and entertaining apps and videos while keeping their contacts and apps safe.
Hold the power button down to switch to kids mode. From there you can customize it for each kid and add apps downloaded from Google Play. Kids cannot leave this mode without knowing the parent's birth year or a pin they chose to enter.
21. Secure the HTC One M8
The HTC One M8 does not prompt users to set a lock screen during setup, so it is a good idea to turn this on soon after you get up and running. While there is no fingerprint reader there are multiple lock screen security options including face recognition and a pattern.
Go to Settings -> Security -> Screen lock.
Be aware that entering the wrong pattern 10 times will erase the phone, which there is not a clear way to disable.
22. Add Lock Screen Widgets
If you want fast access to tweets, Google Now and other information you can add lock screen widgets to the HTC One M8.
Settings -> Security -> Enable lock screen widgets. 
Next you need to slide to the screen to the right of your main lock screen by swiping from the upper right corner where you should see a few arrows. You can then tap the plus sign and add a new widget.
23. Customize Lock Screen Notifications
Once you set up a lock screen you can dive into the settings and turn off certain lock screen notifications to keep your information private.
Go to Settings -> Security -> Notification settings -> Uncheck what you want to keep private.
This is a simple way to prevent a room mate or someone who picks up your phone from snooping without knowing your passcode.
24. Supercharge the HTC One M8 keyboard
The HTC One M8 keyboard is very nice right out of the box with auto suggest and surprisingly accurate fixes for many typos. There are a few things users can do if they need to boost the keyboard experience.
Turn on Trace – This is a Swype-style typing experience.
Turn on Arrow keys – for easier cursor movement.
Re-Calibrate – If you are not typing accurately, calibrate the keyboard again in the advanced keyboard settings to dramatically improve the typing.
25. Switch from iPhone or Samsung to HTC One M8
If this is not your first smartphone there is an easy way to bring most of your contacts and content over to the HTC One M8. The amount of data you can transfer depends on the phone you used before buying the HTC One M8.
Go To Settings -> Get content from another phone -> pick your previous phone and the method you want to use.
This is great for pulling over data from an iPhone or an older Android phone. The iPhone switch is best when done on a computer with an iTunes backup.
26. End Calls with the Power Button
Users can go to the accessibility settings and turn on an option that lets users end a call with the power button. This is easier than trying to hit the end button on screen if you are doing something else while on the phone.
Go to Settings -> Accessibility -> Power button ends calls.
You can use this to end a call during the call or to silence and ignore an incoming call.
27. Use a Xbox 360 Controller with the HTC One M8
The same USB OTG adapter that lets you add a USB drive to the HTC One M8 allows users to connect an Xbox 360 controller to the phone to use for playing games.
You will need a wired Xbox 360 controller and the USB OTG adapter as well as games that support controllers. We tested this on ShadowGun, but it should also work on GTA games and many others.
28. Auto Switch to Cellular when WiFi Fails
If you constantly use the HTC One M8 on poor WiFi that you cannot fix with a new router, like at work or in public areas there is a setting you can use to automatically switch to cellular when WiFi fails.
Go to Settings -> WiFi -> Advanced ->Auto-switch to mobile network.
This could result in more data usage and eventually a higher bill, so use it cautiously and pay attention to data usage when around areas with bad WiFi.
29. Monitor Your Data Use to Avoid Overages
Most users are no longer on an unlimited data plan, which makes monitoring how much data they use an important monthly activity to prevent going over a data limit.
Go to Settings -> Data usage -> Turn on the Alert and then drag the bar to the right level on the graph below the options.
Make sure you choose the day to reset the data usage to match your billing cycle so that it matches your actual data usage for that period.
30. Use HTC Zoe
When taking photos on the HTC One M8 it is a good idea to take photos of groups, kids or pets with the HTC Zoe option. Tap on the small menu button in the lower corner of the camera app and then choose Zoe Camera.
This will take a short video and a series of photos at the same time. When you capture photos with the Zoe camera you can look through each photo and pick the one that looks best, and use the other actions below to do more with the photo.
31. Take a Better Selfie
Go to the camera and pick the mode options again, but this time pick Selfie. This switches to the front facing 5MP camera and allows users to tap anywhere on the screen to take a photo after a 3,2,1 countdown.
This mode may also optimize the camera for a photo of a face, but it is not clear if anything is happening in that area.
32. Pick Where the Photo is Focused
After you take a photo with the HTC One M8 using the regular camera mode you can pick where you want the focus to be. This is where the two cameras on the back of the phone come into play.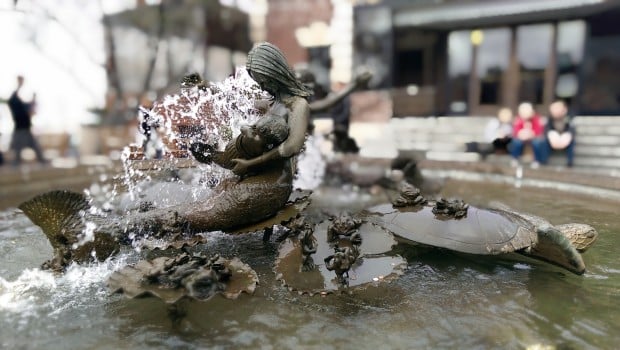 Tap on a photo, tap on edit, then tap on UFocus. From there tap anywhere in the frame to change focus. This can lead to a blurred background that makes a photo look more like something a professional took or that a user shot with a DSLR.
33. Make an Animated Photo or Gif
After shooting a series of photos with Zoe you can turn the result into an animated photo or an animated GIF that users can watch action on without loading a video.
Tap on the photo you want to turn into a gif. Tap on edit and then scroll over until you see GIF CREATOR. Tap on this, choose the length, hit save and choose the size and wait for it to convert and save the photo as a animated Gif.
34. Show Action in One Photo
Another edit users can perform after shooting a photo or series of photos with HTC Zoe is to show action in one photo. Take a picture of a kid riding a bike, jumping into a pool or anything else where action is key.
Then open up the photo, tap on the small series of photos icon in the lower left. When the next screen comes up, hit Edit and then scroll over until you see Sequence Shot. If motion is detected you can then select the frames you want and merge them into one photo showing action across the scene.
35. Remove Unwanted Objects from Photos
When taking a photo in public, near a tourist attraction or just in a crowded area use the HTC Zoe mode and if you find someone in your photo you can edit it to remove an unwanted object.
Just like with the Action photo above, go to the photo, then to Edit and then choose Object Removal and the software will attempt to identify objects you can remove.
36. Turn Off WiFi Reminders
If you hate the small pop up that WiFi is available when launching an app you can turn this off easily.
Go to Settings -> WiFi-> tap on the three dots -> Advanced -> Notify Me -> Off. 
This won't keep the information out of the Notification Drawer, but it will stop a pop up from getting between you and your apps.
37. Change Lock Screen Shortcuts
If you want faster access to apps on the lock screen on the HTC One M8 you will need to change the icons on your home screen dock. These are the same apps when the phone is locked and unlocked.
Tap and hold on one you don't want and drag it off the home screen dock. You need to do this when the phone is unlocked and you are on a home screen. Now tap and hold on the app you want on the lock screen and drag it to the home screen dock.
38. HTC One M8 Zoe Highlights
You can quickly create a Zoe Highlight video like the one below that combines videos, photos, music and effects by visiting the Gallery app on the HTC  One M8.
When in the gallery, you can make a highlight reel from an event by tapping on the small edit icon on the highlight reel that the software automatically creates. Pick the style, music and photos you want to use then upload to Facebook or YouTube.

As an Amazon Associate I earn from qualifying purchases.