HTC One M8 Update Coming Soon With Sense 7
Over the past month or so we've seen multiple HTC One M8 devices receive updates to Android 5.0 Lollipop, not to mention Android 5.1 Lollipop for the Google Play Edition, but owners with the original HTC One M8 are likely wondering when they'll get the same software and features as the newly released HTC One M9.
In November Google released the initial Android 5.0 Lollipop update, and shortly after it arrived the HTC One M8 and original HTC One M7 Google Play Edition handsets received the new software. However, the regular version had to wait a few months, and HTC missed its initial goal of all owners getting it by February. We're now in April and almost all US carriers have delivered Android 5.0, with AT&T starting the rollout finally last week.
Read: HTC One M9 vs HTC One M8: What Buyers Need to Know
While Google and HTC are still busy getting the original Lollipop update out to HTC One M8 users, owners are already looking forward to the next major software update, as well as when they'll receive the HTC Sense 7.0 software. Below we have a few additional details on that front.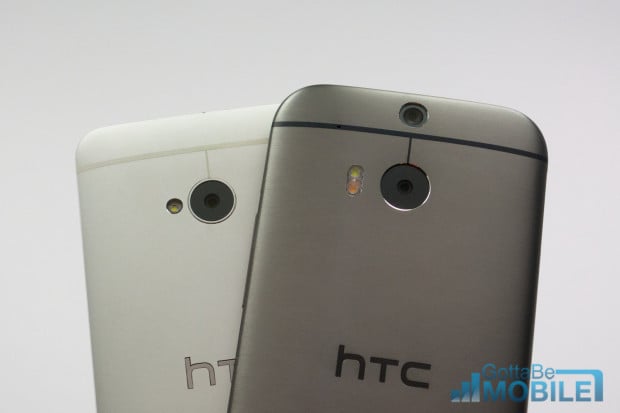 On March 1st HTC announced the newly revamped HTC One M9 for 2015. It featured a rather similar design to the M8 last year, but has tons of improvements to the camera and hardware, not to mention some pretty major changes on the software side of things. And while HTC Sense still looks like Sense, they've added a few improvements that One M8 owners are anxiously awaiting.
With Android 5.0.2 Lollipop going out to the HTC One M8 on AT&T as we speak, and already arrived for many other carriers, users took to Twitter asking HTC about Sense 7. One reply confirms the update is coming soon, and that the next major software update for the HTC One M8 will have Sense 7, but that's about all we know thus far.
@MohammadAsad528 no, this won't but our next update will include it. Thanks.

— Mo Versi (@moversi) April 7, 2015
Mo Versi of HTC confirmed the Android 5.0.2 Lollipop update doesn't include the new Sense 7, but its next update will. That said, he doesn't share any additional details regarding when that will be, or what all will be included.
Overall though, HTC Sense 6 and 7 aren't too different. Those with Android 5.0 Lollipop on the One M8 already have most of the changes, as Sense 7 mainly fine-tunes the Lollipop experience for HTC owners, and adds a few new features. The HTC Camera, Gallery, and many other apps can be updated from the Play Store on the fly, so most owners won't need to wait for a major update to have the latest and greatest.
The biggest additions to HTC Sense 7 that owners of the One M8 are waiting for, are the software tweaks, color options, and the extremely impressive new "Theme" app on the One M9. Allowing owners to change wallpapers, backgrounds, font, completely change the look of icons, and much more. The Theme engine is really powerful, and that's the biggest thing owners are waiting for. You can also add new buttons to the capacitive-touch navigation buttons below the screen, which is a nice touch as well.
For now the HTC One M8 is on Android 5.0.2 Lollipop, but an update to Android 5.1 or 5.1.1 Lollipop with even more fixes, HTC Sense UI 7, and more is expected to be released in the coming weeks or months. Most likely not until sometime this summer, but we'll update once HTC confirms more information.

As an Amazon Associate I earn from qualifying purchases.