HTC One M8 Updates Resume Ahead of Lollipop
While the official HTC One M8 Android 5.0 Lollipop update has already started for a select few users in the United States, recently a few carriers in the United States have kicked off an update, but it wasn't Lollipop. Last week AT&T announced a new software updatewith tons of changes that was still KitKat, but quickly canceled the update.
Back in October Google announced the new Nexus 6, Nexus 9, and the completely redesigned and improved Android 5.0 Lollipop update. A few days later, HTC promised many key devices would see updates within 90 days, which is February 3rd for those keeping track. And while that's still reportedly on track, this update won't be delivering the latest software.
Read: HTC One M8 Android 5.0 Lollipop Update Rumored
Ahead of the highly anticipated HTC One M8 Android 5.0 Lollipop update that is expected to arrive soon, last week AT&T started pushing a rather large update to its variant of the HTC One M8, sadly it was quickly canceled, and now it appears to finally be rolling out with a few additional features included. Read on for the details.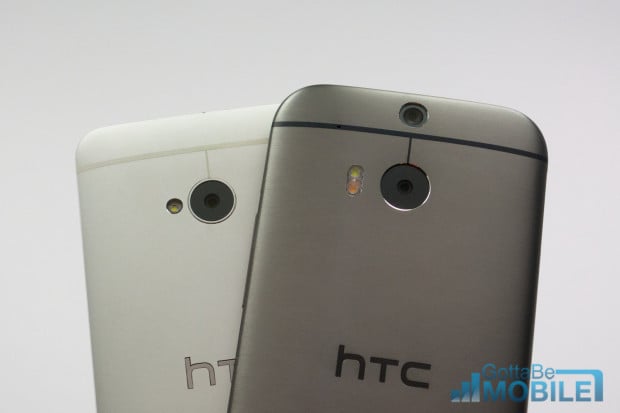 According to AT&T the HTC One M8 update is resuming today and it's full of small changes, tweaks, and the new HTC Eye experience as the device gets prepared for the upcoming Android 6.0 Lollipop update. The HTC Eye changes weren't included last week and it was likely pushed early, but the final update has kicked off today.
The 90 day update window for the HTC One M8 to see Android 5.0 Lollipop is getting close, with the official 90 days being up on February 3rd. And while we're expecting carriers in the US to delay updates past that, an update has arrived today worth installing.
According to AT&T there isn't too much going on here, but the update is surely one owners will want to accept, as it brings some nice enhancements to the camera. Here's the full and updated changelog.
Enables HD Voice
Updates Android OS to Android 4.4.4
Security enhancement
Bluetooth enhancement
Adds AMBS Cloud Messaging Integration
Adds Copy and Paste camera feature
Adds Usage Manager App
Improves battery performance
Updates AT&T Ready2Go
Updates Visual Voicemail
HTC Eye Experience
Read: Android 5.0 vs Android 4.4 KitKat: What's New in Lollipop
The AT&T HTC One M8 update rolling out today will put users on software version 3.42.502.1 and it brings lots of new stuff. For one, HD calling has been included. Which means we could see the same soon for the Verizon version. AT&T also promises updates and bug fixes to Android 4.4.4 KitKat, security and bluetooth enhancements, Adds AMBS Cloud Messaging Integration, introduces a copy paste feature to the camera, improves battery life (a big one) as well as updating some of the bloatware like AT&T Ready2Go and visual voicemail. The last change from what we saw last week is the HTC Eye Experience, something all HTC One M8 owners on AT&T were waiting for.
So far the biggest change we see here is the HD voice and Android 4.4.4 KitKat fixes and security patches, as well as HTC Eye. Interestingly enough it also mentions improved battery life, which is a nice addition and means they've done some extra fine-tuning to this release. The HTC One M8 was one of the best phones released last year, but battery life wasn't a strong point.
While we wait for the new HTC One M9 announcement in March, and the impending release of Android 5.0.1 Lollipop for the HTC One M8, get this update now and enjoy the changes and features while you wait. This should hit all AT&T owners in the next 24-48 hours, but could take upwards of 2 weeks to fully roll out. As usual you can head into settings > about phone > software and check for updates manually if you'd like. We've yet to see the update on our own AT&T HTC One M8.

As an Amazon Associate I earn from qualifying purchases.