HTC One (M8) vs. HTC One 2013: What You Need to Know
Building on the successful design of the original HTC One in 2013, last week HTC announced the all new HTC One (M8) smartphone. Now that it's officially here and readily available from multiple carriers, potential customers are gaining interest and want to know what it offers over the original.
For those looking to buy a new smartphone, there's a lot of options now and coming soon, and here we'll compare the latest and greatest two devices from HTC. That being the original HTC One from 2013, and the all-new HTC One (M8) released just last week.
Read: 5 Ways the New HTC One Beats the Galaxy S5
With the Galaxy S5 coming out soon it will have plenty of competition from both the new and original HTC One, and here we'll talk about both smartphones from HTC.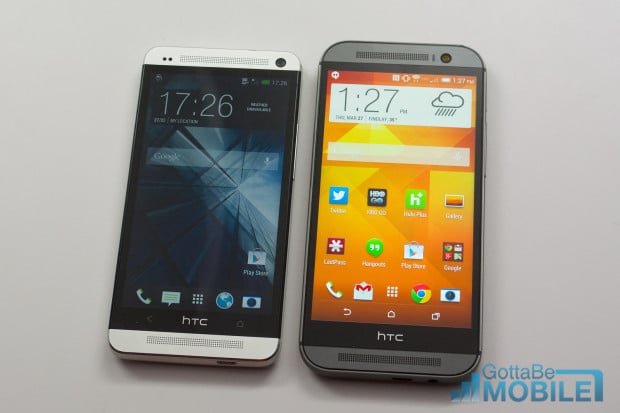 Going from one generation to the next there's usually major increases across the board, even if they aren't revolutionary, and the new HTC One (M8) is an impressive evolution of the original. It has plenty to offer and is an excellent phone, but don't rule out the original to still steal some customers from Samsung's Galaxy S5.
If you're in the market for a new smartphone, or are approaching the end of a 2-year contract from the Galaxy S3 or an iPhone, here's what to expect from the all new HTC One (M8) and the original.
Design
If there's one thing the HTC One (M8) offers over all other smartphones, it's the impressive design. However, the new model is very similar to the original, only it has been slightly changed and has a more brushed aluminum look. No Android phone can compare to the HTC One series, but choosing between them is a hard one.
When comparing both HTC One phones from eachother, there isn't much to talk about regarding the design. They're nearly identical, aside from a few different colors and the bigger screen. The only noticeable difference is the longer body and dual camera setup on the rear.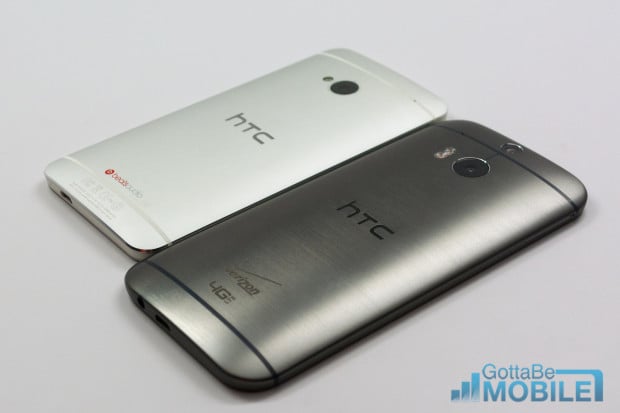 That said, they certainly feel different in your hand. The all new HTC One (M8) somehow has a softer, more comfortable aluminum that isn't so hard, cold, and slippery in the hand. It's still aluminum mind you, but it just feels better to hold. For those who love the aluminum design, but want the easier phone to hold, the new HTC One (M8) is the winner, even if it's slightly bigger.
If you're completely new to the HTC One and new One (M8), the biggest feature is the camera on the rear, or the front facing speakers. No other Android phone offers these features, and it's what makes the One great. The new (M8) has a better camera, and speakers which are said to be 25% louder and better sounding, so take that as you will.
Software
If you're switching from the One to the new One (M8) you will be in for a few minor surprises when it comes to the software, but not much. HTC Sense UI 6.0 runs on top of Android 4.4 KitKat, and it's the best Sense experience yet. There's on-screen navigation buttons, finally, fullscreen immersive mode, white font throughout, and an awesome camera app that makes this phone shine. If you've never bought an HTC phone however, both these devices will be a drastic change from previous Android smartphones. Here's a look at the software on the all new HTC One (M8) released last week.
For a decent comparison with the current version running on the 2013 HTC One, which is Android 4.4 and Sense UI 5.5, see the link below. While we're expecting the new Sense experience for most older HTC phones later this year, HTC has yet to announce a firm date. Meaning you'll get an update with Sense 6.0, but we're not sure when. Most likely sometime this summer.
Read: HTC One with Android 4.4 KitKat Review
HTC has Blinkfeed, a news and social site aggregator to deliver more content to your homescreen, HTC Zoe for camera and video highlights turned into professional clips, and the new HTC One with Sense 6 has gestures. Double tapping the screen will instantly turn it on, without tapping the on-button, and other nifty features that makes using your device easier.
We won't know more, or how it fully stacks up to the original until we dive into the all-new HTC One (M8) in our full review. For the time being, know that both phones run extremely smooth, fast, and stable, and have plenty of features from the software side that make them stand out. Obviously the new HTC One has more, but most of those should arrive to the original in a future software update.
Camera
Briefly mentioned above, but something that will be a major difference between these two phones is the camera experience. The original has a 2 megapixel front camera, and an odd 4 Ultrapixel rear facing camera. It offered improved low-light, and a larger sensor to capture more details, light, and color over the competition.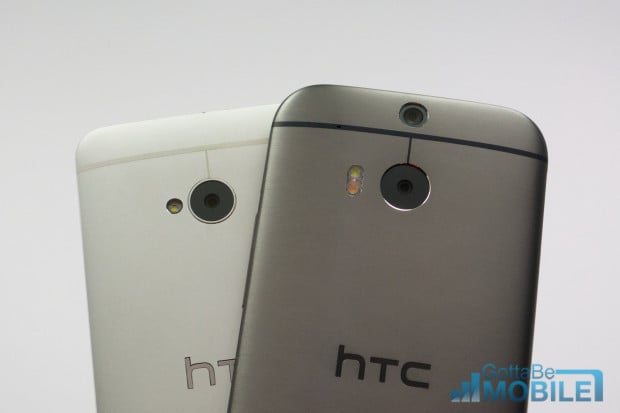 The original HTC One was impressive, but the 4 Ultrapixel size left some to be desired with a new model. Images weren't very large, and couldn't be blown up or cropped as easily as something from the Galaxy S4 13 megapixel camera. Sadly, nothing changed with the new HTC One (M8). Yes, the camera is better, and there's now two, but it's the same 4 Ultrapixel camera on board. Instead of offering more, they actually removed Optical Image Stabilization, and added a second sensor.
The second "Duo Camera" does some cool things, but is it worth the lack of a bigger sensor and OIS? That's up to you photographers and photo-centric smartphone users. The Duo camera has a slew of post-processing features. You can even change the point of focus after you take the photo. It's pretty neat, but has its tradeoffs mentioned above.
So far we've managed to snap some stunning photos with the new HTC One (M8), but have yet to fully test its capabilities vs the older version. We'll surely have more on that in our full review.
Specs
Specs are still important, even if phones these days have quad-core processors and are as powerful as some peoples aging laptops. The new HTC One is a decent improvement over the original, something which ensures a longer life of updates, but for those concerned about specs, there's not a lot to worry about.
Both smartphones are extremely fast, powerful, and efficient. However, a few noteworthy changes ensures the new HTC One will have better battery life, run a little quicker, and probably stay smooth and lag free for a longer period. Here's the rundown.
HTC One (M8)
5-inch 1920 x 1080p HD display
2.3 GHz Quad-core Snapdragon 801 with 2GB RAM
32GB internal storage (Micro-SD expansion support)
4 Ultrapixel camera (new second Duo Camera) and 5MP front, dual flash
Android 4.4.2 KitKat with Sense 6
Front facing speakers, infrared port for remote
2,600 mAh battery
HTC One (2013)
4.7-inch 1920 x 1080p HD display
1.7 GHz Quad-core Snapdragon 600 with 2GB RAM
16GB internal storage (no micro-SD)
4 Ultrapixel camera and 2MP front
Android 4.4.2 KitKat with Sense 5.5
Front facing speakers, IR port
2,300 mAh battery
As you can see, these phones are quite similar across the board. Of course the bigger screen and faster processor will drain the battery, but HTC and Qualcomm put tons of effort into making this phone last longer. As a result the bigger 2,600 mAh battery will keep the new HTC One (M8) powered on longer than the original, even with the increase in specs and screen real estate.
Price
The biggest difference for most consumers and potential buyers will be the price. Simply because with any new release, we see price drops. The new HTC One (M8) has a bigger display, dual cameras, lasts longer with a big battery, faster all around, and comes with 32GB of internal storage for movies, games and apps, yet costs the same as the original from 2013. Users can get the all new HTC One (M8) for $199 with a new 2-year contract, or around $599-$649 outright.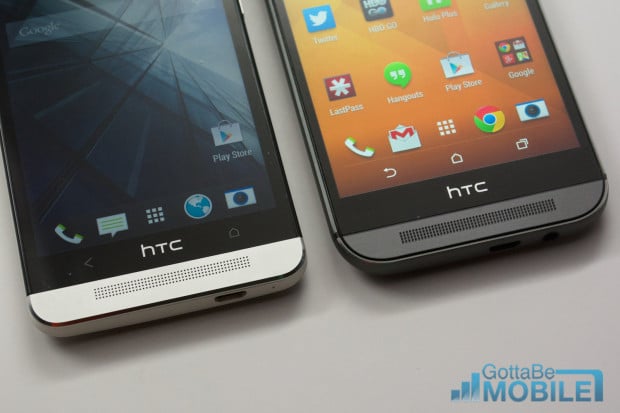 That's a great price for what's being offered, but expect tons of deals over the next few weeks. While the HTC One is only available online until April 10th (except from Verizon) by the middle of the month it will be in retail stores around the globe. This means the original HTC One should see price drops, and could be as low as $49-$99 with a new 2-year contract. Not to mention HTC themselves dropped the price to $499 outright last month.
Expect carriers to offer the new HTC One (M8) for $199 or monthly payment plans, and major discounts for the original. If you're looking to save a buck, the HTC One (2013) is still an excellent option as we've detailed above.
Read: Why The New HTC One M8 Google Play Edition is Worth Waiting For
Final Thoughts
Overall it's rather hard to compare these two phones. While they're nearly identical aside from a few obvious changes they're largely the same device. Is this a good thing or a bad thing? That's for you to decide. In the end consumers and prospective buyers will need to decide if the improvements warrant the larger price tag.
The new HTC One will be competing with the iPhone 6, Galaxy S5, and upcoming LG G3, but before all of those it'll need to convince buyers the original isn't worth the lower cost. Stay tuned for our full review coming up quick, and come April 10th head into a local US carrier (all major four) and try the new HTC One (M8) yourself.

As an Amazon Associate I earn from qualifying purchases.