HTC One M8 vs. Moto X: 5 Key Differences
With the all new HTC One M8 finally available and hitting stores this week, not to mention the Samsung Galaxy S5 arriving around the same time, more and more consumers are looking at their options.
The new HTC One M8 is gaining traction from consumers due to the excellent design and a few oddball TV ads we've been seeing the past few weeks, and with all major US carriers set to have the phone in stores by the end of the week we've been comparing it to some of the competition.
Read: Samsung Galaxy S4 vs. HTC One M8: 5 Key Differences
One smartphone that is a great alternative and also sports an unusual design (or can) is the Moto X smartphone released late last year. While it may not sound like a flagship smartphone to some, the Moto X has plenty of good things going for it, and below we'll compare it to the latest from HTC.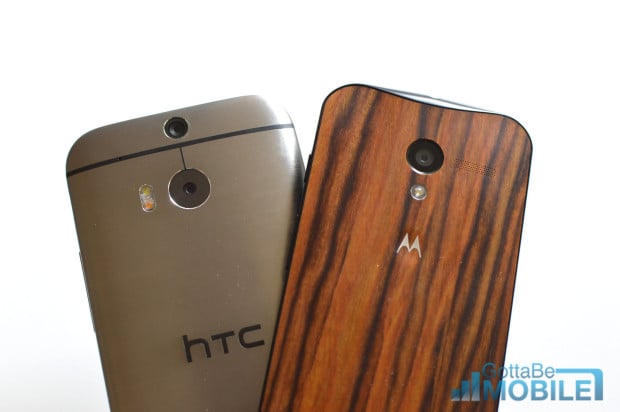 The HTC One M8 is officially arriving in all major US carrier stores on April 10th, and potential buyers will be able to walk in and compare it to the competition. At first glance the aluminum design is nice, but below we share five key differences between the HTC One M8 and the Moto X.
Design
The biggest difference between these two phones for buyers will most likely be the aluminum design, and the sheer size of both smartphones. The Moto X is one of the most compact and small smartphone around, even though it offers a large 4.7-inch display. When compared to the HTC One M8 it looks like a miniature smartphone, simply because the M8 is so long.
It's no secret HTC has some of the best build quality of any smartphone on the market, especially the Android market. The new HTC One M8 is wrapped in a beautiful brushed aluminum design that nothing else compares to. However, one that has a good chance with a "unique" factor is the Moto X. Reason being the company offers over 18 custom colors for the back, and four real laser cut wood backs.
Yes, you have aluminum on the HTC One M8, but the Moto X can be made out of real Bamboo, Walnut (shown below), or others such as Teak and Ebony.
While we feel like no Android device can compare to the build quality of the HTC One M8, and love it in our full GottaBeMobile Review, the options with the Moto X make it an awesome alternative. Even though it's made out of lightweight plastics if you don't take the wood route.
The HTC One M8 design is sleek, curved on the back, and comfortable, but so is the Moto X. If you want device that looks like Jewelry the HTC One M8 is for you, but that isn't to say the Moto X isn't an excellent option either. The custom wood backs are a piece of art. You'll have to decide what fits you best.
Read: Moto X Android 4.4.2 KitKat Update: What to Expect
Software
The second most important difference between these two phones is the software on board. While we're enjoying the latest Android 4.4.2 KitKat on both, the experience will be vastly different. Motorola launched the Moto X when Google owned the company, and it's one of the closest devices to stock Android how Google builds it. HTC on the other hand, offers one of the most customized and tweaked experiences around. Sense UI 6.0 completely covers and hides Android 4.4 KitKat, but offers some benefits as well. See for yourself below.
Blinkfeed delivers more content, news, and social updates to your homescreen than any device around, which makes the M8 great for social users and just about anyone. I have all my sports and Twitter news coming through Blinkfeed, and it's excellent. The Duo Camera uFocus software provides a camera experience no other Android offers, and overall it's a smooth device. It isn't stock Android, that's for sure, and could take some getting use to, but many love what HTC does to the software.
On the other side, the Moto X has tons of little hidden gems too. It is nearly stock Android, but the company added a few things to make the phone stand out. Touchless controls being the best part. You can interact with the Moto X without ever picking it up. Simply saying OK Google, Ok Motorola, or OK Phone (user changeable) which activates voice and touchless controls. From here you can launch apps, browse the web, play music from Google Play and more all without touching the device. Here's a look at a few Moto X software features.
Motorola also added a neat set of features called Smart Actions to the device. While the phone is off and you get an alert, email, or notification, they easily are displayed in a low-power state on the lockscreen. A quick slide will shown you more details, and further sliding unlocks right to your Gmail (or the app) to view the incoming information. These little things make using your device easy, fast, and smart.
Read: 38 HTC One M8 Tips, Tricks and Hidden Features
Overall you'll be on the latest Android 4.4.2 KitKat with the HTC One M8 or the Moto X, but the software will be very different. If you want minimal as Google designs it, Moto X is for you. Otherwise, the HTC One M8 is as customized as it gets. Software updates are another issue, one which Motorola has been excellent at over the past 6 months, but with Lenovo now in control it's hard to say how the future will play out.
Specs
Specs aren't everything. Especially when the phone "just works" or is fast and fluid no matter what task you do. Motorola proved that a dual-core chip still makes a phone run extremely efficient and smart with the Moto X. So while the specs may sound underwhelming, the price is a bit lower, but performance doesn't take a hit. Both phones are extremely fast, and will be for years, but here's the rundown.
HTC One (M8)
5-inch 1920 x 1080p HD display
2.3 GHz Quad-core Snapdragon 801 with 2GB RAM
32GB internal storage (Micro-SD expansion support)
4 Ultrapixel camera (new second Duo Camera) and 5MP front, dual flash
Android 4.4.2 KitKat with Sense 6
Front facing speakers, infrared port for remote
Brushed aluminum design
2,600 mAh battery
Moto X
4.7-inch 1280 x 720p HD display
1.7 GHz Dual-core Snapdragon S4 Pro (Motorola X8 System) with 2GB RAM
16GB internal storage (32GB option, no micro-SD)
10 ClearPixel camera and 2MP front
Android 4.4.2 KitKat
Touchless Controls, Smart Actions
Fully customizable colors, Real wood backs
2,200 mAh battery
Again, specs don't mean everything, but you can clearly see that Motorola wasn't going for high end with this phone. While almost all other phones of 2013 has quad-core chips, Motorola has a dual-core. However, it actually has 8 cores total. The regular cores, plus a few dedicated chips for improved battery efficiency and the always-listening touchless controls.
The Moto X still performs extremely well given it is only a dual-core, and most smartphone buyers would never know the difference if we didn't lay it out as mentioned above. Both phones are fast, fluid, and multi-task with ease while viewing the web, opening apps or playing games.
Customization
We briefly mentioned it above, but one of the key differences between these two phones is the customization options with the Moto X. A site called MotoMaker.com will allow buyers to completely customize the Moto X. From the color on the back, buttons and camera ring accent colors, a custom engraving on the back, wallpapers, and more.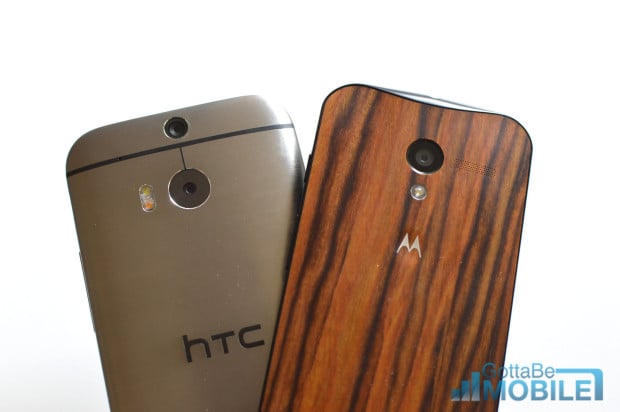 Motorola even has real wood backs for only $25. These are custom, precision cut wood that are permanently built into the phone. They're beautiful, comfortable, and durable.
Read: Moto X in Walnut Wood Hands-On Video
You can choose over 18 different colors, the accents, and of course wood as shown above. No smartphone has ever offered this, especially not to this degree. Another important aspect is you can do all of this on MotoMaker.com for all the major US carriers, and they'll assemble and ship the device within a few days for delivery. It's really the ultimate choice for those wanting something unique.
Yes the HTC One M8 has a nice brushed aluminum design in gray, silver, or gold, but do they offer 18 colors or wood? Nope. If you want to be different, the Moto X is the way to go.
Price
The last major difference between the Moto X and the new HTC One M8 is the price. This could be the biggest factor too, since the Moto X is a very reasonably priced smartphone. Even with all the customization and features, it's only $349 outright. No contract required. There's also a 32GB version for $399, and it can be had for even less from carriers on a new 2-year contract.
The HTC One M8 however is $199 with a 2-year contract, and $649 outright. Meaning you could buy almost two of the Moto X for the price of one HTC One M8. The quad-core power, beautiful and large HD display, and stunning design are worth it, that's for sure. That said, price is more important than features for many consumers, so this is something to consider.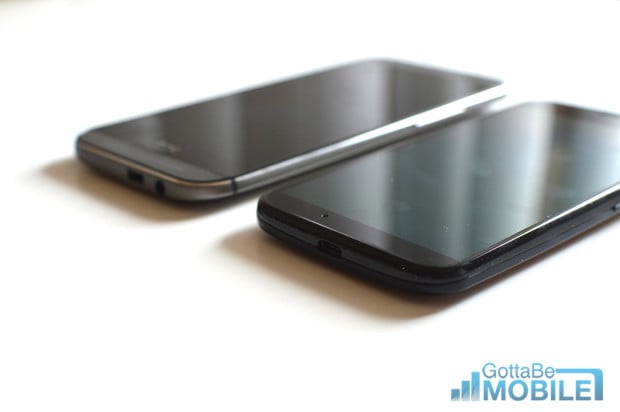 Also, carriers offer both phones with monthly payments. Usually around $25 a month for X amount of months. This is another excellent option that could have those on a budget spring for the better HTC One M8 without breaking the bank.
Final Thoughts
In the end trying to compare these phones and suggest which one a consumer should buy is no easy task. They both offer an excellent experience from the software side, and unique aspects regarding the hardware and design that others in the Android smartphone market don't.
All said and done, the HTC One M8 is clearly the better device and the best choice moving forward. It has some of the latest cutting edge technology, a bigger 1080p HD display, and is 6 months newer. This means the manufacturer and carriers will likely support it slightly longer with software and security updates, not to mention it will be able to handle the latest apps and games for years to come.
It's a tough decision given the design, looks, size and price, and consumers will have plenty of options. Head into a nearby carrier store this weekend once the HTC One M8 is available in stores, and give them both a try before you decide.

As an Amazon Associate I earn from qualifying purchases.