HTC One (M8) vs Samsung Galaxy Note 3: 5 Things Buyers Need to Know
The all new HTC One (M8) is finally here and readily available from most U.S. carriers, and it's starting to gain attention and traction from consumers and potential buyers.
If you're looking to buy a new smartphone in the coming weeks or months there's plenty of options, and here we'll help you decide between Samsung's popular Galaxy Note 3, and the newly released HTC One (M8) smartphone. The Galaxy S5 is coming soon, but those looking for something a bit different may choose the bigger Note 3, or the premium HTC One (M8) and here's what you need to know about both.
Read: Samsung Galaxy S4 vs. HTC One (M8): 5 Key Differences
Released last year the Samsung Galaxy Note 3 certainly isn't an old device, and it still has nearly everything you'd want in a smartphone. The specs are still top of the line, it's chalked full of unique features, and has a neat faux-leather design. Read on for our thoughts regarding 5 things you should probably know.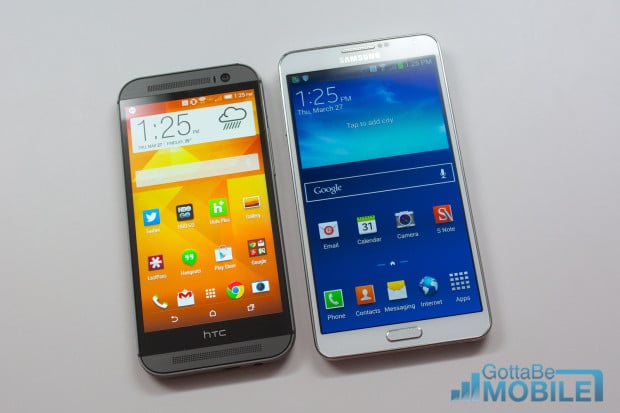 The new HTC One (M8) was announced last week and went up for sale the minute it was confirmed on stage, something even Apple hasn't done lately. It was an impressive move, one that probably caused all the leaks leading up to launch, and can be purchased now on most major US carriers online. However, in store availability is exclusive to Verizon until April 10th.
There's a lot of differences between these two phones. One big one being the sheer size of the Note 3, so here's five things that buyers will want and need to know before they make a purchase decision.
Design
The first thing you'll notice and the biggest difference here (size aside) is the design of these two phones. Samsung has a reputation for using plastic, but the Note 3 is their first phone that looks and feels premium, even if it still was made mostly from plastic.
HTC on the other hand, is no stranger to aluminum. In fact, the brushed aluminum design of the new HTC One (M8) is getting high praises, and some may even say it's better than the iPhone 5s. While we'll need to spend more time with it to confirm, it's certainly the best Android phone around when it comes to design and build quality. It simply cannot be matched, especially by the plastics of Samsung.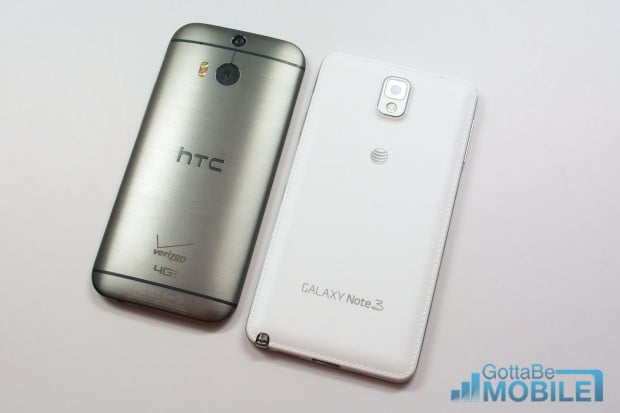 That said, the Note 3 has a nice aluminum ring around the entire side of the device for added durability and style, and the glossy fingerprint magnet plastic from previous years is gone on back. Instead we have a flat matte black or white plastic that has a neat faux-leather design. Right down to the stitching on the edges. Of course it's still plastic, but you'd never guess until you touch it.
Holding both phones in our hands we can really feel the difference and sheer quality from HTC. It can't be beat, and really shines through once you use the device. Samsung's plastic keeps the devices lightweight and thin, not to mention allows for micro-SD ports and removable battery options, so this can go both ways. In the end though, the design on the HTC One is top quality, beautifully stunning, and one of the best devices we've held and used to date.
Oh and we can't forget those front facing speakers. This is one area Samsung coined first on some tablets and media devices, but failed to deliver it on phones. HTC took the opportunity to offer it on smartphones, still has that advantage, and it's one of the best aspects of the new HTC One (M8) smartphone.
Read: Galaxy Note 3 Review
Size
One of the biggest factors any prospective buyer should take into consideration between these two devices is the size. Forget plastic or aluminum, forget the software changes we'll talk about below, it's the size. Are you comfortable or even capable of using a massive 5.7-inch smartphone?
The problem here is a 5.7-inch device isn't easy to hold, fit in a pocket, or use comfortably with one hand. Compare that to the rounded edges and soft curves of a 5-inch HTC One (M8) and the choice may be an easy one. That being said, we'd recommend anyone heads to a nearby retail store or carrier to try the Samsung Galaxy Note 3 in the hand first. It's a wonderful device, but you may want to make sure you can handle the size and weight before making a purchase decision.
You can clearly see the difference in size above. While it doesn't seem too major, it's quite massive once actually in your hand and those small fingers or thumbs are trying to stretch to reach keys while typing, or apps in the application tray.
Software
Another big difference between these two phones is software. As you'd guess, they both run completely customized versions of Android. Samsung has TouchWiz that's popular with all Galaxy devices, and HTC runs a brand new and improved HTC Sense UI 6.0 software overlay. They both have advantages, and disadvantages, but offer key features and software over the competition.
We'll start with the new HTC One (M8) and the video below gives you a good idea of what to expect from software. From Blinkfeed for news and social aggregation, to everything else under the Android 4.4 KitKat software.
Sense has never been a favorite of ours, but it's slowly becoming an excellent option and choice for consumers. Blinkfeed brings news, emails, Facebook, and social information front and center, if you'd like, and offers tons of content consumption at the touch of a finger. Samsung has Flipboard for something similar, but HTC's version is much better if you ask us.
Without missing a beat, here's a look at what you can expect from the Samsung Galaxy Note 3 software. Which also runs Android 4.4 KitKat and a software overlay with the TouchWix "UX" user experience.
There is plenty to like about both of these phones, but another key aspect for potential buyers is the S-Pen and slew of S-apps for the Galaxy Note 3. As you know, it features a built-in stylus you can slide out and complete an array of tasks. Writing on the screen, taking notes, drawing art, not to mention snipping pieces of emails and more for quick sharing. There's tons and tons of options for the Note 3 S-Pen stylus, none of which are available for the HTC One (M8). If you're a content consumption AND creation type of person, the Note 3 is for you.
Read: Galaxy Note 3 vs. HTC One Max: 10 Key Differences
Specs
Another important thing is the specs both phones have to offer. The Note 3 was released late in 2013, so features nearly everything the HTC One has to offer, aside from a few internal changes with the processor. They are actually quite similar regarding internals, and just know they'll both be fast and fluid phones for years to come. That said, many love the technical details, so here they are.
HTC One (M8)
5-inch 1920 x 1080p HD display
2.3 GHz Quad-core Snapdragon 801 with 2GB RAM
32GB internal storage (Micro-SD expansion support)
4 Ultrapixel camera (new second Duo Camera) and 5MP front, dual flash
Android 4.4.2 KitKat with Sense 6
Front facing speakers, infrared port for remote
2,600 mAh battery
Samsung Galaxy Note 3
5.7-inch 1920 x 1080p HD AMOLED display
2.3 GHz Quad-core Snapdragon 800 with 3GB of RAM
32GB internal storage (Micro-SD expansion)
13 Megapixel camera and 2MP front shooter
Android 4.4.2 KitKat (updating) with TouchWiz
USB 3.0, infrared port for remote
S-Pen stylus
3,200 mAh battery
The processor is a small generation ahead with the HTC One (M8) which promises slightly faster performance with games and general use, and will be more efficient. That said, the Snapdragon 800 in the Note 3 is the base of the chip used in the HTC One (M8) and offers nearly everything it does. We have 4k video recording, 3GB of RAM, and tons of other awesome options.
In general both phones will be extremely fast for daily use, multi-task with the best phones around for years to come, and receive a similar time frame of support for its respective manufacturers. The specs are so similar it really shouldn't sway buyers, and you should be more concerned about size or interface overlays instead.
Price
Another deciding factor for any potential customers looking to buy a new smartphone is price. Whether you're buying on a new 2-year contract, buying it outright, or will opt for a new carrier payment plan and pay it off with 24 monthly payments. These numbers are usually closer, but with the Note 3 being such a big device it actually costs substantially more.
The new HTC One (M8) is $199 with a new 2-year contract, and can be found from carriers like Verizon for $599 outright. You'll also get offers for $25-$27 monthly payment options for 2-years off contract, and spend less up front. That's nice and all, but what about the Note 3? Samsung's Galaxy Note 3 is $299 with a 2-year contract. Meaning you'll be paying $100 more for the Note 3, no matter how you look at it.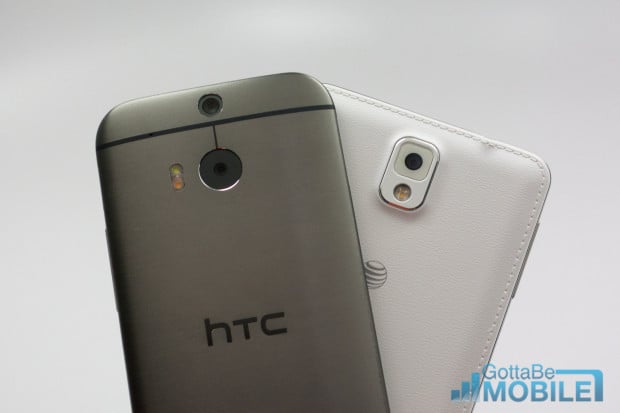 One good thing however, is the full outright off contract price. It's only $699 for the Note 3, and when compared to $639 or $649 AT&T or Sprint is charging for the HTC One M8, that price doesn't sound nearly as bad. It's still an expensive purchase, but for those buying outright it isn't as big of a difference as you'd expect. Why the high on-contract price? We don't know. Users can also get a completely different experience from a stock Android 4.4 KitKat HTC One (M8) Google Play Edition for $699.
Carriers
Carrier adoption for Samsung devices is a growing trend, and almost all regional carriers offer its phones on top of all major US carriers. This holds true for the Note 3 that's available from Verizon, T-Mobile, AT&T, Sprint, US Cellular, and many other regional carriers. If you want the Note 3, but not from the big four, you have options.
For now, the HTC One (M8) is limited to a few, but we expect a much broader set of options by April 10th. The phone is currently available in-store from Verizon exclusively, but can be purchased for AT&T and Sprint online. Starting April 10th it will be available online and in store from Verizon, AT&T, T-Mobile, Sprint, and US Cellular, and possibly others.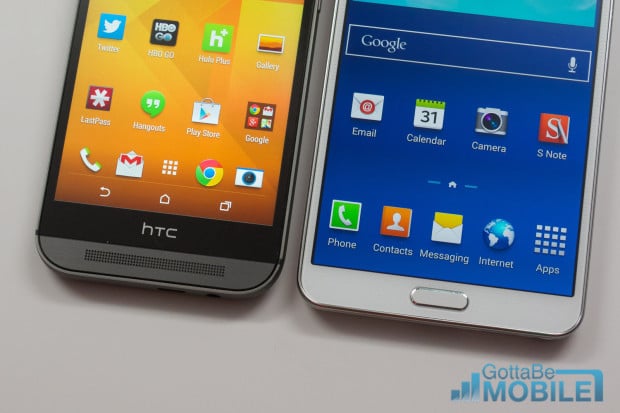 Final Thoughts
In the end though, this really comes down to 2-3 main things for prospective buyers. The size of the Note 3, the lower price of the HTC One (M8), or the software they each offer over stock Android.
Both of these devices are at the top of their class, offer stunning specs and features in a neat package, and will be impressive smartphones for years to come. You really can't go wrong with either one, but the HTC One may get support for a little longer simply because it's the newer device.
It's a hard choice, and one that buyers will need to think over before making a choice. Once again, head into a nearby carrier store and try the Note 3 yourself to see if the size and width is something you'll be able to manage. Stay tuned for a full HTC One (M8) GottaBeMobile review coming up soon.

This article may contain affiliate links. Click here for more details.