HTC One M9 Concept Images Emerge
The HTC One M8 was announced and released back in March, and now that the phone has been available for more than half of a year, consumers are starting to look forward to the next release. At this point we don't know what to expect from the next HTC One smartphone, but some new HTC One M9 concepts have started to fuel the fires.
The original HTC One debuted in 2013, and was quite popular for offering stunning front facing speakers, an all aluminum design, and the latest version of Android. Beats Audio kept the sound clean, and the new 4 UltraPixel camera on the back was a welcomed edition as well.
Read: HTC One M8 vs LG G3: 5 Things Buyers Need to Know
This year HTC did more of the same by improving the HTC One in many key areas, including the camera, and released the HTC One M8. Now though, we're looking forward to the new HTC One M9 for 2015, and a few concept images have emerged that should have potential buyers excited about HTC's future smartphones.
One designer and developer by the name of Fabrizio D'Onofrio has recently released his expectations and wishes regarding the new HTC One M9 smartphone, and it looks rather impressive. Of course this isn't a leaked render from HTC or anything, and merely a fan-made concept image of what the new device could look like in 2015.
The HTC One M8 is over six months old, and that means the company has likely been working on a successor for quite sometime. Often devices are in the works for over a year before being released, so a new HTC One M9 is likely already in multiple stages of development, design, and even fabrication. Although mass production is still months out.
Of course HTC hasn't confirmed anything, but multiple rumors about a new HTC One M8 Prime, or a new HTC One M9 coming early next year have been floating around, so a new phone is likely coming soon. The images above and below are one fans idea of what it could look like.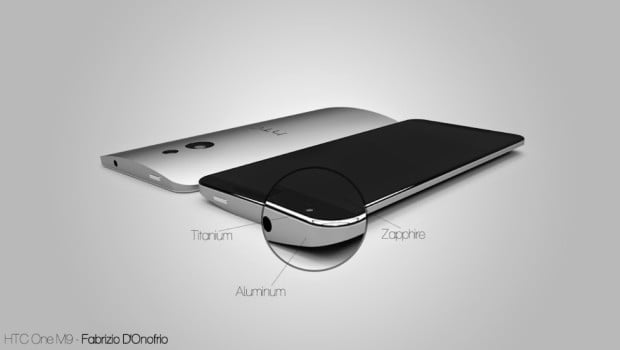 This designer has imagined a new and improved HTC One M9 with both an aluminum and titanium frame, coming in at only 7mm thin, and of course the latest hardware and specs in the mobile market. This is all just speculation of course, but still fun to see what designers and developers come up with, especially when compared to current devices available today.
Fabrizio D'Onofrio imagines a new HTC One M9 with a 2560 x 1440 Quad-HD display, similar to the LG G3 and Galaxy Note 4 that were released late this year, and a few other neat features as well. Of course HTC will keep the front-facing Boomsound speakers, and hopefully improve the camera on the back to a 13 megapixel duo camera setup. The front camera is 5 megapixels for excellent selfies, which we've seen from a few other recent HTC smartphone releases.
This fan would see HTC offer the device with a 2.7 GHz quad-core Snapdragon 810 processor that has 64-bit support for Android L, run with 3GB of RAM, and offer 32 GB of storage with a micro-SD slot. HTC has been lacking on battery size as of late, and this designer hopes for a bigger 3,000 or 3,500 mAh battery. However, there's only so much you can fit into a sleek 7mm thin smartphone.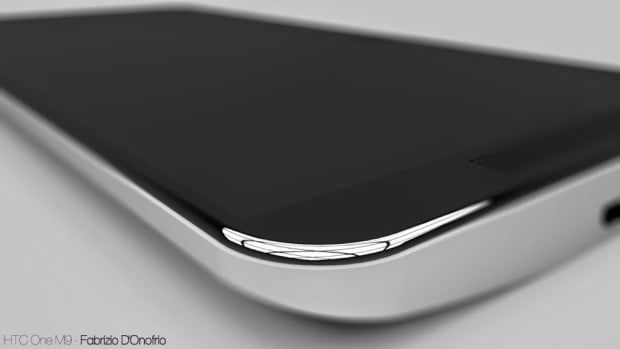 The front speaker grills have been reimagined, but otherwise many of the popular design elements of the smartphone remain on board. Those being the curved aluminum shell, bold HTC branding around the back, and the Duo camera setup from this year.
Again, this is only a concept image, but many of the specs and design elements are highly possible given the way the mobile space has been moving, and based on previous release cycles. What do you guys think? Would you replace your HTC One or One M8 with this new HTC One M9?