HTC One M9 Price: What We Know So Far
Earlier this week the HTC One M9 release date was announced in Barcelona, Spain, and buyers are likely looking for more details regarding the release, price, and carrier information. And while HTC didn't share the exact details, they did confirm the HTC One M9 release date, and now we're finally getting full pricing information as buyers wait for HTC One M9 pre-orders.
On March 1st HTC took the stage at Mobile World Congress and revealed the HTC One M9 after months of leaks, rumors, and speculation. The design was disappointing, looking nearly the same as last years, but with tons of improvements and a new two-tone gold and silver color variant, it's still an excellent phone worth considering. However, the price will be a factor for buyers.
Read: HTC One M9 vs iPhone 6: What to Expect
Last year the popular HTC One M8 was announced and released on the same day, although Verizon was the only carrier in the United States to make it available on day one. It was released for $599-$649 depending on the carrier, and it looks like we'll be seeing the same thing here in 2015. Below is more information on the new phone, and some leaked details regarding the price and carriers.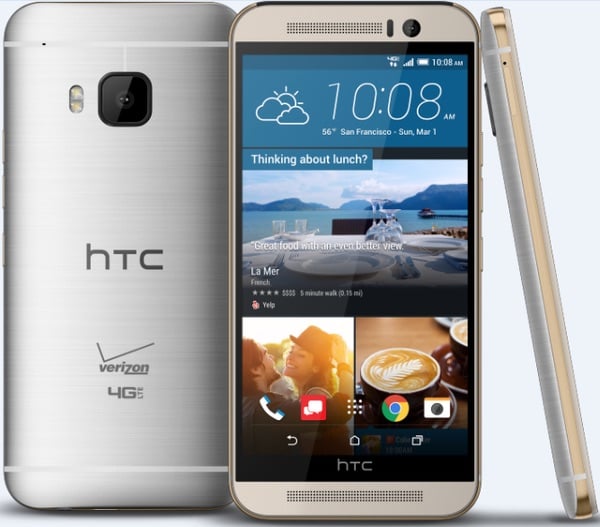 Many were hoping the HTC One M9 would be announced and released on March 1st, as the company did that last year. Sadly that isn't the case in 2015, and we didn't get a price, or a solid release date. All HTC had to say was it was coming to all major US carriers, and being released around the globe "from Mid-March". Meaning there's no solid date for US carriers, nor a price tag.
That being said, we've seen a few leaks already suggesting the price, all four main US carriers have confirmed they'll offer it soon, and now we have another set of details regarding the price point HTC and at least one carrier will be asking.
HTC One M9 Price
The HTC One M9 should be $649 outright from AT&T in potentially four color options: Silver, Gunmetal Grey, Pink and Gold. We're not sure if all carriers will offer all colors, but those were what were announced this week by HTC.
According to a leak from Best Buy the new HTC One M9 will be headed to AT&T in at least one color, that being the stunning Gunmetal Grey shown in the image above. They list the device at $649, which was the same price they asked for the HTC One M8 in 2014. However, it's worth noting that Verizon only asked $599 off contract, so that's one thing to be aware of as carriers start making announcements in the following days or weeks.
Read: HTC One M9 Release Date Breakdown
That said, the post by Best Buy could have just been a placeholder for its online store, and has since been removed. This week HTC launched a brand new webpage and is hosting a contest giving away a free HTC One M9. This, is where we're getting the latest new. Digging through the content rules we see HTC values the device at $599.
HTC lists the Approximate Retail Value of the smartphone at $599. This doesn't mean that's the price we'll see from carriers, but it's likely the retail price most will ask for off-contract. There's only one model, a 32GB version, so we don't expect pricing to differ.
HTC One M9 On Contract
The new smartphone has a lot to offer, and is loaded with the latest and greatest specs, an all aluminum design, and a better camera. It's a top end phone, and a top end $599 price seems realistic.
Carriers have all confirmed they'll offer it soon, but none have announced dates or pricing. However, almost all phones launch at $199 with a new 2-year contract, and that's what we're expecting from Verizon, AT&T, Sprint, and the of course T-Mobile does monthly payment plans. Verizon Edge, AT&T Next, and Sprint Easy Pay could all offer it for $0 out the door, with 12 or 24 months payments for those who don't want to sign a contract, or can't afford the $600 price tag.
HTC One M9 Details
HTC's new One M9 smartphone didn't get a crazy new design like some of the leaked concept renders and photos, but it did get a major overhaul in terms of specs and fixed a few key complaints from last years model. Along with a new two-tone color design to the all aluminum frame, we now have an improved 20.7 megapixel camera, better battery life, and an 8-core processor. Here's the full rundown:
HTC One M9 Specs
5-inch 1920 x 1080p Full HD IPS Display
2.0 GHz 8-core Qualcomm Snapdragon 810 Processor (Two four core processors)
3GB of RAM with 32GB of internal storage
Micro-SD Slot
Android 5.0 Lollipop with Sense 7 UI
20.7 Megapixel camera with sapphire glass, 4 Ultrapixel front camera
Two-tone Zero-Gap All Aluminum Design
Dual HTC Boomsound Speakers with Dolby Audio
2,900 mAh Battery
5.68 x 2.73 x 0.38 in size, and just 4.96 ounces
more
The new HTC One M9 is certainly an improvement over last years model, and should offer the new Galaxy S6 some strong competition, especially considering it has a micro-SD slot, and Samsung removed that from its latest flagship smartphone. A move that has many buyers frustrated and looking elsewhere.
Again, the HTC One M9 will be available from all major carriers in the United States, but we'll have to wait for more details from each respective carrier regarding the release date, price, color options and more. Stay tuned.

This article may contain affiliate links. Click here for more details.