HTC One M9+ Release Confirmed
The brand new HTC One M9 release date is finally here and the smartphone is hitting carrier shelves in a few days, but that isn't all the company had in store for 2015. Following countless leaks and rumors, today the HTC One M9+ has been officially announced and confirmed.
Before the HTC One M9 announcement and release there were countless rumors that HTC was actually preparing two smartphones to be revealed. Those being the One M9, and a bigger HTC One M9+. Of course only one phone was announced, but today HTC took the wraps off of the bigger, better, higher resolution new HTC One M9 Plus.
Read: HTC One M9 Review
Back in February an image surfaced showing HTC had two phones coming. Now a few weeks later and we have the second device, although they don't look anything like the earlier leaks. The HTC One M9+ is a bigger and faster version of the new One M9, and it has a dedicated home button and fingerprint scanner similar to the Galaxy S6.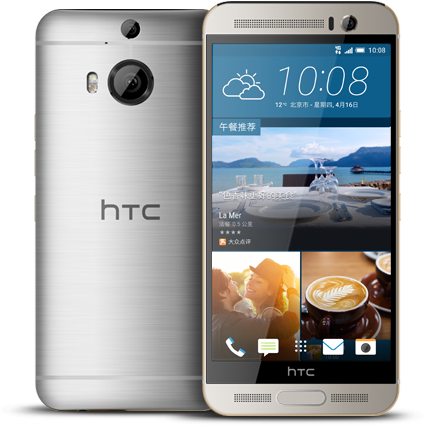 Over the past few weeks dozens of leaks and images have surfaced about this smartphone, and many were wondering when it was coming, and why it wasn't the regular HTC One M9 that was announced on March 1st. HTC took all the changes to its latest phone, yet added a few more features, increased the screen size, and have released the new HTC One M9+. However, it appears to be a device that's only going to China.
The HTC One M9+ comes with a bigger 5.2-inch 2560 x 1440 Quad-HD display. Which compared to the 5-inch 1080p screen of the One M9 sounds rather nice. They've also tossed in a fingerprint scanner and dedicated button on the bottom between the dual front facing speakers. Then the One M9+ has the same Duo Camera setup on back as the One M8 last year, only with a better 20.7 megapixel lens instead. Essentially this is a bigger, better One M9, but only headed to China.
It is powered by the latest Android 5.0.2 Lollipop and Sense UI 7 that comes with the HTC One M9, but has a MediaTek 8-core processor vs the Qualcomm Snapdragon here in the United States. Owners will still get 3GB of RAM, 32GB of internal storage, a bigger 2,840 mAh battery, and more.
The HTC One M9+ comes in the same color options with the new two-tone change. Those being gunmetal grey, silver and gold, as well as an all-gold option for those interested. For whatever reason HTC decided to stick with a very similar design on the new One M9, and save the actual improvements and refinements for the One M9+, and only release it in China.
Surely many who just bought the new HTC One M9 aren't too happy about the release, but for now this device is only for China, and it doesn't appear to be headed to any carriers in the United States. At least not yet. We can't help but wonder why HTC didn't just release this globally as the HTC One M9 for 2015, but to each his own. The HTC One M9 hits carriers in the United States starting April 10th, and the newer, better, and bigger HTC One M9+ is headed to China in the coming weeks.

This article may contain affiliate links. Click here for more details.