HTC One M9 Release Date: 5 Things to Expect Now
On March 1st, HTC introduced the brand new HTC One M9 smartphone to the world live on stage at Mobile World Congress. They revealed the phone along with plenty of new features, highlighted the camera, talked about the award-winning design, and ended with release information. And while a solid date has yet to be confirmed, below are some details regarding what buyers can expect.
In January following a slew of leaks and rumors, HTC sent out invites for the event taking place on March 1st, confirming they'd announce their new phone at the annual Mobile World Congress show for the first time in multiple years. Prior years they've taken the time to host their own event, but not this year. We knew what was coming from all the rumors, but weren't sure on the release date.
Read: HTC One M9 Release Date Breakdown
The device announced was exactly as expected, and lined up perfectly with all the rumors we've been hearing for months. The design didn't get a fresh new change like some rumors suggested, but the phone is still a premium flagship smartphone for 2015 loaded with top-tier specs. Below we'll talk about what it has to offer, and what buyers can expect from US carriers regarding the HTC One M9 release date.
For the past several months we've seen countless rumors about the HTC One M9. Photos, specs and videos leaked, reports suggesting those were fake in an effort to hide a new design surfaced, and more, but this past week everything came together and we now know everything about the new phone. It didn't get a fresh new design, but it still has plenty to offer.
Read: iPhone 6 vs HTC One M9: What to Expect
As expected, the HTC One M9 comes with a brand new massive 20.7 megapixel camera, a powerful 8-core processor and is running the latest version of Android 5.0.1 Lollipop with HTC's own Sense UI 7.0 full of new features. However, it's the price and release date most are interested in, as the Galaxy S6 is coming soon too.
Release Date
According to HTC the global release date for its brand new smartphone is "Mid-March" but that is the only details the company has confirmed thus far. To end the keynote and launch event they claimed mid-March, as well as confirmed the HTC One M9 is headed to at least the four major US carriers.
The One M8 was announced and released on the same day last year. Many expected a day-one release again, but sadly that didn't happen, and they didn't even give us a concrete date to go on. That aside, it will start hitting carriers in Mid-March. This week Best Buy leaked the AT&T HTC One M9, all the specs, and the $649 price tag, so we have a feeling AT&T could be the first U.S. carrier to offer the new phone.
Read: HTC One M9 Price: What You Need to Know
Mid-March means we could see the smartphone be released over the course of the next few weeks, but that also means some carriers could delay the release past HTC's global date, which we've seen happen plenty of times in the past. We do know all US carriers are on board, but the wait could be even longer than many were hoping for. HTC confirmed Verizon, T-Mobile, AT&T, and Sprint, but so far we've yet to hear from US Cellular or smaller regional carriers.
Global Release First
Like last year, the release is set to be a global launch for multiple markets. From Taiwan where HTC is from, to Europe and more. Most likely the unlocked international variant will be available first, ahead of US carriers, and others around the globe. Sadly in the US carriers have a lot of control, and this could cause small delays between the global launch and the release from all four carriers stateside.
U.S. Carriers
The announcement and reveal on Sunday didn't come with any surprises or release date details, but that hasn't stopped all major carriers from making a few formal announcements of their own. As we said above, the AT&T model is already on BestBuy.com so it could be released first, and Verizon may actually be last this year, not first, stating it won't arrive until the 2nd Quarter. Which starts in April.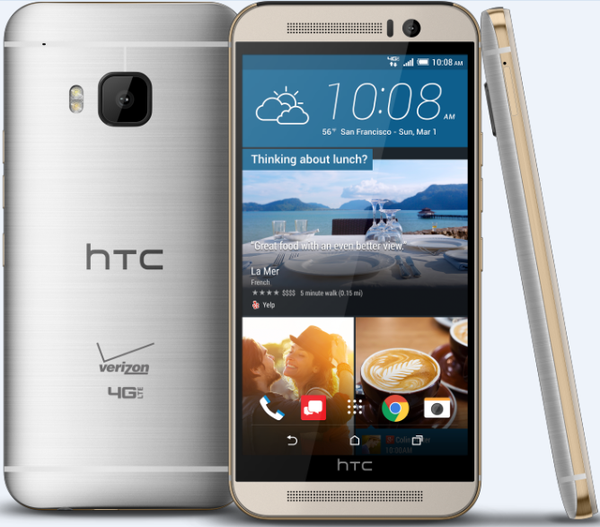 Verizon's HTC One M9 is shown above in the impressive new two-tone gold and silver option, and the phone should also come in Gunmetal Gray, Pink, and Gold. Varying by carrier and region of course. Verizon said Q2, but that's all they've shared so far. Verizon received the One M8 first last year, but that may not be the case in 2015. We have a feeling all US carriers will wait until the last week or March or first week of April, but we can't be certain until pre-order details and announcements are made.
Sprint announced it will carry the HTC One M9 in early Spring, but that's all they shared. We don't think any carrier will reveal dates for at least another week or so as the release date gets finalized and plans get put in order. The Sprint HTC One M9 cleared the FCC today, and is now one hurdle closer to a release date.
AT&T made a quick announcement that they'll offer the HTC One M9, and the new HTC Grip fitness wearable, as well as released a Mobile Minute video highlighting the new HTC One M9 flagship smartphone. They shared no date or rough timeline, so the release is completely up in the air.
T-Mobile promises the HTC One M9 will be available to its customers "later this Spring" and also had a quick hands-on video of the new phone, but again, didn't have any actual release date or any pricing. No carrier in the US has a solid date yet, or pricing, but most likely users can expect it to be $199 on contract, and anywhere from $599 to $649 outright. Then of course payment plans will be another option for those who'd rather not sign a contract.
Smaller Carriers Come Later
MetroPCS, Cricket, and Boost have carried older HTC smartphones, so we could see an arrival from some of them of the new HTC One M9, but so far no announcements have been made. Smaller carriers tend to be a few days or a few weeks late to the party and we expect at least one or all of these carriers to lag behind the releases from the other four major U.S. carriers.
HTC One M9 Pre-Orders
All the details and release information will finally come into focus once we start seeing pre-orders emerge from each respective carrier. It's worth noting the Galaxy S6 in the US isn't available for pre-order yet, but pre-orders have already started in the Netherlands, more than a month out from the Galaxy S6 release date. We could see other markets make HTC One M9 announcements too, but that won't confirm anything for the US.
Most carriers in the United States will offer pre-orders for the HTC One M9, as they typically do for most flagship smartphones. Some will be 2-3 weeks before the release date, and others like Sprint may only be a few days before the phone is actually made available to the public.
For now we see no evidence that US carriers will deliver the HTC One M9 in March, like HTC claimed was the release date, but we'll have to wait and see. Hopefully that mid-March date is met by at least one or two carriers, not to mention the unlocked model will be on HTC.com and likely work with GSM carriers like AT&T and T-Mobile. Which is another option for some buyers that don't want to wait.
Sadly it seems that HTC went backwards this year. Many expected them to do the same thing as last year and release the phone the same day it was announced, but instead we have no solid release date in sight, at least not yet. We'll be looking for more details, and expect the wait to be short as carriers look to snag the new phone first ahead of the competition.

As an Amazon Associate I earn from qualifying purchases.