HTC One M9 Release Date All But Confirmed
The brand new HTC One M9 smartphone has officially been released today in Taiwan, but for the millions of potential buyers in the United States a release still has yet to be announced. However, since the March 1st announcement we've heard countless details, seen a few leaks, and now it looks like HTC is ready to finally make the HTC One M9 release in the U.S. official.
On March 1st HTC took the stage at Mobile World Congress and announced its new HTC One M9. The smartphone was leaked countless times before the reveal, so there were no surprises when it was revealed. And while many expected it to be released on the same day, like they did with the HTC One M8 last year, that wasn't the case this year, and we still don't know when it's coming.
Read: HTC One M9 Release Date Breakdown
Instead, HTC confirmed the new One M9 release date is "mid-March" but that's all they've said thus far, and no carriers have confirmed an actual HTC One M9 release date, until now. It's available today in Taiwan, and if the latest comments from HTC mean anything, we'll finally have a release date to look forward to this Wednesday.
Wednesday is the 18th of the month, and what many would consider "Mid-March" which was the release date window HTC gave the press earlier this month. We've heard no release date since March 1st, but today on Twitter they confirmed a big announcement is coming on Wednesday.
Most likely the company will confirm the HTC One M9 is coming to the United States, possibly start taking pre-orders, and we're hearing based on earlier rumors, that the release in the United States could actually be March 25th, one week after Wednesday's announcement. Meaning we could get a week of pre-orders, and an official HTC One M8 release later this month.
Going to be an exciting week. In addition to NCAA tourney, HTC has a BIG announcement for US customers on Wednesday. #HTCOneM9

— Jason Mackenzie (@JasonBMac24) March 16, 2015
As you can see above, Jason Mackenzie, President at HTC, confirmed that along with the excitement of the NCAA March Madness, the company he works for has a BIG announcement for those in the United States. Hinting at the idea that they'll announce something in two days, that something most likely being the HTC One M9 release date in the United States.
He also added a hashtag to HTCOneM9, confirming that's what this announcement is about. Meaning the HTC One M9 release date has all but been confirmed, more details will be revealed in two days, and most likely buyers will be able to snag one in the next 1-3 weeks, but we'll have to wait and see.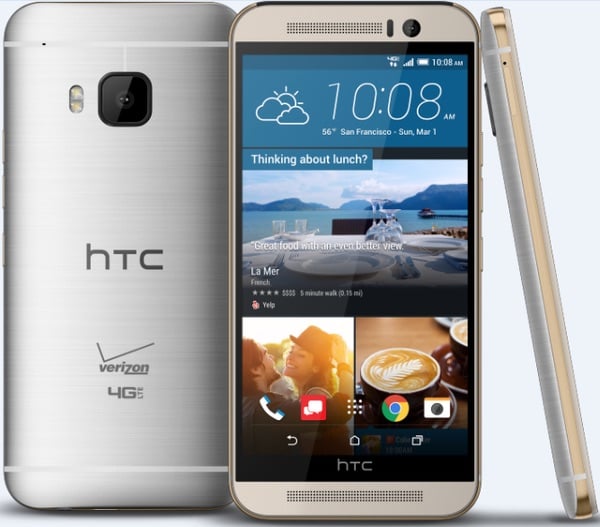 Last week a few retailers accidentally outed a March 25th release date, but that webpage was quickly removed. This could mean that the announcement will confirm the US rollout on the 25th, or at least one or many different carriers will offer the phone later this month.
As it stands we've heard a little from AT&T, T-Mobile, Verizon and Sprint, but none have given us a date to pencil on the calendar as we wait for this new smartphone to be available for buyers.
A few other comments on Twitter suggest March 31st could be the release date in the United States from another carrier, and possibly for those in Europe. That all being said, nothing is official until HTC and its partner carriers make formal announcements. All said and done, the wait is almost over and come Wednesday we'll have more details and hopefully an actual date for the HTC One M9 release. If so, the HTC One M9 will be available ahead of the April 10th release of the new Galaxy S6. Which phone are you waiting for?

This article may contain affiliate links. Click here for more details.