HTC One M9 Release Date Breakdown for the U.S.
This morning after just under a month of waiting since the March 1st announcement, HTC finally confirmed availability and release details for the all-new HTC One M9 smartphone. This was quickly followed by announcements and pre-order release details from multiple carriers in the US. Here, we go over all the HTC One M9 release date details for prospective buyers.
On March 1st HTC took the stage at Mobile World Congress and announced its new HTC One M9. The smartphone was leaked countless times before the reveal, so we all knew exactly what was coming. And while many expected it to be released on the same day, like they did with the HTC One M8 last year, that wasn't the case, but now we have all the release date details.
Read: HTC One M9 Plus Release Confirmed by Leaks
Today the Samsung Galaxy S6 release details arrived for buyers, and at the same time we've learned multiple details regarding when to expect the HTC One M9. Both phones will be hitting carrier shelves in the United States on April 10th and buyers will have a tough decision, but below is what we know right now.
After months of rumors and leaks back in January HTC announced they'd be hosting an event on March 1st, and when it came they revealed the new One M9. HTC confirmed it would be available from "mid-march" which was only the case for a few regions outside the US, but now we finally have all the details for the release date stateside.
HTC One M9 Release Date
The HTC One M9 will be available online in the U.S. at 12:01 a.m. ET tomorrow, Friday March 27 as an unlocked unit, and in-stores on April 10 at major carriers and retailers. The unlocked HTC One M9 will come in the beautiful new two-tone silver and gold trim color option, as well as gunmetal gray, with 32GB of storage, and will run potential buyers $649 outright from HTC's store.
It will come with the companies brand new, unrivaled "Uh-Oh" protection that offers buyers one free replacement from cracked screens, water damage, or even if you switch carriers. You'll get a free replacement device within 1-year of your purchase, and if you don't use Uh-Oh, they'll give owners $100 towards another HTC One after the one-year Uh-Oh warranty passes. Meaning they'll replace it if you break it, and reward you if you don't.
Read: HTC One M9 Price: What You Need to Know
These are just a few of the key details we've been waiting for, and now that buyers know when it's coming, they can start deciding which device is right for them and if an upgrade will be worthwhile. However, above is just the unlocked model, so below are the details regarding carrier options here in the US.
According to the HTC the One M9 will be available from AT&T, Sprint, T-Mobile, and Verizon by "early Spring." It will also be available through HTC.com, Amazon, Best Buy, Costco, and Target.
U.S. Carriers
Both Samsung's flagship Galaxy S6 and HTC's One M9 will go up for pre-order tomorrow, and most carriers will offer it on April 10th too. However, below are all the release details and a few links for potential buyers.
AT&T – The folks from AT&T made a quick announcement that they'll offer the HTC One M9, and the new HTC Grip fitness wearable back on March 1st, but today confirmed pre-orders start tomorrow March 27, at 12:01AM ET and the phone will be available in stores April 10th, as expected.
Pricing will be $699 outright for the 32GB model in the two color options available, or $199 with a new 2-year contract. Alternatively buyers can use AT&T Next and pay zero down, with AT&T Next 24 for $23.64; Next 18 for $29.55 or Next 12 for $35.45 monthly.
T-Mobile – The Uncarrier will offer the device in stores on April 10th too, and pre-orders kick off on March 27 at 6:00AM PDT, rather than at midnight like AT&T. However, T-Mobile states that those who pre-order will have it before anyone else, and it will ship and arrive before the April 10th in store date.
Pricing is outright, as they don't have contracts, and users will be paying $0 up front and $27.08 a month for 24 months, making the device $649. The same price HTC is asking.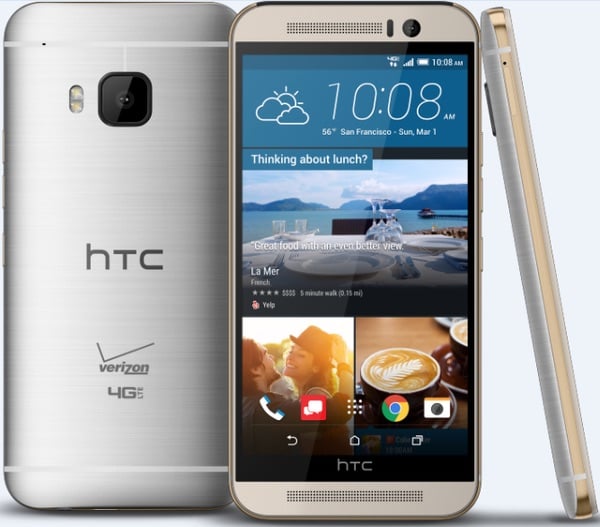 Verizon – We're still waiting for an announcement this morning from Verizon, but on March 1st they had a few details to share. Stating the HTC One M9 shown above in the impressive new two-tone gold and silver option will be available in Q2, but that's all they've shared so far. We're expecting a date around April 10th, or the 16th as Verizon typically launches new devices on Thursdays.
Sprint – Last but not least is Sprint, who announced back on March 1st that it will carry the HTC One M9 in early Spring, but didn't give a release date. So far it appears that T-Mobile and AT&T will both have it on April 10th, and we'll have to wait for the other two main carriers before we get a final date.
As a reminder, the new HTC One M9 offers a 5-inch 1080p HD display, the latest Android 5.0 Lollipop, a powerful Snapdragon 810 processor with 3GB of RAM, 32GB of storage and a micro-SD slot for expansion. It has a new 20.7 Megapixel rear and 4 Ultrapixel front camera setup, dual HTC Boomsound front-facing speakers, and a slight redesign to the buttons on the side and more. HTC focused a lot on improving the design in small ways. Making the device slightly smaller and lighter than last year, more powerful, better cameras, and improved HTC Sense with a theme engine and more.
Once we get the HTC One M9 in for review we'll be sure to share more details about the hardware, software, screen and more, as well as give our full impressions. Get ready to pre-order tonight with a few carriers, and those on Verizon or Sprint can expect additional release details soon.

As an Amazon Associate I earn from qualifying purchases.