HTC One M9 Release Date Breakdown
After months of rumors and speculation, today the brand new HTC One M9 smartphone was officially announced and confirmed. The new device was unveiled alongside a new fitness wearable and VR headset by HTC, and the new smartphone is coming to all major US carriers soon. Below is what we know about the HTC One M9 release date, and we'll break down everything buyers need to know.
For the past several months we've seen countless rumors about the HTC One M9. Photos, specs and videos leaked, reports suggesting those were fake in an effort to hide a new design surfaced, and more, but this past week everything came together and we now know everything about the new phone. It didn't get a fresh new design, but it still has plenty to offer.
Read: iPhone 6 vs HTC One M9: What to Expect
As expected, the HTC One M9 comes with a brand new massive 20.7 megapixel camera, a powerful 8-core processor and is running the latest version of Android 5.0.1 Lollipop with HTC's own Sense UI 7.0 full of new features. However, it's the price and release date most are interested in, as the Galaxy S6 is getting announced today too, so read on for the few details about the mid-March release date.
Over the past week the new HTC One M9 leaked countless times revealing everything ahead of today's announcement. And last minute a video leaked that spoiled the leak by comparing it to the HTC One M8 last year. However, what was still unknown was the price and release date, and now we have additional details to help clarify all of that for potential buyers.
Those anticipating the new HTC One M9 are either extremely excited about some of the changes, or not to thrilled with the fact that it looks nearly identical to last years model, save for a few changes to the buttons, color, and camera. It also didn't get released on the same day it was announced, today, like it was last year. That didn't stop HTC from confirming it is headed to carriers around the globe, and all major US carriers "starting" in mid-March.
HTC One M9 Release Date
Sadly, following HTC's unveiling of the new phone we still don't have an actual release date for the smartphone. Many expected a day-one release like last year, but for whatever reason they couldn't make that happen here in 2015. That aside, it will start hitting carriers in Mid-March. This morning Best Buy leaked the AT&T HTC One M9, all the specs, and the $649 price tag, so we have a feeling AT&T could be the first U.S. carrier to offer the new phone.
Read: HTC One M9 Price: What You Need to Know
Mid-March means we could see the smartphone be released over the course of the next few weeks, but that also means we could be waiting nearly three weeks for a March 20th release date, but we can't be certain. We do know all US carriers are on board, but the wait could be even longer than many were hoping for.
According to the HTC press release the One M9 will be available from AT&T, Sprint, T-Mobile, and Verizon by "early Spring." It will also be available through HTC.com, Amazon, Best Buy, Costco, and Target. Then of course an unlocked model will likely go on sale first through HTC.com as well.
U.S. Carriers
The announcement and reveal this morning didn't come with any surprises or release date details, but that hasn't stopped all major carriers from making a few formal announcements of their own. As we said above, the AT&T model is already on BestBuy.com so it could be released first, and Verizon may actually be last this year, stating it won't arrive until the 2nd Quarter. Which starts in April.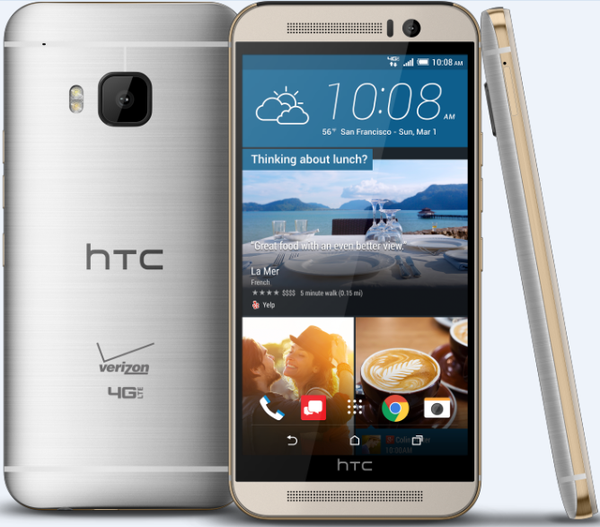 Verizon's HTC One M9 is shown above in the impressive new two-tone gold and silver option, and the phone should also come in Gunmetal Gray, Pink, and Gold. Varying by carrier and region of course. Verizon said Q2, but that's all they've shared so far.
Sprint announced it will carry the HTC One M9 in early Spring, but didn't give a release date either, and we have a feeling no carriers will reveal dates for at least another week or so as the release date gets finalized.
AT&T made a quick announcement that they'll offer the HTC One M9, and the new HTC Grip fitness wearable, as well as released a Mobile Minute video highlighting the new HTC One M9 flagship smartphone.
T-Mobile promises the HTC One M9 will be available to its customers "later this Spring" and also had a quick hands-on video of the new phone, but again, didn't have any actual release date or any pricing. No carrier in the US has a solid date yet, or pricing, but most likely users can expect it to be $199 on contract, and anywhere from $599 to $649 outright. Then of course payment plans will be another option for those who'd rather not sign a contract.
The new HTC One M9 offers a 5-inch 1080p HD display, the latest Android 5.0 Lollipop, a powerful Snapdragon 810 processor with 3GB of RAM, 32GB of storage and a micro-SD slot for expansion, a new 20.7 Megapixel rear and 4 Ultrapixel front camera setup, dual HTC Boomsound front-facing speakers, and a slight redesign to the buttons on the side and more.
Over the course of the next few weeks buyers can expect to hear more from all carriers in the United States and around the globe as the mid-March release date nears. We'll update as more announcements and carrier details are revealed.

As an Amazon Associate I earn from qualifying purchases.