HTC One M9 Release Date Confirmed for U.S. Buyers
Since being announced earlier this month one of the biggest questions surrounding the new HTC One M9 has been the release date in the United States. Last week HTC revealed it will be available from carriers in the US starting on April 10th, but today they've just confirmed more details for prospective buyers.
On March 1st HTC took the stage at Mobile World Congress and announced its new HTC One M9. The smartphone was leaked countless times before the reveal, so there were no surprises when it was unveiled. And while many expected it to be released on the same day, like they did with the HTC One M8 last year, that wasn't the case this year, but now we have all the release date details.
Read: HTC One M9 Release Date Breakdown
HTC confirmed the new One M9 release date was in Mid-March, but that was only for Taiwan, and users in the US have been patiently waiting for more information. Today we're happy to confirm the HTC One M9 will be available starting tomorrow, March 27th at midnight from HTC.com, and we have additional details below.
The HTC One M9 will be available online in the U.S. at 12:01 a.m. ET on Friday, March 27 as an unlocked unit, and in-stores on April 10 at major carriers and retailers. The unlocked HTC One M9 will come in the beautiful new two-tone silver and gold trim color option, as well as gunmetal gray, with 32GB of storage, and will run potential buyers $649 outright from HTC's store.
It will come with the companies brand new, unrivaled "Uh-Oh" protection that offers buyers one free replacement from cracked screens, water damage, or even if you switch carriers. You'll get a free replacement device within 1-year of your purchase, and if you don't use Uh-Oh, they'll give owners $100 towards another HTC One after the one-year Uh-Oh warranty passes. Meaning they'll replace it if you break it, and reward you if you don't.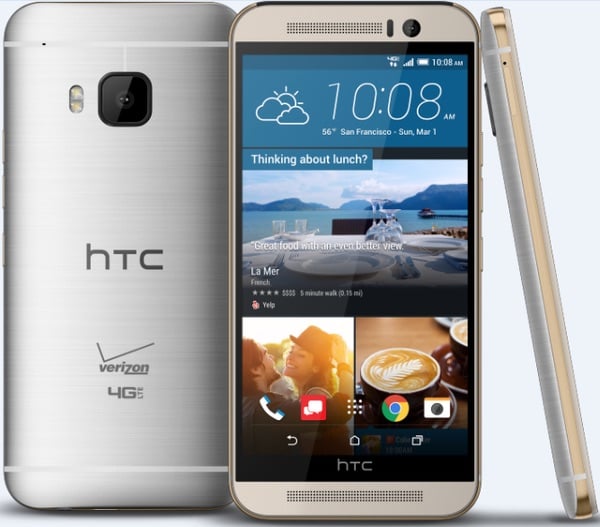 The impressive looking new HTC One M9 comes with a 5-inch 1080p HD display, a powerful 8-core Snapdragon 810 processor with 3GB of RAM, 32GB of storage as well as a micro-SD card slot for storage expansion. HTC improved the camera to 20.7 megapixels on the rear, and a 4 Ultrapixel on the front. It runs the latest Android 5.0.2 Lollipop and has tons of software improvements, camera tweaks, HTC Eye, and a new theme engine letting the most technical, or the beginner, an option to easily change the entire look and feel of the software.
HTC has confirmed the One M9 will be available at midnight on March 27th from its online store, and 12-month interest-free financing options will be available for the unlocked model, as well as carrier options once they've been announced. So far all we know is carriers are still expected to release the phone "starting on April 10th" and we can expect more carrier announcements to arrive today, or in the next few days as the release date nears.
As a reminder, the HTC One M9 has already been confirmed for AT&T, T-Mobile, Verizon and Sprint, and we could be hearing from other carriers soon. HTC will be asking $649 for the unlocked model online, and we're expecting a similar price point from carriers come April 10th. Most likely users can expect financing options, monthly payment plans with T-Mobile, AT&T Next, Verizon Edge, and Sprint Easy Pay, as well as the typical 2-year contracts with a $199 on-contact price point. The Galaxy S6 is also slated to be released on April 10th, which phone will you be picking up?

As an Amazon Associate I earn from qualifying purchases.