HTC One M9 Release Date Confirmed
The brand new HTC One M9 release date has been confirmed this morning in Barcelona, Spain where the company took a moment to take the stage and announce its latest smartphone for 2015.
Today at Mobile World Congress, HTC has just announced and unveiled the new HTC One M9 smartphone. It's flagship new smartphone that will replace the HTC One M8 on shelves around the world. The device, as expected, looks very similar to last years model as we've seen from countless leaks, but is loaded with new features and impressive hardware like a brand new camera.
Read: iPhone 6 vs HTC One M9: What to Expect
In a similar move at last year, this morning HTC not only announced the impressive new HTC One M9, but they've also confirmed the release date. The HTC One M9 will be available in many regions around the globe, and is coming to all five major carriers in the United States starting in mid-March.
This morning HTC confirmed what we've been hearing from rumors for months, and have not only announced the new HTC One M9 today, but the release date as well. Today isn't the release date like they did last year, but they've just confirmed it will be available around the globe, and in the US, starting in the middle of March. So in a matter of a few weeks. It will be headed to all major carriers in the United States. One's like AT&T, T-Mobile, Verizon, Sprint and more. Verizon has already confirmed it's coming in the "second quarter" but no details just yet.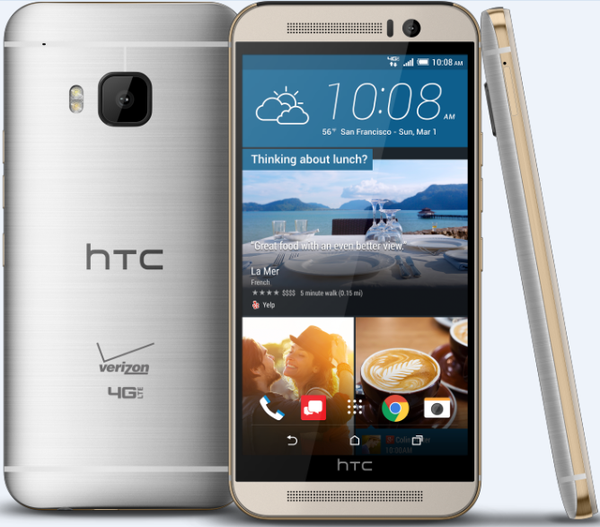 So what's new with the HTC One M9, even though the design is nearly the same as last year? Well, plenty. For one it has a slight redesign with new buttons on the side, as well as a two-tone finish with the zero-gap all aluminum frame. The silver and gold two-tone look shown off on stage was rather impressive looking. They've moved the power button to the middle of the right side, for easy ergonomics. It's accompanied by the volume up/down buttons as well.
For those that didn't think all the leaks and rumors were accurate, here's the full official specs of the all new HTC One M9.
HTC One M9 Specs
5-inch 1920 x 1080p Full HD IPS Display
2.0 GHz Qualcomm Snapdragon 810 Processor
3GB of RAM with 32GB of internal storage
Micro-SD Slot
Android 5.0 Lollipop with Sense 7 UI
20.7 Megapixel camera with sapphire glass, 4 Ultrapixel front camera
Two-tone Zero-Gap All Aluminum Design
Dual HTC Boomsound Speakers with Dolby Audio
2,900 mAh Battery
5.68 x 2.73 x 0.38 in size, and just 4.96 ounces
more
As expected and reported from countless leaks the HTC One M9 is very similar to last years smartphone, but it was an award winning design so why change it. Instead, they've improved the design by changing the buttons and adding a beautiful two-tone color design to the brushed aluminum frame.
However, the important parts of the HTC One M9 are the improved 20.7 megapixel rear camera, dual LED flash, powerful 8-core Snapdragon 810 processor with more RAM, and of course Android 5.0.1 Lollipop. The screen is the same size and resolution to keep the size and battery life in check, and they've even made the battery bigger for improved battery life.
Some of the bigger changes are on the software side of things. The HTC One M9 features a brand new Sense UI 7 interface overlay. It has been revamped with tons of changes for Android 5.0.1 Lollipop, health tools to go along with the new HTC Grip fitness wearable, and a rather neat theme tool. With HTC Sense 7 you can take a photo with the new camera, and the entire UI can change to that photos color theme. Bars on tops of pages, your background wallpaper, and much more.
Sadly the HTC One M9 release date isn't today like last year, but it will be hitting all carriers in the United States starting in the middle of March. That said, we've already seen Best Buy leak the AT&T HTC One M9, so they may be the first carrier to deliver the phone. We'll update the moment more carriers announce release dates, pricing, and availability. According to Best Buy the HTC One M9 will be $649 off contract, and likely $199 with a new 2-year deal. Stay tuned for more details.

As an Amazon Associate I earn from qualifying purchases.