HTC One M9 Release Smashes iPhone 6 AppleCare+
This week the HTC One M9 release date finally arrived for those in Taiwan, not to mention HTC confirmed availability in the United States will begin starting on April 10th. However, today HTC took a few minutes to host a live stream video talking about the brand new smartphone, and something called Uh-Oh, which is taking on (and smashing) AppleCare+ coverage, and gives the HTC a huge leg up on Samsung's Galaxy S6.
On March 1st HTC took the stage at Mobile World Congress and announced its new HTC One M9. The smartphone was leaked countless times before the reveal, so there were no surprises when it was revealed. And while many expected it to be released on the same day like they did with the HTC One M8 last year, that wasn't the case this year, but it will be available starting April 10th.
Read: HTC One M9 Release Date Breakdown
Last year with the HTC One M8 the company announced something called HTC Advantage, which offered one free replacement for cracked screens, because you never know when you'll have an accident. That was just the beginning though, because today and for the One M9, a new program called "Uh-Oh" takes that even further, and we have all the details below.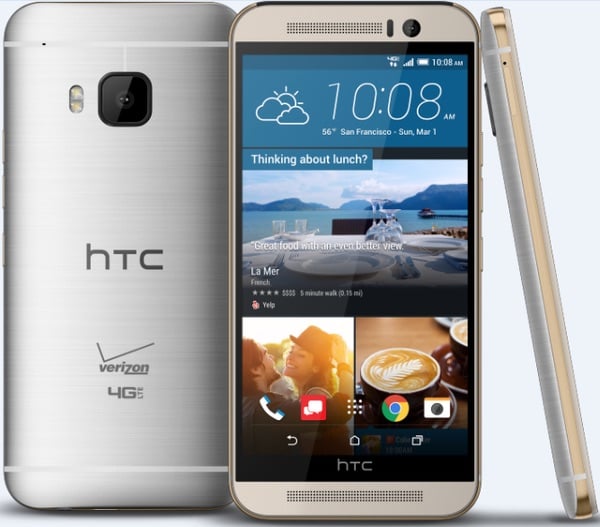 This morning HTC hosted a live stream to talk about the brand new HTC One M9, confirmed the release date, but also revealed a new protection program that completely trounces the competition. We're talking about AppleCare+ for the iPhone, or even carrier insurance programs where you'll pay a few dollars each month to protect your investment.
In previous years, if you break your phone, drop it in water, or it gets stolen, owners pay a deductible to the insurance program (typically around $140) and get a replacement. With AppleCare+ you're protected from certain things, but still have to pay upwards of $80 to get a new iPhone. HTC's new Uh-Oh completely smashes all of that, and covers you and your device for free.
What is HTC Uh Oh Protection?
Uh Oh protection is very similar to the cracked screen replacement program revealed last year, but it takes things even further on three different levels. HTC wants you to buy the new One M9, get a new one if it breaks, and even reward you next year when a new HTC One M10 or it successor comes out.
With Uh Oh Protection, which is completely free, HTC will replace your phone if you have an Uh Oh moment and drop it and the screen cracks, water damage, or even if you decide to switch carriers. If any of those three incidents happen within the first 12 months of owning the HTC One M9, you'll get a new smartphone completely FREE. Simply call the HTC 1-800 number, give them a few details, and they'll mail you a brand new smartphone at absolutely no cost to you.
Plus, if you don't need use the Protection within the first 12 months of ownership, HTC will give you $100 to spend towards a future HTC One. Meaning if you don't ever have an uh oh moment and break or ruin you're device, they'll also reward you for getting their phone, by giving you $100 towards your next HTC One smartphone purchase next year.
Then last but not least is the carrier thing. And while the AT&T and T-Mobile versions both probably work just fine on either carrier based on the hardware inside the phone, they won't work with Verizon or Sprint. With HTC Uh-Oh if you decide to switch carriers within the first year, say from Verizon to AT&T, they'll give you a brand new AT&T HTC One M9. This is huge. You won't need to trade it in and potentially lose value, nor buy a new one and sign a contract, they'll simply replace your old one with a new HTC One M9 on the carrier you'll be switching to.
According to HTC, in order to use the Uh-Oh Protection swap, simply call 1-(866) 449-8358, provide some general info about your phone so they know you haven't used it before, and allow a $299 hold on a credit card until HTC receives the damaged phone. All while HTC will be overnighting you a new device absolutely free.
The HTC One M9 release date kicks off on April 10th in the United States, and we'll be learning more about Uh-Oh protection, release dates for all carriers, and more, as the release date nears. Does this make you want the One M9 over the competition from Samsung or Apple? Drop us a comment below.

As an Amazon Associate I earn from qualifying purchases.