HTC One M9 Release: What to Expect
We've seen a ton of different HTC One M9 rumors, leaks, and images surface over the past few months, but one that remains the biggest mystery is the release date. With that in mind, here we take a look at what to expect about the HTC One M9, and its potential release date.
This week has been rather telling about the phone, but we still don't have a release date. As we approach the March 1st announcement and possible release date of the HTC One M9, rumors are starting to heat up. Everything from leaked specs and details, to concept render images based off of designs that have leaked over the past few months.
Read: HTC One M9 Leak Could Show Final Design
After a successful HTC One and HTC One M8 in 2014, the company is looking to built on that success with an all-new smartphone in the first half of this year. It is codenamed the HTC Hima, but will most likely be released as the HTC One M9, the New HTC One, or something else, and here's what you need to know about it and the possible release date.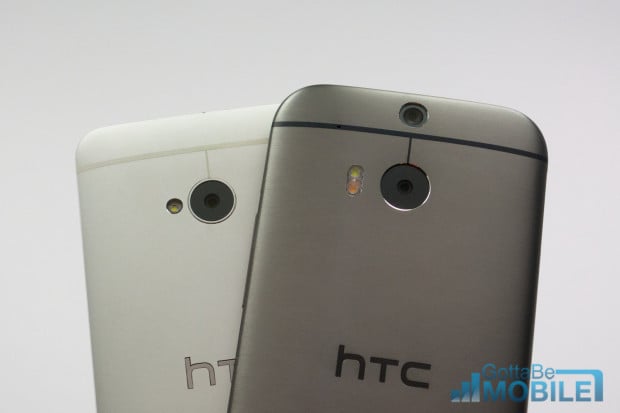 The first rumors started floating around in September of last year with concepts and other light news, but over the past month the rumors have gone into overdrive. One leakster confirmed the specs with some leaked benchmarks, and Bloomberg reportedly talked to someone close with the matter and revealed many of the specs which match earlier reports.
In 2014, the HTC One M8 was rumored for months and leaked enough times that we knew exactly what to expect come the March 27th announcement date. There were no surprises. Well, none but one. They released it the same day outside of the US, and gave Verizon an exclusive for the same day which shocked many and surprised all those interested in the HTC One M8.
HTC One M9
For now we're not exactly sure about the HTC One M9. Most of the leaks from last month were reportedly fakes, and an actual image of the device still has yet to be seen. Even though one leak from @evleaks could be the final design we'll be seeing on March 1st.
For now we know they have a few surprises up their sleeves, including the design and possibly the release date, as well as the chance that we could be seeing a second device announced the same day. The last rumor we saw suggested March 1st they'll announce both the HTC One M9, and a new HTC One Max with a bigger 5.5 or 5.7-inch display.
Before we talk about the potential release date, here is what we think we know about the hardware and software, as well as all the specs that will be on board this new smartphone.
HTC One M9 Specs (Rumored)
5.inch 1920 x 1080p HD Display (edge-to-edge glass front)
2.3 GHz 8-core Snapdragon 810 processor (64-bit)
3GB of RAM
32GB of internal storage and a micro-SD slot for expansion
20.7 MP rear facing camera and 4 Ultrapixel front shooter (or 12 MP front)
Android 5.0.1 Lollipop and HTC Sense UI 7.0
Dual HTC Boomsound Speakers with Dolby 5.1 Audio Technology
2,880 or 3,000 mAh battery
more
The biggest changes here are the 8-core processor, the 20 megapixel rear camera, the replacing the front facing camera with a 4 Ultrapixel lens for better selfies. Even if one rumor claims the front camera will be a 12 megapixel lens instead. Not to mention what could be a major redesign of the front face of the device. All of this lines up with previous rumors, meaning all we need now is more confirmations and some actual real photos of HTC's new smartphone, not decoy units.
HTC One M9 Release Date
The biggest mystery that remains is the release date, and that's what most people are interested in. Reason being is because both the HTC One M9 and Samsung Galaxy S6 will be announced on March 1st, so whoever is first to market will have an edge over the other.
In 2014 the HTC One M8 was announced on March 27th, and released the exact same day. This was a huge surprise, and a move that even Apple doesn't do as they typically release their phones a week or two after the announcement. All said, this is better than the usual 1-2 month delay most Android manufacturers have between the announcement and the release date.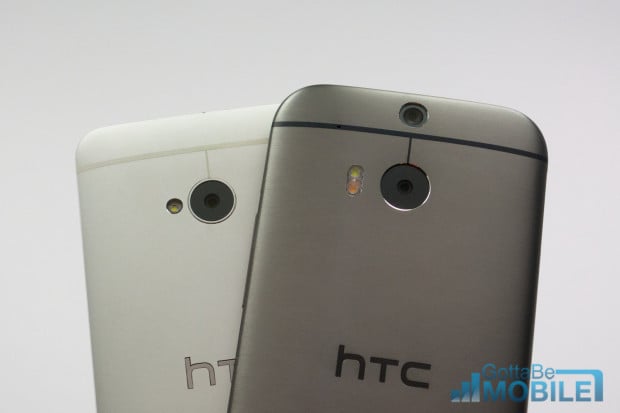 If HTC follows the same strategy and plan as last year, they'll announce the HTC One M9 smartphone (and maybe a bigger brother) on March 1st, and release it the same day. Buyers can expect it to be available in international markets, carrier unlocked developer units, and more, but we're not sure on the US release.
The One M8 arrived from all major carriers in the United States, but Verizon received it first. The One M8 was available from Verizon the same day it was announced, March 27th, and then eventually all other carriers made announcements and followed those with release dates.
We're expecting the "New HTC One" to be announced AND released on March 1st, but we can't be sure. It's a month earlier than last year, and would be hard to pull off given the rumored complete redesign of the smartphone. It could hit carriers in the United States within 1-2 weeks, and we'll know soon enough. It's also worth noting that HTC's official UK Twitter account is already teasing the "New HTC One" is coming soon, which they wouldn't do if a release date wasn't near.
US Carriers
As we mentioned above, Verizon had a big lead and quick exclusive on the HTC One M8 last year, and we could see something similar here in 2015. The HTC One M8 was released on all five major US carriers, as well as smaller regional and pre-paid options and the same will likely hold true to the One M9 release. Expect it to be available from all sources in the United States, we just don't know when.
At this point all we really need is some leaks of the final design or the actual smartphone, as well as carrier announcements or information regarding when this impressive new smartphone will be available for the public to buy. Many original HTC One (M7) owners are likely ready for an upgrade after signing 2-year contracts, and it could arrive just in time to attract buyers and steal some customers from the Galaxy S6 and LG G4. Who's excited for this new device?

As an Amazon Associate I earn from qualifying purchases.