HTC One M9 Rumor Roundup: What We Know So Far
The upcoming HTC One M9 smartphone is officially set to be announced on March 1st in Spain, and as the launch date nears more and more details continue to surface. Over the past few weeks though many of those rumors have been revealed as false, and a slew of new information has arrived this week. With that, here we take a look at all the rumors as well as what we know so far about the HTC One M9.
After a successful HTC One and HTC One M8 in 2014, the company is looking to built on that success with an all-new smartphone in the first half of this year. It is codenamed the HTC Hima, but will most likely be released as the HTC One M9 in just over one months time.
Read: HTC One M9 Leak Could Show Final Design
The first rumors started floating around in September of last year with concepts and other light news, but over the past month the rumors have gone into overdrive. One leakster confirmed the specs with some leaked benchmarks, and Bloomberg reportedly talked to someone close with the matter and revealed many of the specs which match earlier reports. Below is everything we think we know so far.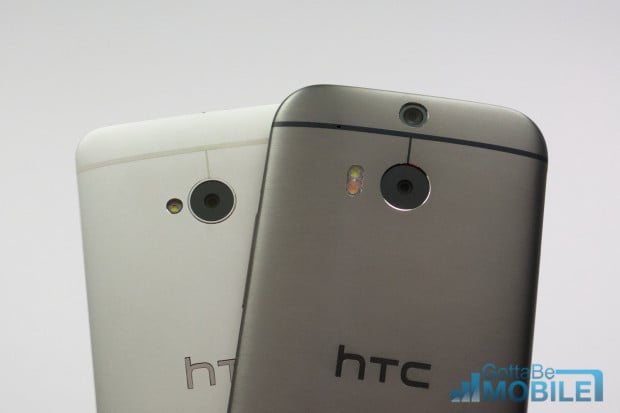 Earlier this month HTC send out invitations to the press after the first few photos of the new HTC One M9 leaked, asking press to attend an event on March 1st where the company will reveal its new phone for 2015. However, we've been hearing rumors they could have two phones coming, and yesterdays major leak teased what both could look like.
Until yesterday we'd heard plenty of rumors about the phones design, specs, screen size and more, and then they were followed by multiple photos. However, multiple sources stated those were all fake decoy units in an attempt to hide the final design, a design which famed leakster @evleaks revealed yesterday. Well ahead of the March 1st launch date.
And while we're still not sure on all the details, or if Evan Blass leaked real images of the upcoming phone, here's what we think we know.
Design
The design was rumored to be nearly the exact same as last year with some minor changes to the rear camera and button placement, but if HTCSource is correct with its statements, the new HTC One M9 will look much different than the last two released.
HTC has removed the large aluminum and black bar bezels, and the HTC One M9 will have an edge-to-edge glass display, with both front facing boomsound speakers being redesigned in a smaller space at the top and bottom edge of the device. This makes for a much cleaner look, and less bezels, allowing for nearly all screen real-estate.
The photo above is the latest image to leak, and the first one claiming to be the real smartphone, and not a decoy unit. It looks drastically different than previous years, and one that many buyers should be excited about. Rumors state the same all aluminum design will be included, with the same three color options as last year. Those being silver, black and gold.
HTC moved the power button to the right side below the volume rocker, and replaced a rocker with two dedicated volume buttons for ease of use. The design has similarities to the new iPhone 6, but either way it still looks very sharp. This could be the best phone of the year.
Display
Earlier reports suggested the new HTC One M9 would feature a bigger display than the previous year, just like each new release. The original One M7 was 4.7-inches, the One M8 last year was 5, and we're now hearing the new HTC One M9 will have a 5.5-inch 2560 x 1440 Quad-HD display. If the image above is real, they could have a bigger screen inside of a device with the same physical size as last year.
It's worth noting however, that we've also heard a few reports that the screen will be staying at 5-inches and the device pictured above on the right could be 5.5-inches, to take on the iPhone, Galaxy Note 4, and other bigger devices. For now the screen is one of the biggest mysteries, but one that should be figured out soon enough.
Camera
It's no secret the camera on the HTC One lineup has been lacking. It's one of the only things we complained about in our HTC One M8 review, and something many owners complained about as well. That won't be a problem this year. Reports and leaked images claim it will sport a new 20.7 megapixel camera on the rear, and the 4 Ultrapixel camera from last year will be moved to the front for improved selfies and self portraits.
At this point it's almost certain the device will have an improved camera, but how much better remains to be seen. Once it's announced, released, and in our hands is when we'll finally know for sure. HTC has put a lot of effort into camera features and technology this year with the HTC Eye experience, so expect good things on the camera front from the HTC One M9.
Specs
From what we've been hearing, and now reportedly confirmed by Bloomberg, the HTC One M9 will be an impressive flagship smartphone with many key features of the M8, only better. They mentioned an improved front and rear camera, a blazing fast processor, better audio (when they already offer the best) along with a sleek new design.
While specs and hard numbers aren't extremely important, it's something many buyers are interested in. Below are the details based on leaks, benchmark tests, and the latest rumors.
HTC One M9 Specs (Rumored)
5.5-inch 2560 x 1440 Quad-HD screen (edge-to-edge glass front)
2.3 GHz 8-core Snapdragon 810 processor (64-bit)
3GB of RAM
32GB of internal storage and a micro-SD slot for expansion
20 MP rear facing camera and 4 Ultrapixel front shooter
Android 5.0.1 Lollipop and HTC Sense UI 7.0
Dual HTC Boomsound Speakers with Dolby 5.1 Audio Technology
2,880 or 3,000 mAh battery
more
The report from Bloomberg continues on by reporting it will come with a similar look and feel as last year, meaning front speakers and an all aluminum design. They also "reconfirm" it will be offered in the same Gold, Grey (black), and Silver color variants. We'll likely see some Blue and Red carrier or store exclusives as well, like previous years.
The biggest changes here are the 8-core processor, the 20 megapixel rear camera, the replacing the front facing camera with a 4 Ultrapixel lens for better selfies, especially in low light. All of this lines up with previous rumors, meaning all we need now is more confirmations and some actual real photos of HTC's new smartphone, not decoy units.
Release Date
The release date is essentially the final mystery. While we're still not 100% on the design and some of the specs, as things are always changing or being redesigned, it's safe to say the final design has been done for a while and being manufactured in time for the release date.
Last year the HTC One M8 was announced and released on March 27th, all on the same day. Something no other Android manufacturer does, and even beating Apple's announcement and one week later release schedule. That said, the day-one launch was outside of the US, and only Verizon Wireless offered it on March 27th. Other US carriers had to wait until April before offering the smartphone.
This year, we're hearing whispers of a similar plan but with a more aggressive approach. HTC has already announced they'll reveal the phone on March 1st, and it's highly likely that will be the release date too. Beating the Galaxy S6, LG G4, and other smartphones to market in 2015. If March 1st is indeed the release date, expect more rumors to continue surfacing as the day approaches, as well as news from carriers. Stay tuned!

This article may contain affiliate links. Click here for more details.