HTC One M9 Rumors Gaining Steam as Release Nears
The HTC One M9 rumors have continued to arrive at an increasing pace the the release date nears, and this week we have two more details reportedly confirming the name, as well as additional photos of the new HTC One M9 in Gold.
The brand new HTC One M9 has been surfacing more and more over the past few weeks, and now it's no secret that the company plans to announce its new smartphone on March 1st at the annual Mobile World Congress show. After a myriad of rumors suggesting all the HTC One M9 leaks we've seen thus far have been fakes in an attempt to hide the final product last month a new photo emerged showing what could be the true and final design of HTC's next flagship phone, or two.
Read: HTC One M9 Rumor Roundup: What We Know So Far
As we all know, March 1st is the date in which HTC will take the stage and formally announce and reveal the new HTC One M9. We've seen countless leaks already, which may be fake, but this week the name is reportedly being confirmed, and another photo has surfaced.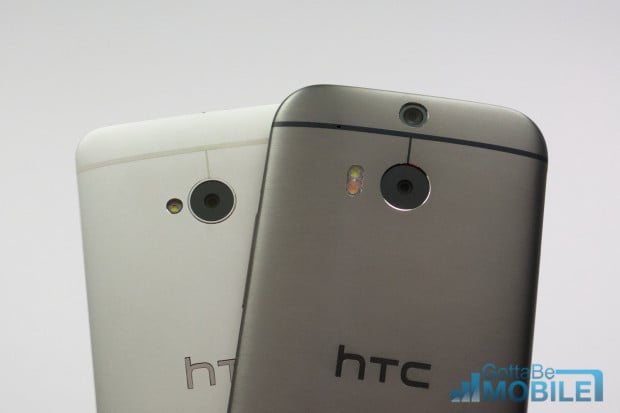 Since as early as last year we've been hearing about a successor to last years popular HTC One M8 smartphone, currently being called the HTC Hima. And while most rumors have already given the device a name, no reports have confirmed it, until now. The new leakster to took over when @evleaks retired, @upleaks, is claiming his sources have confirmed the new phone will indeed be marketed at called the HTC One M9.
https://twitter.com/upleaks/status/562882251160313856
This isn't really a secret, but it's further confirmation that the device has already finished, is currently being tested my multiple carriers and partners, and could actually be announced and released come March 1st. We all assumed this would be the name, or it could be called the HTC Two, but we'll have to wait and see.
To add even more fuel to the recent fire and set of rumors, a new photo leaked this week giving us another look at the back of HTC's upcoming smartphone. This matches earlier leaked photos, which may or may not be the final design. This time we're seeing the new 20.7 megapixel camera even better, as well as the gold color option.
This device looks rather large, and could be the HTC Hima in a shell hiding the final design, or the bigger HTC One Max we've heard could be coming later this year. It's hard to tell from one leaked image which may or may not be the real product. Leaked photo aside, here's the latest specs based on rumors.
HTC One M9 Specs (Rumored)
5.5-inch 2560 x 1440 Quad-HD screen (edge-to-edge glass front)
2.3 GHz 8-core Snapdragon 810 processor (64-bit)
3GB of RAM
32GB of internal storage and a micro-SD slot for expansion
20 MP rear facing camera and 4 Ultrapixel front shooter
Android 5.0.1 Lollipop and HTC Sense UI 7.0
Dual HTC Boomsound Speakers with Dolby 5.1 Audio Technology
2,880 or 3,000 mAh battery
more
Again these are only rumors for now, but ones we've seen and heard countless times. The only questions we really have are what the final design will be, as rumors have painted a blurry picture, and if the screen will be 5.5-inches or the same 5-inch size from last year.
All said and done, the wait won't be much longer as HTC has already confirmed they'll be revealing the new HTC One M9 smartphone come March 1st in Spain. Surely more details and information will surface ahead of the announcement and release date, and we'll be sure to share them as they become available.