HTC One M9 Rumors Swirl After Photos Emerge
With the HTC One M9 launch date officially set for March 1st we're starting to see an increase of details, leaks, and of course rumors surrounding the upcoming smartphone. And while the past few weeks have been filled with different reports, today a new set of HTC One M9 photos have leaked that are telling a different story, and show a smaller device than original rumors suggested.
The first HTC One M9 rumors started to emerge back in September with some initial concept renders, but with the launch date coming soon they've kicked into high gear. HTC's One M8 was heavily rumored in early 2014 before being announced and released at the end of March, and the same is unfolding this year.
Read: 5 Reasons to Wait for the HTC One M9
Over the past few weeks we've seen multiple reports of the new HTC One M9, codenamed Hima, as well as some reports of a new HTC One Max in the works as well, but today things are getting a little muddy. Previously all rumors suggested a larger 5.5-inch Quad-HD display, but the latest news suggests otherwise. Below are all the latest details.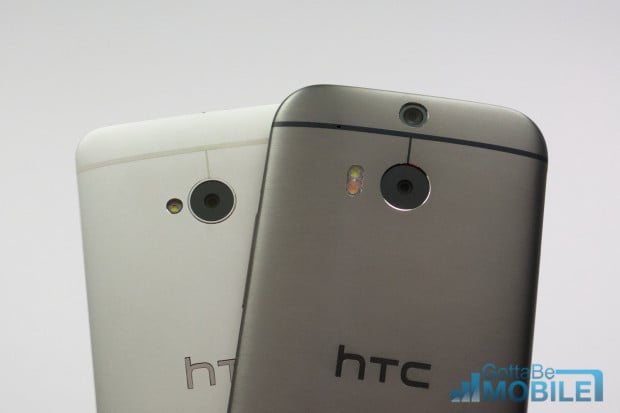 The first images of the HTC One M9 reportedly leaked earlier this week but sadly no details came along with the images aside from the already reported information. Today though, Phandroid received additional confirmations regarding what buyers can expect, and two of the clearest images yet of HTC's new flagship smartphone.
Below is out best look at the front of the new HTC One M9, and sadly it looks extremely similar to last years model. Right down to large bezels around the display, huge bezels on the top and bottom not including the dual front facing speakers. Those speakers are a main highlight and feature of the device, but those expecting smaller bezels will be sad to see the new photos today.
According to the information provided with the photos above and below, the new HTC One M9 will in fact keep the same 5-inch 1080p HD display as last year. This, is a big difference from what we've recently heard. Other reports and rumors have all suggested a larger 5.5-inch 2560 x 1440 Quad-HD display.
That being said, this could also lend credence to the rumors of an HTC One M9 with a 5-inch screen, and a powerful HTC One Max later this year to take on the iPhone 6c and Galaxy Note 5. However, it's still too early to tell, but these images certainly show a device that's similar to last years in shape, size, and design.
We can clearly see the power button has been moved to the middle right side, rather than the top, which was a complaint from many who said it was too hard to reach. HTCsource recently stated this change, and that's been confirmed by these new images. The power button is the lowest button on the right for easy access, and the volume up and down are dedicated buttons vs the rocker from previous releases.
Aside from the small 5-inch 1080p display all the other rumors remain the same. Those being a 2.3 GHz 8-core processor with 3GB of RAM, 32GB of storage with a micro-SD slot for expansion, a 20.7 MP rear camera and 4 Ultrapixel front camera for selfies, dual front facing speakers, and the all aluminum design in gold, grey, and black or dark grey. This leakster also confirms the increase in battery size from 2,600 to a larger 2,840 mAh battery. Something all buyers can appreciate.
Of course the new HTC One M9 will be running the latest Android 5.0 Lollipop and a new HTC Sense 7.0 interface, and all will be revealed on March 1st according to HTC. The wait is almost over, but we're expecting more details well ahead of the launch and impending release date.

As an Amazon Associate I earn from qualifying purchases.