39 HTC One M9 Tips & Tricks
If you waited months for the HTC One M9 to be announced and released, read our full review and saw a few things you loved, and now own the impressive aluminum HTC One M9 smartphone, next you'll want to learn a few tips and tricks to get the most out of your device.
The HTC One M9 is a powerful smartphone with tons of fancy advanced features, themes and more, as well as simple options to make the experience easier. It has a lot to offer, and once you go over our M9 setup guide and 6 things to do with your new phone, next is learning all about everything it can do.
Read: 15 Best HTC One M9 Cases & Accessories
Below you will find a compilation of over 35 HTC One M9 tips, tricks and even a few hidden features or controls that are deep in the software you otherwise may not have found. Most of these don't require any additional spending or apps, and can be done right out of the box. We'll start with a couple of our favorite features, then get into all the good stuff. Read on to learn everything you need to know about the M9.
Owners won't need to root (Android's version of Jailbreak) the HTC One M9 to enjoy any of these features or tricks, and can do everything with ease as long as you know where to look, and what to do.
Many of these are features or tricks from stock Android that work with all Android smartphones or tablets, and some are specific to the HTC One M9 and the Sense user interface developed by HTC themselves. That said, they're all extremely helpful, and things you should know.
HTC One M9 Tips & Tricks
Dot View Case
The Dot View case for the HTC One M9 was a surprise and exciting accessory many loved. The all TPU flip cover case was excellent at protecting the phone, and the little dots in the plastic allowed for users to answer calls, check the weather and more all with the case closed. The screen would glow through the small "dot view" and give users information at a glance. The video below is from the M8, but the same case is available for the M9, but has even more features.
This year the new Dot View will let users customize what all can be shown while the screen is still closed, customize the colors and lights of notifications, and there's even neat little games like Brickles and more all playable without ever opening your case. It's pretty neat, and runs you $39 in multiple colors. It's expensive, but protects your phone while allowing you to do more than most cases. The Dot View isn't necessarily a tip or trick. But you can answer calls, check the weather, make calls using your voice and more all without ever opening the case. It's a great accessory all One M9 owners should have.
Motion Gestures
The motion controls on the HTC One M9 are technically 6 tricks in one category, and are all things owners should know about and enjoy. The most notable one is the double-tap to wake the screen. This seems minor, but is our favorite feature of the LG G series, a nice touch on the One M9, and also available on the Nexus 9. Simply double tap the screen while it's off, and it turns on. No searching for the power button. I use this daily. Here's the full list of motion gesture controls, some of which are also listed below.
You'll need to enable gesture controls in settings, and you can enable or disable what you want, and what you don't want. Then when the screen is off simply pick it up, and it senses the movements, then all the gestures below work, if enabled in Settings > Display & gestures > Motion gestures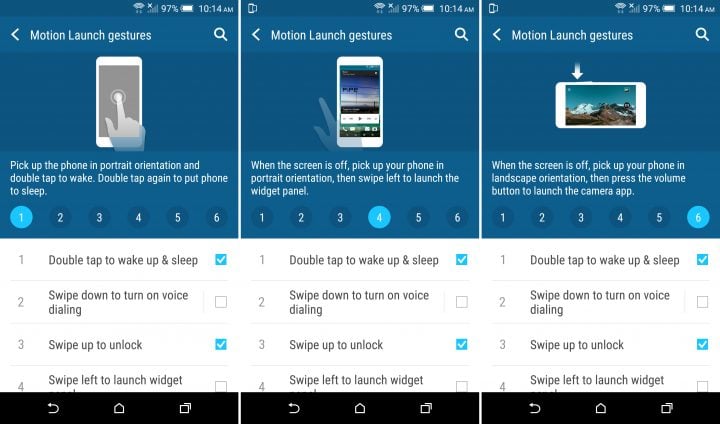 M9 Lockscreen Gestures
Double tap to wake up & sleep – Double tap the display to wake it from sleep
Swipe down to turn on voice dialing – With the phone in portrait orientation and the screen off, swipe down from the top of the display to launch the voice dialer
Swipe up to unlock – With the phone in portrait orientation and the screen off, swipe up from the bottom of the display to unlock your One M9
Swipe left to launch widget panel – With the phone in portrait orientation and the screen off, swipe left on the display to launch the widget panel
Swipe right to launch BlinkFeed – With the phone in portrait orientation and the screen off, swipe right on the display to launch BlinkFeed
Volume button to launch camera – Pick up the phone and turn it sideways (landscape orientation) and press either volume button to launch the camera app
HTC One M9 Themes
One of our favorite aspects of the One M9 is the new "Themes" app. It's all pretty self explanatory. Open the themes app and select whatever theme you'd like. This changes anything from the wallpaper, colors, font size and even the look of icons on your phone. It's extremely powerful and one of the best ways to customize your HTC One M9.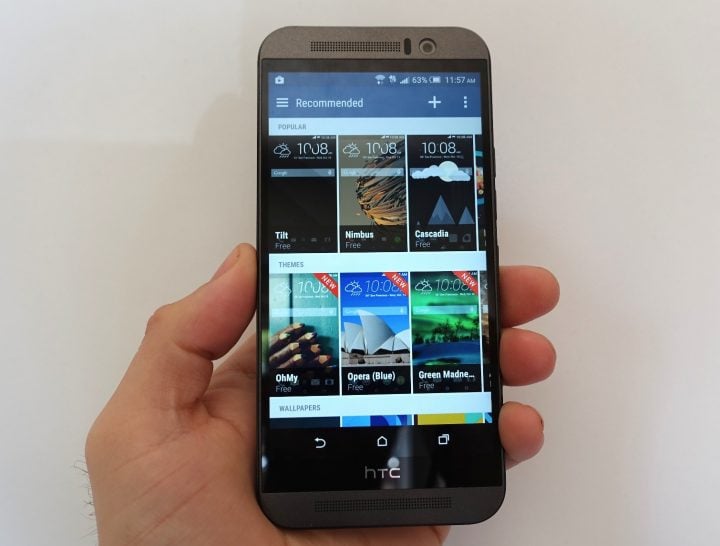 If you mess around too much with themes and end up not liking how your phone looks, here's how to go back to the default HTC One M9 theme. You can even take a photo and the theme app will crop it, pull colors from the image, and use them to create a theme all based around an image. It's a lot of fun, so give it a try.
Auto Answer Calls
When you get a phone call on the HTC One M9, pick it up and place it next to your head to automatically answer the call. This works with the Dot Case on or off using sensors to tell when it is next to your head. It's a nice little trick not too many owners know about.
Blinkfeed (Customize)
BlinkFeed is now set to the left of the home screen, and less in-your-face than on the original HTC One. This allows users to quickly swipe over to the left and see updates from a variety of social networks and news services. This is a news, sports, social, and info aggregator tool of sorts. One area gives you tons of information and this is something enabled out of the box that many love.
Swipe over one more time to add news topics and sources that matter and to link up with social networks. When you install Facebook or Twitter the BlinkFeed service will also identify and ask for access to further personalize. You can hit the + to add as many topics as you'd like to get info from, and remove and you'd rather not see. Just check or uncheck any boxes. Click the dropdown arrows to enter each category for more options.
Disable Blinkfeed
While Blinkfeed is nice, it takes up one entire screen of your homescreen. If you'd like to get that back and put apps or widgets of your choice, you can disable Blinkfeed. Here's a detailed how-to guide.
Simply long-press any blank area of any screen, and you'll see a familiar popup on Android for home screen options. Wallpaper, Apps and widgets, or Manage home screen pages. The second two both will work, but select "Manage home screen pages". Here you can pan through all your home screens, and the far left is Blinkfeed. Simply navigate to it, and select remove. That's it, and it is now completely gone. Leaving that area blank for the user to add apps they'd like there, instead of Blinkfeed.
Custom On-screen Buttons
The on-screen buttons at the bottom of the One M9 are back, home, and the recent apps (multitasking) buttons. And while these are nice, you can't change what is where like LG offers, but you can add more buttons to make certain tasks easier.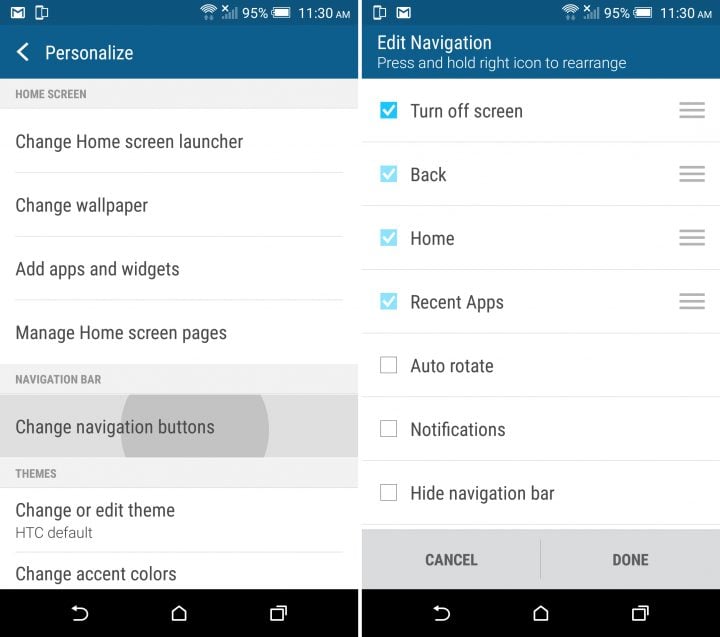 Go into Settings > Personalize > Change navigation buttons to configure from a list of options. You can only add one extra button to the nav bar. Like toggle auto rotate, open notifications, hide the nav bar (swipe up from bottom of the screen to un-hide), quick settings, or our favorite, which is a button to turn the screen off.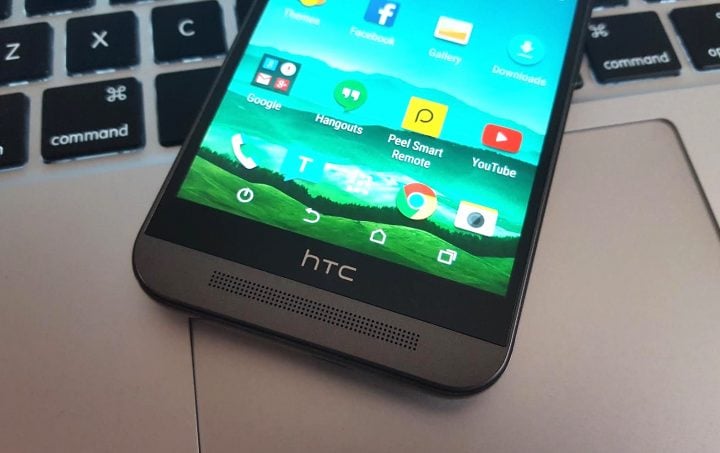 Rather than fumble with the side button, tap the power button on the display to turn off the screen. Perfect for putting the screen to sleep before putting your phone in a pocket, purse, or on the table. Keep the screen off, and the battery lasting longer.
Quick Launch Camera
A part of the motion controls at the top of the list, but needing its own category because it's that useful, is the quick launch camera control. This is extremely helpful. Head into Settings > Display & gestures > Motion gestures and make sure the quick launch camera option is selected.
Once this is enabled pickup the phone from a table or pull it out of your pocket, hold it sideways (landscape mode) and hit either volume up or down button and it instantly launches the camera before you even unlock the screen. This makes taking a quick photo in a matter of seconds extremely easy. You'll want to enable this. It isn't as fast as the Galaxy S6 or LG G4, but quick enough so you won't miss a photo opportunity.
Mobile WiFi Hotspot
The HTC One M9 can be used as your own personal WiFi hotspot, just like you use the internet at Starbucks or a hotel. Then connect to it with a tablet or computer to browse the web. This costs money with some carriers, so make sure before you use it, and be careful not to go over your carrier data allotment.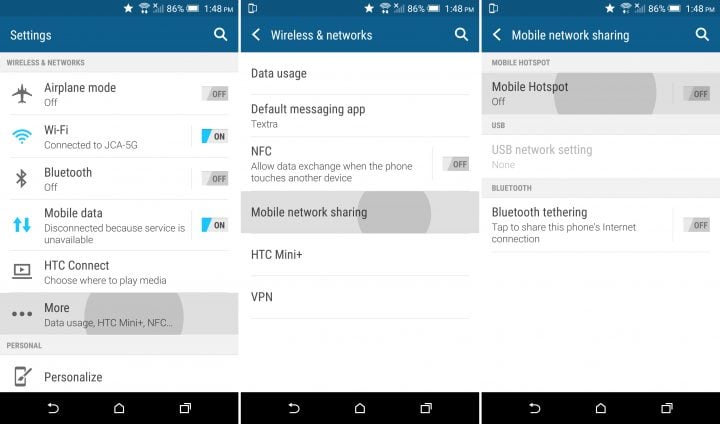 Head into Settings > More > Mobile Network Sharing > and turn on Mobile Hotspot. This will have you go through a setup of making a name and choosing a password (so others can't use your internet) then you're done. Now use a tablet or laptop to connect to, and use the HTC One M9 as its internet source. You can also use USB tethering with some apps like Klink from the Play Store, or Bluetooth tethering. Personally the regular Wifi or USB tethering is the best route.
Easy Mode
Easy mode turns your powerful smartphone into a simple and easy to use and understand smartphone for those that don't need all the bells and whistles. It's also great for kids or grandparents who've never had a smartphone before.
To start simply pull down the notification bar and tap the gear-shaped icon which is settings, or find the settings application in the app tray. From here you'll navigate to Personalize > Change Home Screen Launcher > and select Easy Mode.
The options and settings you'll need to select have been highlighted in the image above, and that's all there is too it. Once done, you'll instantly see the entire device switch to a green tile-based interface that's very easy to understand, yet still somewhat customizable.
You'll notice the font is much bigger, HTC Sense UI has changed into large tiles with commonly used apps like People (contacts), the phone dialer, camera, gallery, and messages to send texts. Then there's a (+) button to add an additional option to your new Easy Mode home screen.
Each side of the main screen has more options for quick launching apps, and one tap instant tiles to call your favorite contacts. Get everything out of the way so the phone is more simple for those who only need the basics.
Quick Settings
Pull down the notification bar once for notifications and info, pull down a second time for what's called "quick settings". This area has all the most used settings in an easy to find place. That, or just swipe down with two fingers to instantly launch the quick settings panel. Most don't know about this, or that swiping with two fingers brings it up instantly. Use this to quickly toggle WiFi or bluetooth, turn on the flashlight, or change your screen brightness.
Customize Quick Settings
You can have 12 different options in the quick settings list. Pull down with two fingers, then tap the square with a pen (edit) button near the top right of the screen to customize your quick settings list. From here you can add whatever settings you use the most, or re-organize them as you see fit.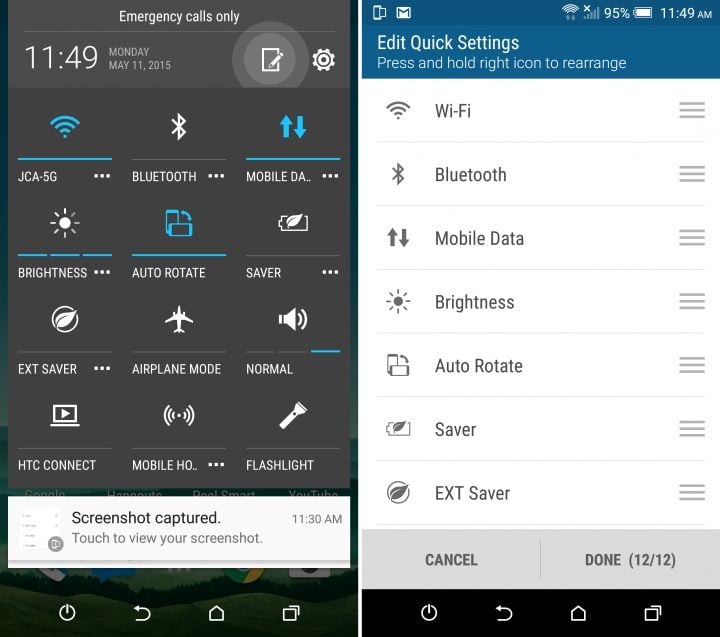 This simplifies using the quick settings, and makes your device more personal to fit your individual needs and wants. My favorite part is the flashlight option that uses the camera flash for a flashlight. I use this on a daily basis.
Lockscreen Security
All the motion controls above let you access tons of features without ever unlocking the device, but you'll still want lockscreen security in case your phone is lost or stolen. Simply slide down the notification bar from the top of the display and tap the round gear-shaped settings icon near the top right. Scroll down to security, then select screen lock at the top and use the option of your choice.
Settings > Security > Screen Lock > and select Pattern, PIN, or even Face Unlock
It is recommended that most users at least have an option for a pin or pattern, as security is extremely important these days. Once you set a lockscreen security measure additional options appear, like choosing how long before the device locks after use. I have it set for 3 minutes so I'm not constantly typing in a code all day long, but to each his own. Running on Android 5.0 also means you can take advantage of smart lock, where it won't need a pin or security measure if you're near a trusted device. Something like a smartwatch, Android Auto device, or even at your home once you set up the smart lock features.
App Tray Grid Size
The application tray or drawer on the HTC One M9 goes in alphabetical order, and in lists of 5 lines as you scroll. Open the app tray and select the "app dropdown arrow" on the top left to change this from alphabetical to most recent, or even custom so the apps you want and use the most are at the top.
You can also tap the three dots menu button on the top right and change the grid size. By default the screen has five rows or four apps. You can change this to 3×4 if you don't want as many apps on the screen at a time. Making things easier to find what you're looking for, especially if you customized the list.
Recent Apps Menu Layout
With Android 5.0 and Sense UI 7 you can can actually change how a lot of the phone looks and operates. The recent apps multi-tasking button lets you go from app to app in seconds, and with HTC you have tiles or a grid of apps when you hit the bottom right recent apps button.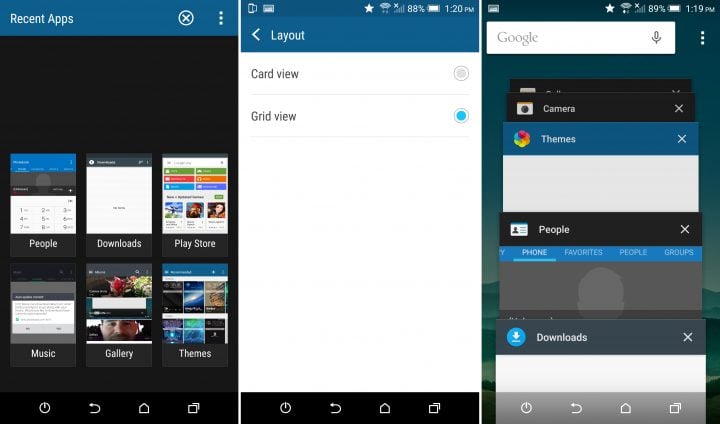 However, tap the recent apps button, select the three dots at the top right, select settings, and change the layout from grid view to card view. This gives you a more stock Android look, and bigger previews of all currently running apps. Making it easier to swipe away and close apps, and improved multi-tasking.
Take a Screenshot
Everyone should know how to take a screenshot. This allows you to capture and save whatever is on the screen. Then edit, save, or share it to whoever you'd like. I use this to save pictures, screenshot an address or phone number, and more.
Press the Power/Sleep button (now on the bottom right side) of your HTC One M9 along with the volume down button at the exact same time. Simply position what is likely your middle and ring finger then push both power+volume down at the same time, hold until you see the visual screenshot on screen (or the camera shutter sound) and let go. It's that easy.
Once done you'll see and hear the screenshot capture, which can then be accessed in multiple ways. Pulling down the notification bar as shown below will instantly show the screenshot has been captured and saved, and you can even share it right from the notification bar thanks to Android's expandable notifications.
Quick Access to Google Now
The HTC One M9 includes Google Now which shows information about your web searches, weather, location and other important topics as well as offers fast access to searches. Google Now has a lot of voice-controlled features as well.
Read: Fun Google Now Tips & Tricks
Put your finger on the HTC One M9 home button on-screen and slide up to access Google Now from any screen. Then say "Ok, Google" to search for things, ask for directions or check the weather all with your voice.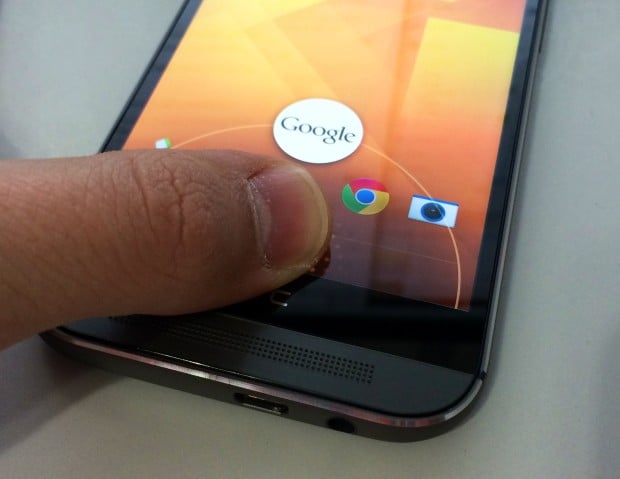 Battery Percentage
If you want to see your battery level percentage always displayed in your notification bar, go to Settings > Power and check the box next to Show battery level.
Read: How to Get Better HTC One M9 Battery Life
Speaking of battery life, turn the screen brightness down to around 30-40% and only turn it up when you need it. Head into settings > location > and set this to battery saver mode, and manually control what syncs and when to get the most battery life from your phone. More details can be found above.
Do Not Disturb
If you go to bed early and need to avoid interruptions this is the best HTC One M9 tip you'll find. Turn on Do Not Disturb mode and calls and texts will not bother you.
Tap on the Do Not Disturb shortcut in Quick Settings to turn it on manually, and hold to access settings where you can set up a schedule to automatically turn it on and off. With Android 5.0 Lollipop when you turn down the volume you'll see the volume bar, but also None, Priority, and All. These are options for what notifications come through. Only allow priority notifications to come in, or turn off all notifications, even alarms, for a certain amount of time. This will truly stop you from being disturbed.
Use the HTC One M9 to Buy Groceries
The HTC One M9 features NFC which Google Wallet and others can use to make a payment at many grocery stores, gas stations and restaurants like McDonalds or Starbucks.
Download Google Wallet and follow the on screen directions to set it up for your cards and to turn on NFC and switch the Tap & Pay app from Softcard to Google Wallet. Use Google Wallet or Softcard, previously called ISIS. Once this is done you can pick the card you want to use and simply tap the HTC One M9 on a compatible credit card terminal.
Customize the LED Notifications
The HTC One M9 features a small LED in the top speaker grille. This is a nice way to know when you have a new email or text without turning the display on, but sometimes the flashing light can be a hassle.
Go to Settings > Sound > App light notifications > and pick the items you want it to flash for. 
This makes it easy to to turn off email LED notifications and avoid blasting the bedroom ceiling with light while you try to sleep. It's also a nice way to know when you have a new email, missed call, or SMS. Apps (that require root) from the Google Play Store will let you customize the colors. So each notification is a certain color, for even more control of your phone.
Use the HTC One M9 as a Remote Control
The HTC One M9 features an IR port that you can use to control your HDTV, cable box and home theater. Open the app drawer and tap on the Peel Remote app to get started.
Read: How to use the HTC One M9 as a Remote Control
You'll enter in a little information about your TV provider, streaming services and then set it up to work with your HDTV and cable box to get the right lineup and controls. It's extremely customizable and you can even set show alerts and reminders. This is one of my favorite features and something all phones and tablets should have. Mainly because I always lose the remote, but never my phone.
Use a Micro SD Card
Go to Amazon and buy a cheap Micro SD card for about $20 and you can double the storage on the HTC One M9 by plugging it in. Use it mainly for photos and videos you shoot instead of trying to move apps to it. The HTC One M9 will install some apps to the Micro SD card, but not all will run from it.
This is also a great place to store music, videos or movies and more.
Add USB Storage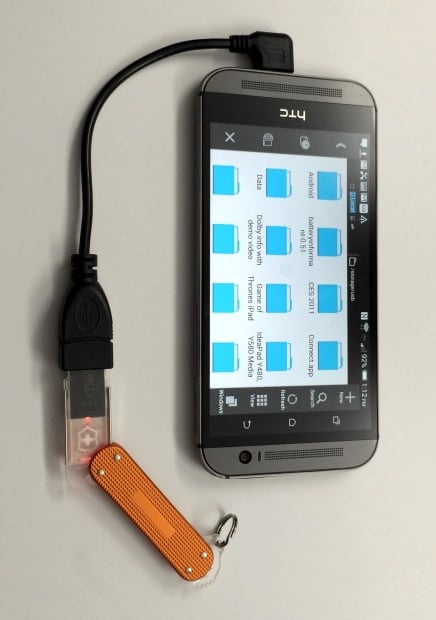 If you buy a $5 USB OTG cable from Amazon or another retailer and grab a USB drive you can add additional storage to your HTC One M9. This is in addition to a Micro SD card and is handy for watching videos that you transfer from a computer.
Flip to Mute
If you get an incoming call on the HTC One M9 that you cannot answer flip it over to mute the call. This will not end the call and the caller will not know you are ignoring him. This is a handy HTC One M9 feature if you are in a meeting and need to quickly silence the phone.
Use Kid Mode
The HTC One M9 ships with Kid Mode. This child friendly mode lets parents lock the phone to educational and entertaining apps and videos while keeping their contacts and apps safe. You can also use Android 5.0 Lollipop's screen pin feature, but kids mode is more advanced.
Head into the app drawer and find the app called Kids Mode. From there you can customize it for each kid with profiles, and add apps downloaded from Google Play. Kids cannot leave this mode unless then enter a pin or code you, the parent, can set.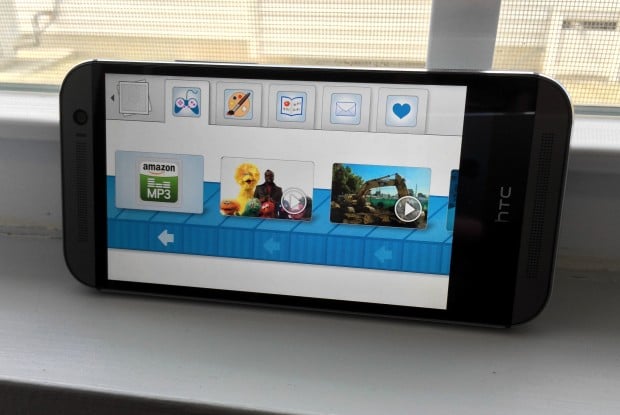 Hide Content on Lockscreen
Once you set up a lockscreen you can dive into settings and turn off certain lock screen notifications to keep your information private.
Go to Settings > Sound & notifications > When device is locked > and check to hide information while the screen is locked. This is a simple way to prevent a room mate or someone who picks up your phone from snooping without knowing your passcode. This is also a setting you can control in security > lockscreen > for more advanced options.
Change the Text Message App
The default text and MMS messaging app on the HTC One M9 is nice, but there are tons of better options on the Google Play Store. Here is a detailed guide on changing your text app, along with a few apps worth considering.
End Calls with the Power Button
Users can go to the accessibility settings and turn on an option that lets users end a call with the power button. This is easier than trying to hit the end button on screen if you are doing something else while on the phone.
Go to Settings > Accessibility > Power button ends calls.
You can use this to end a call during the call or to silence and ignore an incoming call.
Take a Better Selfie
Go to the camera and pick the mode options again, but this time pick Selfie. This switches to the front facing 4 Ultrapixel camera and allows users to tap anywhere on the screen to take a photo after a 3,2,1 countdown. Hit the three dots menu option and turn the timer off, or use a 5 or 10 second countdown if you really need to get the perfect shot.
There's also a slider that essentially adds makeup to your face. A "beauty shot" if you will, that smooths out skin and makes you look prettier than you actually are. Just don't overdue it, as you'll look like a doll.
Turn Off WiFi Reminders
If you hate the small pop up that WiFi is available when launching an app you can turn this off easily.
Go to Settings > WiFi > Tap on the three dots > Advanced > Network Notification > Off. 
This won't keep the information out of the Notification Drawer, but it will stop a pop up from getting between you and your apps.
Smart Lock
One of our favorite features in Android 5.0 Lollipop is smart lock. Essentially the phone is smart enough to know where you are, if you're connected to a Bluetooth devices like Android Wear or a stereo, or if the device is on your person, and it disables the lockscreen security. That way if you're home, or in your car, you won't have to enter a password, pin, pattern, or lockscreen security.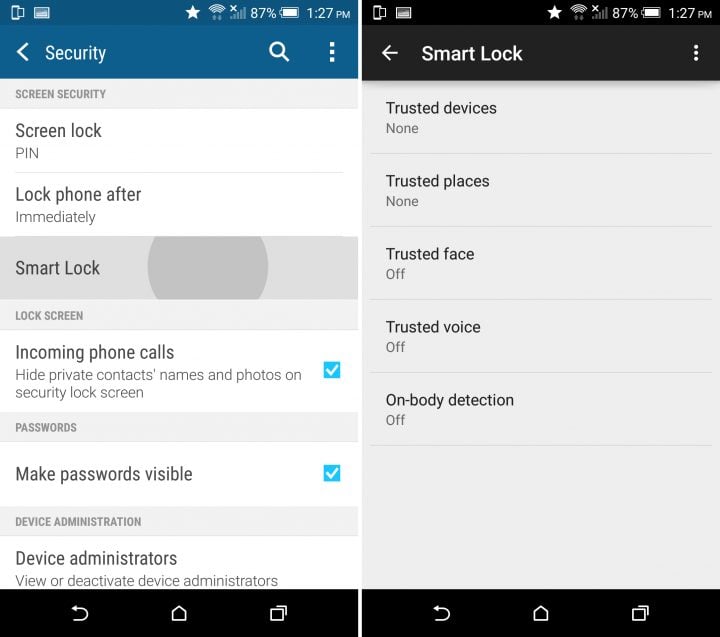 Smart lock lets you choose where home is, and your lockscreen security turns off while home, and turns back on when you leave. This is extremely convenient as it all happens automatically. If it's connected to a trusted Bluetooth device (like Android Wear smartwatches) or your car stereo, it also knows not to use a lockscreen security measure.
Find A Lost HTC One M9
One of the worst things ever is when you lose your phone, or it gets stolen. You'll want to be prepared in case this happens by using the Android Device Manager, and knowing a few fancy features recently released by Google.
Read: How to Find a Lost Android Phone or Tablet
Once the Android Device Manager is installed on your M9, you can use a computer, smartphone, or tablet to sign in and find your lost device. This tool lets you track the location, lock your screen, erase all your data, or even make it ring at full volume to find a lost device in your home.
The ADM is extremely powerful, or just type "Find my Phone" into Google Chrome, and it'll show you the last known location of your HTC One M9. Pretty neat right? This is our last tip or trick, and possibly one of the most valuable.
When it comes to using the new and impressive HTC One M9 there is a lot to know. We've only just scratched the surface when it comes to tips or tricks for using an Android smartphone. The HTC One M9 has a powerful 8-core processor, quick charging features, stunning front facing speakers with excellent audio output and much much more.
Read: 12 Best HTC One M9 Cases
There are other things you can do that require root, or users to buy accessories or apps, but everything above is what we'd call the "basics" for average smartphone users looking to get the most from their new phone.