HTC One M9 vs Galaxy S5: Worth the Upgrade?
Now that the brand new HTC One M9 has officially been released and is set to hit carrier shelves in the coming days, potential buyers are likely weighing all of their options here in 2015. And while the new Galaxy S6 is also worth considering, here we'll be comparing the Galaxy S5 with the HTC One M9 for those seeking an upgrade.
On March 1st the HTC One M9 smartphone was finally announced and revealed after months of leaks, rumors and speculation. It came as no surprise thanks to a variety of leaks, but sadly didn't feature many design changes from last year. Meaning if you chose the Galaxy S5 over the HTC One M8 in 2014, you may not want to upgrade to the new One M9. That said, below is everything buyers need to know.
Read: 5 Things to Know About the HTC One M9
Samsung's Galaxy S5 was one of the best smartphones released last year and is still an excellent device worth keeping for another year, potentially for the Galaxy S7 or a new HTC smartphone as 2015 progresses. That said, below we'll be comparing HTC's latest to a device millions of users already own, the Galaxy S5, and pointing out a few differences for those potentially looking to upgrade.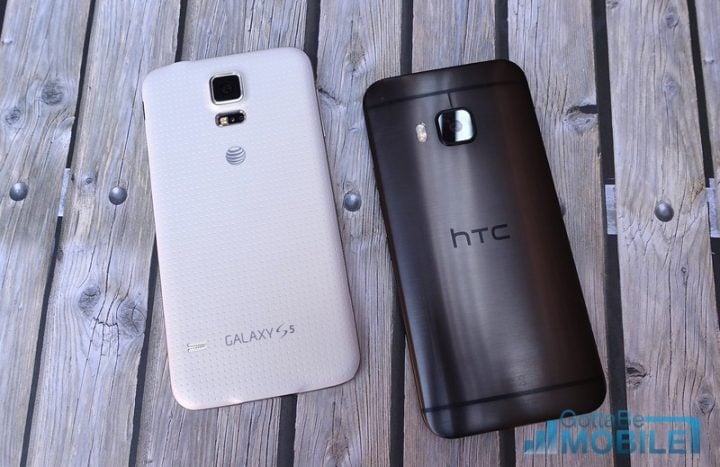 On April 10th the HTC One M9 will be released from most of the major carriers here in the United States, but that same day is the release date for the new Galaxy S6 and Galaxy S6 Edge. Meaning it has a lot of competition from the new Galaxy S device, not to mention doesn't offer too much over the Galaxy S5 from 2014.
This year HTC didn't take any major risks and change the design like Samsung did with the Galaxy S6, and instead delivered a phone that looks nearly identical to the model last year. However, they improved every aspect of the phone, made it slightly smaller, and introduced a new two-tone color option, among other things. Lets get started.
Display
First up is the display, since that is an extremely important aspect of both these devices and something all buyers look at. As for the HTC One M9, it's the same size and resolution this year as it was in 2014. This means it's actually still smaller than the Galaxy S5, and offers the same 1920 x 1080p HD resolution. Meaning it should have more pixels per inch, and could slightly look better, but either way both are pretty neck and neck. That said, the Galaxy S5 had the most award-winning display ever, and still can't be topped unless you get the Note 4 or the Galaxy S6.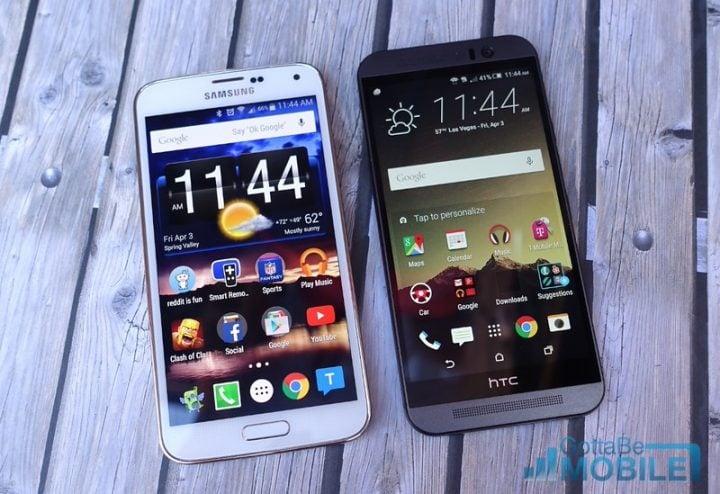 Samsung's Galaxy S5 has a 5.1-inch 1920 x 1080p HD display, one that received awards last year for being the best on the market. These two devices are rather similar in size, and both have screens around 5-inches and of the same resolution. This one is a toss up, but keep in mind Samsung uses S-AMOLED screens, while the HTC One M9 is an SLCD display.
The HTC One M9 doesn't appear to get as bright as the Galaxy S5, but at the same time no one really needs 100% brightness anyways, unless you want to drain that battery really quick.
Design
In 2014 the Samsung Galaxy S5 was rumored to have a major design change from previous years, but that didn't happen. It was relatively the same as the Galaxy S4, only with a more durable design, a fingerprint scanner, and some small changes. It's made almost entirely of plastic. Some love the aluminum of the HTC One M9, while others argue the lightweight and durable plastics used by Samsung are the best route. Everyone has a different preference, and this is key for some.
The HTC One M9 looks nearly the same as last year, as we stated above, but that's not necessarily a bad thing. It's one of the most elegant devices around. The brushed aluminum unibody frame looks and feels great in the hand, and is even more roundd in 2015 with the One M9 making it even more comfortable to hold. The big bezels below the screen are still around, sadly, and the dual front speakers are still as good as ever. Over the past year if some users have had enough of the Galaxy S5, the new two-tone silver and gold or gunmetal gray and black HTC One M9 may be worth considering.
This year the HTC One M9 looks the same, but is actually slightly lighter, and they shaved a few mm of the size of the device as well. All while improving every aspect of the device. The bezels and dual speakers make it taller than the Galaxy S5, but slightly thinner. Overall it feels like a better device, is certainly made of more premium materials, but so is the Galaxy S6. So it's up to you to decide.
Specs
While the HTC One M9 looks just as it did in 2014, everything under the hood is completely different. This is one extremely powerful smartphone with top-tier specs, and even a better camera.
The new M9 is fast, fluid, and more powerful than the Galaxy S5 last year, but that's to be expected. While specs don't mean everything, this is still something many consider, so here's the raw numbers for those interested.
HTC One M9 Specs

5-inch 1920 x 1080p Full HD S-LCD3 Display
8-core Snapdragon 810 processor (64-bit)
3GB of RAM
32GB of internal storage and a micro-SD slot for expansion
20.7 MP rear facing camera and 4 Ultrapixel front shooter
Android 5.0.1 Lollipop and HTC Sense UI 7.0
Dual HTC Boomsound Speakers with Dolby 5.1 Audio Technology
2,860 mAh battery
Infrared Blaster for remote control
Brushed Aluminum unibody design
more
Galaxy S5 Specs
5.1-inch 1920 x 1080p HD AMOLED display
2.5 GHz Quad-core Snapdragon 801 with 2GB of RAM
16GB internal storage (Micro-SD expansion)
16 Megapixel camera and 2MP front shooter
Android 4.4.2 KitKat with a new TouchWiz (some have been updated to Android 5.0 Lollipop)
USB 3.0, infrared blaster for remote
IP67 dust and water resistant
Fingerprint and heart rate sensors
2.800 mAh battery
Plastic design
more
A few major things you'll notice are the display, the camera, and of course the processor. The HTC One M9 is powered by the latest 8-core processor with 3GB of RAM, a huge camera, awesome dual front speakers, and a bigger battery to finally compete with Samsung, Apple, and the others. The Snapdragon 810 actually has a powerful 2.3 GHz quad-core for heavy tasks, and a battery-friendly 1.2 GHz quad-core for smaller tasks like browsing the web. They work together for the best performance/battery life possible.
Obviously numbers aren't everything and both of these devices will perform great, but if you're debating which to buy or want to upgrade, above are the numbers for those interested in the fine details.
Camera
While we briefly mentioned this above, another thing many buyers consider when purchasing a smartphone is in regards to the camera. The HTC One M8 sort of failed last year with the Duo Camera, but had some neat software tricks. The HTC One M9 now has a 20.7 megapixel rear camera, and the 4 Ultrapixel rear camera last year is now on the front for better selfies and group photos.
This is much better than last year, and potentially better than the 16 megapixel camera inside of the Galaxy S5. That said, our initial impressions are average at best, but should be plenty for most average buyers. Samsung's S5 had one of the better cameras around, but HTC has put a lot of effort on that front, not to mention the 4 Ultrapixel front shooter. Add in the HTC Eye software tweaks, and these should still be two of the best Android camera phones. That said, the Galaxy S6 camera is looking pretty good from what we're hearing.
Software
At the moment software is a bit of a toss up, not to mention this comes down to personal preference. Some love stock Android like the Nexus 6, others enjoy Samsung's TouchWiz, and some are huge fans of HTC Sense UI. Personally I'm not the biggest fan of HTC Sense, but with Android 5.0 Lollipop and Sense 7 on the HTC One M9, things are finally looking a little better. It's still radically different from stock Android, but they've cleaned everything up, improved performance, and added a powerful new HTC Theme tool allowing users to change the entire look and feel in seconds. This includes colors, icons, font and more.
The HTC One M9 even lets you snap a photo and use it as a background, and the theme engine will pull colors for that and integrate it into your devices software. Making the entire device feel personal unlike any prior HTC device. It's a nice touch, but certainly not for everyone.
Read: Android 5.0 vs Android 4.4 KitKat: What's New in Lollipop
Our Galaxy S5 is still on Android 4.4 KitKat, since it's the AT&T version. However, most carriers in the US and around the globe have updated it already to Android 5.0 Lollipop. There are a lot of new features, improved notifications, a better lockscreen and more. All of this is already on the HTC One M9, and are available now or coming soon to the Galaxy S5.
With the HTC One M9 being one year newer, it may get an additional year of support from HTC in terms of software updates 12-18 months down the road. This may be one reason to upgrade, not to mention everything else mentioned above. Overall Android 5.0 Lollipop makes both these devices extremely fast and fluid, even if it has a few bugs Google's working to fix, so it all comes down to personal preference, or if Samsung fans want to try something different and go with HTC in 2015.
Final Thoughts
In closing, we're not really sure what to think here. On one side we don't see enough improvement with the One M9 to make it worthy of ditching the Samsung Galaxy S5, especially if you chose Samsung over HTC last year. At the same time, it's a stunning looking device, has neat new software features, a better camera, and the latest version of Android. If the plastic Galaxy S5 is something you don't want anymore, try the new HTC One M9.
One thing is clear though, and that is that both of these smartphones will be great devices for years to come, but with one advantage going to the HTC One M9 for simply being a year newer, and getting support and updates a year longer. Those looking to upgrade from a Galaxy S4 will certainly love the HTC One M9, but coming from a Galaxy S5 won't get buyers as much as they were probably hoping for.
Are you sold on the HTC One M9 even though it looks similar to last year, or possibly waiting for the bigger HTC One M9 Plus we've been seeing rumors of? All said and done users will probably want to head into a Best Buy or carrier store soon and give the HTC One M9 a try themselves before pre-ordering or buying the new phone. Drop a comment below with your thoughts.

As an Amazon Associate I earn from qualifying purchases.