HTC One M9 vs HTC One: 5 Key Differences
The original HTC One (M7) is approaching its 2-year anniversary since being released, and that means that many owners are likely looking for a replacement. That could be the new HTC One M9 which was just announced earlier this week. Now that everything is official, here we compare the new HTC One M9 with the original for those seeking an upgrade.
As we all know, all the leaks and rumors about the all-new HTC One M9 were rather accurate. It looks extremely similar to the HTC One M8 last year, and somewhat similar to the original as well, albeit with a bigger screen and tons of other improvements across the board.
Read: HTC One M9 Release Date Breakdown
In 2013 the first and original HTC One arrived focusing on a clean design and better construction, introduced dual front facing speakers, and was the first truly impressive HTC phone in years aimed at taking on the competition. The phone wasn't as successful as the HTC One M8 last year, and now there's an even newer HTC One worth checking out. Below are a few key areas where they differ.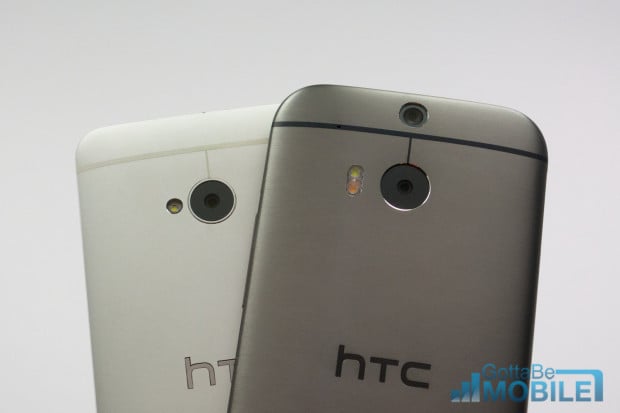 For the past two months we've seen countless leaks of the HTC One M9, but those were all put to rest when HTC took the stage and made it official on March 1st. However, the night before a video leaked comparing it to the HTC One M8, and the original HTC One, which has since been pulled from YouTube.
Now that we know everything about the new HTC One M9, and know that the release date is set for mid-March, buyers are likely weighing their options. On that note, the Galaxy S6 was announced this week too. It has a lot to offer as well, but doesn't feature a micro-SD slot like the HTC One M9, something many owners enjoy and use. This, is one of many reasons it's a great phone, and below is everything else you should know.
Display
HTC's first "One" smartphone arrived in February of 2013 with a nice 4.7-inch HD display and some compelling features. The screen was similar to the competition, and the front speakers made it an awesome stand-out buy. However, those wanting something a little better and bigger will want to see the new One M9.
HTC has always offered some of the best and most stunning displays on their devices, and while the new HTC One M9 doesn't have a huge quad-HD display, it still comes in with a respectable 5-inch 1080p HD display.  They have great colors, and put in extra effort to have great viewing angles, crisp text, and an easy to view display even while outdoors.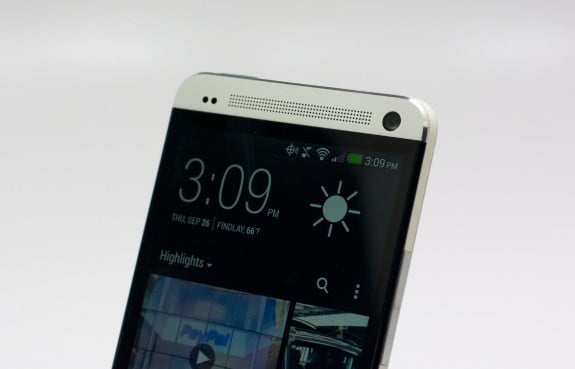 Making the jump from the 4.7-inch HTC One (M7) to something like the Note 4 or Nexus 6 may be too big, so those looking for a small but noticeable increase, the 5-inch HTC One M9 may be the perfect smartphone here in 2015. That said, we're also hearing an HTC One Max could come later this year with a 5.5-inch screen, for those who enjoy HTC's style, but want an even bigger screen.
All said and done, the screen will be bigger and of a higher resolution than the original. This is something many buyers will like if they've stuck it out with the first HTC One, so be on the lookout once it's released.
Camera
The new HTC One M9 will focus heavily on photography, and that's on both the front and the back. Last year the HTC One M8 had two cameras around back, but they weren't that great. Going back to the original HTC One, we only had a single 4 Ultrapixel camera. This has been ours (and readers) biggest complaint of the HTC One lineup, so if that's a problem for you, know that the new HTC One M9 will be leaps and bounds better.
This year, HTC has introduced a new 20.7 megapixel rear camera with a dual-LED flash, and moved that 4 Ultrapixel camera to the front for selfies. That along with all the HTC Eye software they released this year, means a great camera experience. This new phone should take excellent photos from both the front and the back.
The camera on the HTC One (M7) and One M8 were one of the biggest complaints many owners had, and that has finally been addressed with the new HTC One M9. If you want a great camera experience, the One M9 should deliver, and we'll know for sure once we get one in for review.
Specs
When the HTC One was announced and released in 2013 it had some of the best specs and features of any device. And while specs aren't everything, buyers like to know what's available and if the newest device is worth the upgrade. With the phone being two years old the new One M9 is certainly a worthy successor, and has tons of horsepower to run the latest games, apps, and Android 5.0 Lollipop release. Here's the raw numbers for those interested.
HTC One Specs
4.7-inch 1080p SLCD Display
1.7 GHz Quad-core Snapdragon 600
2GB of RAM
16GB of storage (no micro-SD)
4 Megapixel rear and 2.1 front camera
Android 4.1 Jelly Bean (now on Android 4.4 KitKat)
Dual HTC Boomsound Speakers
2,300 mAh battery
HTC One M9 Specs

5-inch 1920 x 1080p Full HD IPS Display
2.0 GHz 8-core Snapdragon 810 processor (4×4)
3GB of RAM
32GB of internal storage and a micro-SD slot for expansion
20.7 MP rear facing camera and 4 Ultrapixel front shooter
Android 5.0.1 Lollipop and HTC Sense UI 7.0
Infrared Sensor for Remote Control features
Dual HTC Boomsound Speakers with Dolby 5.1 Audio Technology
2,900 mAh battery
more
As you can see from the raw numbers outlined above, the new HTC One M9 will be a major increase across the board and something all original HTC One owners can get behind. The screen is bigger, the camera is much better, the front camera will be better than the originals back camera, and it has more than double the power with an 8-core processor. It is actually a power efficient 2.0 GHz quad-core for heavy tasks, and a 1.2 GHz quad-core for lighter tasks to keep battery life in check.
Then, another complaint was battery life. The HTC One M9 has a huge 2,900 mAh battery, and features Qualcomm Quick Charge 2.0 technology. It will charge over 60% faster than the original HTC One, especially from 10-50%.
Again numbers aren't everything, but with all this under the hood and the latest Android 5.0 Lollipop the HTC One M9 should be a great phone, and one worth upgrading to if you're still holding onto the original HTC One. Just know it will be fast, smooth, stable, and run the latest and greatest apps and games.
Software
While the HTC One (M7) runs Android 4.4 and should receive an update to the new Android 5.0 Lollipop eventually, it won't get some of the best features. Those include the tap to wake feature, access to all the new camera technology, and the new HTC Theme system shown off with Sense 7.0 that is on the new One M9.
The HTC One M9 will launch with Android 5.0 Lollipop, which was announced and released in October. The HTC One will see Android 5.0 eventually, but it probably won't get an update to Sense 7, and if it does, don't expect all of the features to be compatible.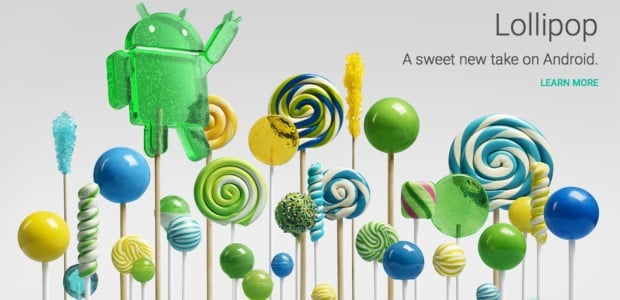 We can expect updates to quickly arrive for the original HTC One M8, but we can't confirm HTC's plans for the original. HTC has been one of the best lately when it comes to updates, but being two years old there's only so many new features they can add without needing the hardware of new devices. Android 5.0 Lollipop will likely be the last major update to the HTC One (M7), so the One M9 is a great choice moving forward with a guarantee of at least 18 months of software updates.
Price
Last but certainly not least is the price. The HTC One is nearly two years old and likely not available from carriers these days, but you can probably find them new or used from other online sources for under $400. This makes it a great buy, but again, this is geared for those seeking to upgrade, not buy the phone.
The new HTC One M9 release date is set for the middle of March, but may not come to US carriers until early April. That means those seeking an upgrade have another month (give or take a few) before they decide. And while HTC and carriers haven't revealed pricing, one leak from Best Buy claims the AT&T HTC One M9 will be $649 outright, and likely $199 with a new 2-year contract.
This is a big price to pay, but you're getting the latest and greatest smartphone with some cutting edge new technology, a better camera, and much much more. All said and done the HTC One (M7) is still a great smartphone, but it's approaching being two years old, and many owners are likely in need of an upgrade. A great choice would be the new HTC One M9, or maybe the Galaxy S6 Edge.

As an Amazon Associate I earn from qualifying purchases.