HTC One M9 vs HTC One M8: What Buyers Need to Know
The brand new HTC One M9 has just been announced today live in Barcelona, Spain and will be coming to carriers starting in mid-March. It has plenty to offer, and for those considering an upgrade, here we compare the new HTC One M9 with last years popular HTC One M8.
As expected, the HTC One M9 has plenty to offer, but didn't feature a radical new design like many leaks and rumors lead us to believe. The phone looks extremely similar to the One M8 from 2014, but has plenty of new features and improvements. From an 8-core processor, to a better camera and more.
Read: HTC One M9 Price: What You Should Know
Most of the leaks and rumors we've been hearing over the past few months ended up accurate, and the phone has now been fully revealed and we'll go over everything you should know. Below we'll take a look at just how similar yet different the new One M9 is from the HTC One M8 released last year, and breakdown the differences for those considering waiting, or contemplating making the switch once it's available.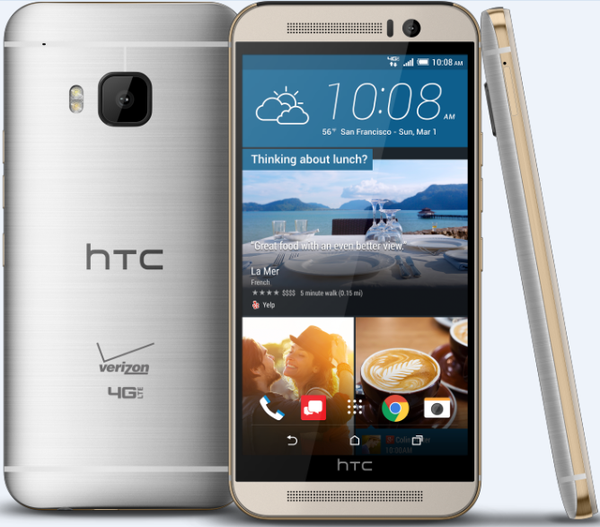 In 2014, the HTC One M8 was rumored for months and leaked countless times in the flesh before being revealed, so there was no surprises when it was released at the end of March. HTC tried to do the same this year, but that didn't work out, and it leaked on video twice this week before being announced this morning.
While the design isn't completely different and the sides aren't curved like the new Galaxy S6 Edge, the HTC One M9 still has plenty of excellent new features, improvements, and changes that should make it a worthy successor over the model it will be replacing.
Display
Last year the HTC One M8 came equipped with a 5-inch screen and offered a full 1080p HD display. And while rumors suggested a bigger or higher resolution screen for the One M9, they kept it the same to keep the size down, and battery lasting longer. The HTC One M9 has the same 5-inch 1920 x 1080p HD Display.
HTC has always offered some of the best and most stunning displays on their devices. They have great colors, and put in extra effort to have great viewing angles, crisp text, and an easy to view display even while outdoors.
The screen may be slightly different from the model before it, but so far from what we're seeing it's the same screen. That isn't necessarily a bad thing, as some don't want a bigger display or curves with minimal additions or new features. Everyone has different needs, and the HTC One M9 held true to the design last year and delivered a well-rounded device, with a nice 5-inch form factor.
Camera
The new HTC One M9 will focus heavily on photography, and that's on both the front and the back. One of the biggest changes to this phone was the removal of the poor "Dou Camera" setup on the back from last years, and the introduction of a new 20.7 megapixel rear camera. They've also moved that 4 Ultrapixel rear camera to the front in 2015, to offer improved selfies and front facing photos or video.
This, along with all the HTC Eye software they released in 2014, means a great camera experience will be on board this new phone. HTC's also added tons of new software changes in Sense 7 to make the camera even better. The theme tool will even take colors from photos and integrate them into the UI, for an immersive and unique experience.
Read: HTC One M8 Review
Our review of the new One M8 came out extremely positive, aside from one fatal flaw, which of course was the camera. Everything else was top-notch, and the only downside to the phone will be fixed in 2015 with the new HTC One M9. Making it an instant buy for millions.
Specs
When the HTC One M8 was announced and released in March of 2014 it had some of the best specs and features of any device. Well, all except for the camera. And while specs aren't everything, buyers like to know what's available and if the newest device is worth the upgrade. Here's the raw numbers for those interested. The new One M9 has some top-tier specs.
HTC One M9 Specs

5-inch 1920 x 1080p Full HD IPS Display
2.0 GHz Snapdragon 810 processor
3GB of RAM
32GB of internal storage and a micro-SD slot for expansion
20.7 MP rear facing camera and 4 Ultrapixel front shooter
Android 5.0.1 Lollipop and HTC Sense UI 7.0
Zero-Gap Aluminum design and two-tone colors
Dual HTC Boomsound Speakers with Dolby 5.1 Audio Technology
Infrared Sensor for remote
2,900 mAh battery
more
HTC One M8 Specs
5-inch 1920 x 1080p HD display
2.3 GHz Quad-core Snapdragon 801 with 2GB RAM
32GB internal storage (Micro-SD expansion support)
4 Ultrapixel camera (new second Duo Camera) and 5MP front, dual flash
Android 4.4.2 KitKat with Sense 6
Front facing speakers, infrared port for remote
Brushed aluminum design
2,600 mAh battery
This year the HTC One M9 has Qualcomm's new Snapdragon 810 8-core processor. It's actually a 2.0 GHz quad-core, and a lower-power 1.2 GHz quad-core for smaller tasks. Combined this will enhance usage, increase battery life, and keep performance top notch when it's really needed.
Then of course the new phone has a slight redesign to the buttons, the power button is on the middle right side now for ease of use. Last but not least is the camera, which we'll test out as soon as possible. So far, design aside, this looks like a wonderful phone to replace the original.
Software
While we don't know all the details just yet, HTC has made some major changes to the software with HTC Sense 7. Running on Android 5.0.1 Lollipop a new HTC Theme engine will allow for complete customization, and the phone can even gather colors from a photo and integrate them into the menus and user interface, while instantly using that photo as your background wallpaper.
Read: Android 5.0 vs Android 4.4 KitKat: What's New in Lollipop
Android 5.0 Lollipop brings a completely revamped experience for buyers. The software is smooth, fast, fluid and filled with animations. And while much of that will be covered with HTC Sense UI, users will still enjoy better notifications, and improved pulldown bar, and a more intuitive lockscreen. Among other things.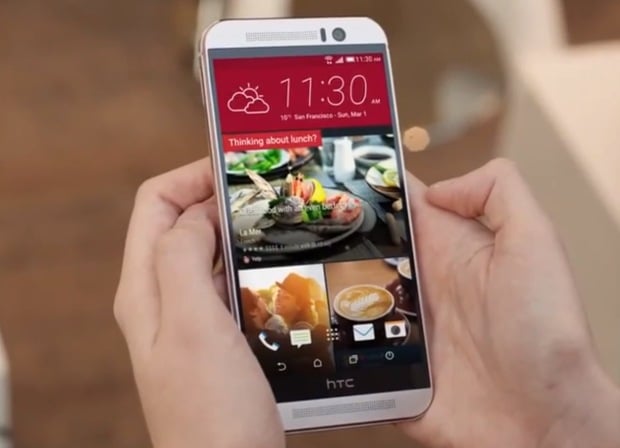 The HTC One M8 is currently being updated to Android 5.0 Lollipop, and users can expect it to see an update to Sense UI 7 in the coming months.
Release Date
The biggest thing for those looking to buy, seeking an upgrade, or just smartphone buyers is the release date. If you need a phone now, the HTC One M8 is a great choice. However, if you can hold out for 3-4 weeks (maybe a little more) the new HTC One M9 will be available around the globe.
Today HTC confirmed it will be available from all four major US carriers and around the globe starting in Mid-March. We haven't received actual dates from any carriers yet, but most are saying Q2 or early Sprint. We're expecting AT&T to be up first, sometime in March, then quickly see other US carriers offer the new HTC One M9.
Read: HTC One M9 Release Date Breakdown
Today the Samsung Galaxy S6 and S6 Edge were both announced as well, coming in April, so this will be a tough choice in the next few weeks as potential buyers look for their next smartphone. The HTC One M8 is a great device, and will likely go on sale and we'll see plenty of deals arrive, but the One M9 is obviously the better long-term choice.
For now we don't have an exact date on when you can get the new HTC One M9, but we'll update the moment carriers make official announcements and share dates.