HTC One M9 vs LG G3: Worth the Upgrade?
Now that the brand new HTC One M9 has officially been released and is set to hit carrier shelves in the coming days, potential buyers are likely weighing all of their options here in 2015. And while the new Galaxy S6 is also worth considering, here we'll be comparing the LG G3 with the HTC One M9 for those seeking an upgrade, or buying discounted devices from last year.
On March 1st the HTC One M9 smartphone was finally announced and revealed after months of leaks, rumors and speculation. It came as no surprise thanks to a variety of leaks, but sadly didn't feature many design changes from last year. Meaning if you chose the LG G3 over the HTC One M8 in 2014, you may not want to upgrade to the new One M9. That said, below is everything buyers need to know.
Read: HTC One M9 Review
The LG G3 was one of the better smartphones released last year and is still an excellent device worth keeping for another year. That said, below we'll be comparing HTC's latest to a device millions of users already own, the LG G3, and pointing out a few differences for those potentially looking to upgrade or buy one vs the other.
Tomorrow, April 10th, the HTC One M9 will be released from most of the major carriers here in the United States, but that same day is the release date for the new Galaxy S6 and Galaxy S6 Edge. Meaning it has a lot of competition from the new Galaxy S device, not to mention doesn't offer too much over the model before it.
This year HTC didn't take any major risks and change the design like Samsung did with the Galaxy S6, and instead delivered a phone that looks nearly identical to the model last year. However, they improved every aspect of the phone, made it slightly smaller, and introduced a new two-tone color option, among other things. Lets get started.
Display
The LG G3 has a decent 5.5-inch 2560 x 1440 Quad-HD (or 2k) display. Compared to a 5-inch 1080p screen from the HTC One M9, there's a big difference for buyers. Considering these phones are nearly the same size but one has a much bigger screen is quite a feat, and impressive to say the least. Many hoped the One M9 would have a bigger screen or higher resolution, but HTC kept the device size in check, and kept the resolution at 1080p to preserve battery life.
LG has slim bezels around its Quad-HD display, and this makes the device quite small even though the screen is massive. Nearing "phablet" size. However, it isn't all good. The 5-inch IPS LCD3 screen on the HTC One M9 has better brightness, much better colors, and the viewing angles appear to be superior, but only by a hair.
Either device will make buyers happy, but the LG G3 screen doesn't have as good of colors or viewing angles as HTC's, but is bigger and has a higher resolution. Surely some of those problems will be addressed by the new LG G4 later this year.
There's no clear winner here. If you want a huge screen to view content, watch videos, play games, and more the LG G3 is great, but those seeking a great experience in a smaller package the One M9 will be a great too.
Design
LG and HTC couldn't be any different when it comes to the design approach. LG has something that works great with the same overall look and feel as the previous generation, which is buttons being on the back for a sleek design, and lightweight (yet durable) cheap plastic for its smartphone build materials. They've used plastic for years, although the LG G3 actually looks like it's made from aluminum. It has a brushed aluminum look to the plastic housing.
Read: LG G3 Review
HTC on the other hand, has continued to deliver some of the best looking and most premium feeling smartphones on the market. The original HTC One was wrapped in a single aluminum shell, and that's continued for two years and is the same essential design in the new One M9. While it barely looks different than its predecessors, it's a big upgrade and one of the most powerful devices around. And now it has a nice two-tone aluminum finish as shown below.
No one will argue which looks better. The HTC One M9 has brushed aluminum in a few different colors, the best speakers of any smartphone, ones that happen to be front facing (and we're not sure why others haven't offered the same) and overall just feel like a premium device. And with the new One M9 they have a two-tone color option, still in aluminum, that looks wonderful. Below is an image of the Verizon HTC One M9 in aluminum gold and silver.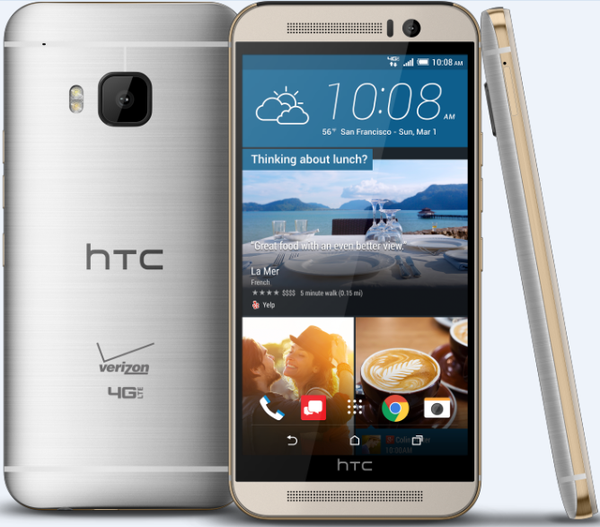 At the same time, the LG G3 is one of the best looking plastic smartphones around. Looks aren't everything, but it plays a role in many users purchase decision.
While we were huge fans of the HTC One M8 and it received an Editors' Choice award, the new HTC One M9 is even better. The LG G3 is slightly wider, extremely lightweight, and nearly the same height yet has a much bigger and better overall display. The entire design of the G3 was to offer a sleek device that isn't too large, yet pack a massive and beautiful screen inside, and LG succeeded.
If the screen size doesn't matter too much and you'd rather have a premium device, the HTC One M9 should be perfect.
Camera
An extremely important aspect of any purchase is also the camera, and sadly this one is somewhat of a toss-up. As we all know, the HTC One M8 camera was lacking, but that was fixed here in 2015 with the new HTC One M9. They've increased it to a 20.7 megapixel camera, and put the rear 4 Ultrapixel on the front. It should technically have one of the best cameras on the market. However, in our review it still wasn't as good as we had hoped.
That said, the LG G3 is no slouch either. It's only a 13 megapixel camera, but megapixels aren't everything. The sensor is big, it has optical image stabilization+, and the laser auto-focus on the LG G3 is one of the best on the market. The auto focus is fast, it stabilizes images, and gets clear crisp images without effort. Both are great, and we actually had some focus issues with the One M9. Technically it should be better, but both are some of the better camera options, but not the best. That belongs to the iPhone 6, Note 4, and new Galaxy S6.
Specs
While specs aren't as important as having a device that's fast, fluid, and will work for years to come, it's still something many consider while making a purchase. Below are the hard numbers for those interested, Software is more important than specs, in my opinion, but to each his own.
HTC One M9 Specs
5-inch 1920 x 1080p HD display
8-Core Snapdragon 810 with 3GB of RAM (4×4)
32GB internal storage (Micro-SD expansion)
20.7 Megapixel rear camera, and 4 Ultrapixel front shooter
Android 5.0.2 Lollipop and HTC Sense 7
WiFi, Bluetooth, NFC, 4G LTE, FM Radio Antenna, and Infrared laser for remote
Brushed Aluminum design, new two-tone color options
Dual front facing HTC Boomsound Speakers
Qualcomm Quick Charge 2.0 Technology
2,840 mAh battery
LG G3 Specs
5.5-inch 2560 × 1440 display Quad-HD display
2.5 GHz Quad-core Snapdragon processor with 3GB of RAM
32GB internal storage (Micro-SD expansion)
13-megapixel camera with OIS+, laser auto-focus, 2.1-megapixel front camera
Android 4.4.2 KitKat (most have been updated to Android 5.0.2 Lollipop)
WiFi, Bluetooth, NFC, 4G LTE, FM Radio Antenna, and Infrared laser for remote
DLNA and Miracast support
3,000 mAh removable battery with wireless charging
more
The HTC One M9 is rather similar to the model last year, but they changed a few key things. Aside from the internals we now have the power button on the right side, under the volume buttons for ease of use, and the camera has been completely revamped. Without looking at the camera you'd barely be able to tell the two apart.
Both of these phones are excellent choices, but in the long run the new HTC One M9 is nearly one year newer, has the latest technology, a higher resolution camera, and will get software updates for a longer period than the aging LG G3.
Software
The LG G3 has been enjoying Android 4.4 KitKat for a long time, but over the past few months it has received updates to the latest Android 5.0.2 Lollipop released by Google. And while the update is causing some issues for owners, it's a substantial upgrade and makes the experience much better.
Read: Android 5.0 vs Android 4.4 KitKat: What's New in Lollipop
The HTC One M9 on the other hand, launched with Android 5.0 Lollipop, but is covered in HTC's own Sense UI. They are both radically different, but underlying features are the same. This is more of a user preference, and this time around with the One M9 HTC Sense is very customizable, something LG has offered for years.
LG's user interface is much different looking than HTC's, and not quite as customizable, but both are great options that are running on top of Google's latest Android release.
Price
Last but certainly not least is the price. The HTC One M9 is a brand new flagship phone, and will cost you more money than the LG G3. However, if you trade in your G3 you'll get a substantial discount towards the newest phone from HTC. And if you're debating one of these two, the G3 is older, and will cost you less. Especially while signing a new 2-year contract.
The LG G3 has been available for a while, and can be found for $499 off contract and often-times free or $0.01 with a new 2-year contract. It's the cheaper route, and will be moving forward. Unless we see some crazy release date deals on the HTC One M9, the LG G3 will be the cheaper choice outright or on contract, no matter how you look at it. If you're on a budget the G3 is a good move, but most carriers offer payment plans that will put the HTC One M9 in reach for most.
The HTC One M9 is $199 with a new 2-year contract, and $649 from most carriers outright. Not to mention monthly payment options as mentioned above ranging from $25-$28 per month.
As we said earlier, everyone has different needs, wants, and budget, so the choice is yours. The HTC One M9 will officially be in stores starting tomorrow, and is one phone worth considering. If you like to have the latest cutting edge smartphone, the HTC One M9 may be worth the upgrade from an LG G3, but unless you really need it the G3 should be plenty for most owners, at least for another year. That, or wait for the LG G4 which will be announced on April 28th.