HTC One Max Fingerprint Sensor Detailed in Leaked Illustrations
Illustrations of the HTC One Max's rumored fingerprint sensor have leaked out, revealing how the mechanism will work. According to the graphics, the sensor will be square-shaped and be located on the back of the device just under the camera module in the center.
Furthermore, it also appears that users will be able to register multiple fingers with the fingerprint sensor on the rumored device, although it's said exactly how many fingers one will be able to register with the phone. The iPhone 5s's Touch ID supports up to five fingers officially, but there's actually an easy way around that, thanks to a nifty loophole that was discovered.
Furthermore, it's said that the ability to register multiple fingers will also allow the ability to create shortcuts for specific fingers that users scan. For example, scanning the index finger can simply unlock the phone, while scanning other fingers can be a shortcut to the camera app or other app that users access often. Seeing as how a lot of phone makers like to implement quick-launch shortcuts in Android, we wouldn't be surprised if this was true.
We actually knew about the phone's rumored fingerprint sensor since last month, when photos leaked out revealing such a feature on the device. Since then, more and more photos have popped up, showing off the HTC One Max's huge frame and giant screen. Comparing the photos of the fingerprint sensor to the illustrations that we're seeing today, there's not too much of a difference, other than size; the illustrations have the fingerprint sensor quite larger than the camera module, while the photo that we saw has the sensor practically the size as the camera on the back.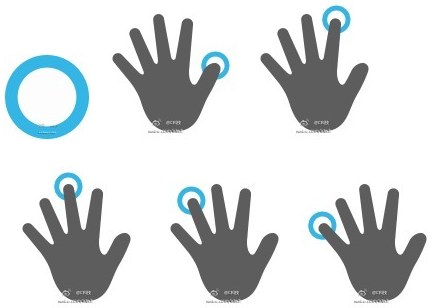 HTC is planning to unveil the device later this month starting on the 15th, with Hong Kong and Taiwan seeing their own announcements on the 16th and 18th, respectively. We're not sure why the company has different dates set up, but nonetheless, the HTC One Max is coming later this month, so prepare yourself for a phablet war between this phone and Samsung's Galaxy Note 3.
We know that we'll most likely see the device hit Verizon right off the bat, which is different from the HTC One, which took several months for it to land on Big Red, but that shouldn't cause any problems for the HTC One Max this time around.

This article may contain affiliate links. Click here for more details.