HTC One Max Release Expands to AT&T
When the new HTC One Max was announced last week many were concerned over the lack of details regarding US carriers offering the handset, but over the weekend we received a few more tips. Aside from Sprint confirming the device, and Verizon tweeting a picture of the 5.9-inch smartphone, that's all we've heard.
For those anxious to get their hands on the huge Galaxy Note 3 competitor made of aluminum and bumping front facing speakers, we have good news for AT&T customers. The famed leakster @evleaks confirmed the One Max is headed to AT&T by sharing an official press photo of the new smartphone branded with AT&T's logo, along with the already confirmed Verizon image. While nothing has been confirmed by AT&T thus far, his leaks are usually spot on when it comes to accuracy.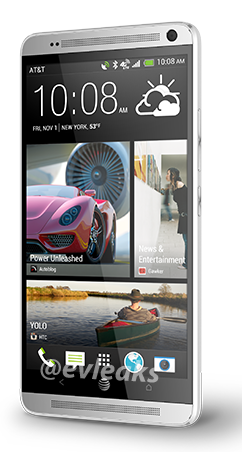 Replacing the usual "HTC" logo front and center is the AT&T Globe (aka Death Star) symbol, confirming they'll not only be branding it with their own logo, but it should be arriving sometime soon for the carrier. Verizon's model will be doing the same, so it's no surprise that AT&T also opted to remove the HTC logo from the front. If the date in the clock and weather widget is accurate, we could see it launch on AT&T come Friday, November 1st, or possibly on the 8th.
This is good news for AT&T customers, especially after learning the device would not launch in Canada on any carriers, as the general release is being quite limited by HTC for some odd reason. That means at least 3 major US carriers are on board, and now all we need is T-Mobile to also join the large 5.9-inch party.
Read: 7 HTC One Max Feature You'll Want to Use
As a reminder the 5.9-inch smartphone sports a full 1080p HD display, front facing speakers, and a powerful quad-core Snapdragon processor with 2GB of RAM. HTC's UltraPixel camera technology and front facing speaker design, not to mention a new and intuitive fingerprint scanner. Designed to add security for unlocking measures, and even quick app launch shortcuts customized by finger.
At the moment there's no exact details when it comes to a release date, from any of the US carriers, but we should be hearing more sometime extremely soon. Verizon said "This Holiday Season" which could be whenever, and the others are still being quiet on that front too. While we wait for a release date check out our comparison vs the Galaxy Note 3.

This article may contain affiliate links. Click here for more details.