HTC One Max Shows Off Large 5.9-Inch Phablet Display Ahead of IFA
It looks like Samsung's Galaxy Note 3 will have some competition next month at the German-based IFA tradeshow as HTC's rumored One Max phablet will also be making an appearance there. In a recent photo leak, the large-sized smartphone was seen showing off a near-6-inch display, placing it in phablet category. The device will have similar styling to what HTC has been using in the One family with the HTC One and the recently launched HTC One Mini.
An image of the front of the HTC One Max was shown on ePrice.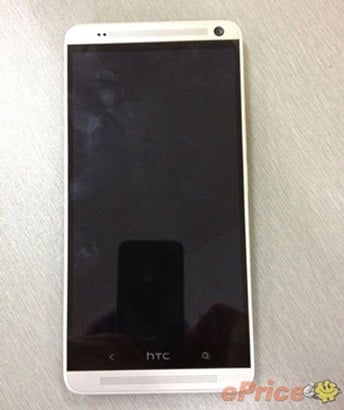 HTC and Samsung have been going head-to-head with recent devices. The HTC One is a direct competitor to the Galaxy S4, the One Mini is a challenger to the Galaxy S4 Mini, and the One Maxx will be eyeing the same demographics as Samsung's Note III.
Interestingly, though, while the HTC One has a smaller display than the Galaxy S4, the HTC Max is said to come with a larger display than the Galaxy Note 3's 5.75-inch panel.
Rumored specs for the 5.9-inch One Max include a large 1080p full HD display, like the HTC One, a Snapdragon 800 quad-core processor from Qualcomm, dual front-facing BoomSound speakers, and a capacious 3200 mAh battery to power all the heavy-hitting hardware specs. Likely, the Max will also come with the low-light Ultrapixel camera as well.
It's unclear if HTC will branch out again with a digitizing stylus for the large phablet. The last time we saw a digitizing stylus was on the HTC Flyer, a 7-inch slate that debuted a few years ago, and the 10-inch HTC Jetstream. If HTC does not resurrect the stylus idea, this would leave the Samsung Galaxy Note 3 largely unchallenged by HTC in this area.
Samsung has been marketing the stylus as a key differentiator for its Note line, targeting creative types and those who prefer to sketch or take handwritten notes. Coupled with the company's bundled S Note application, the S Pen digitizing stylus, based on Wacom's technology, gives users better control of the touchscreen display.
So far we don't know much about availability or retail pricing. The device has been rumored for Verizon's 4G LTE network in the U.S. in the past.