HTC One Max vs Galaxy Note 3: 10 Key Differences
After months of waiting HTC finally has some competition for Samsung's Galaxy Note lineup, and yesterday announced the new HTC One Max smartphone. With a 5.9-inch full HD display this massive smartphone looks to take on the competition from Samsung, and anyone else that releases a large screen smartphone.
HTC delivered more than just a phablet to take on Samsung, and it has its own unique features to compare against. It doesn't house a built-in stylus like the Note lineup, but it has tons of other features going for it. Below you'll see plenty of key differences that makes the Note 3 or the One Max stand out against the other, which should hopefully help you decide which one is right for your hands.
The HTC One Max is by far the biggest smartphone ever released by HTC, and the Galaxy Note 3 is the same for Samsung. Well, that's if you don't count the budget-aimed Galaxy MEGA coming in at 6.3-inches. That aside, both of these phones are their manufacturers respective flagship devices, so lets take a look.
Screen Size
The screen is extremely important, considering you'll be staring into the device for hours and hours. Samsung offers a 5.7-inch full 1080p HD AMOLED display, while the One Max will get you a 5.9-inch SLCD 3 display, which is also a full 1080p HD resolution. So while images might be more crisp on the Galaxy Note 3, it's barely noticeable to the human eye. Both smartphones have some of the best screen technology in the industry, although HTC's historically worked better outdoors, while Samsung has better color reproduction.
Being able to walk into a carrier store and try both would be ideal, but at the moment Samsung has the advantage here as we're still waiting for all carriers to announce the HTC One Max, which is another key difference we'll talk about below. In our time with the Galaxy Note 3 we praised the screen, and will update once we get our hands on the HTC One Max.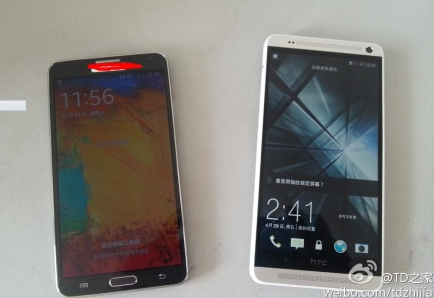 TouchWiz vs Sense UI
You'll luckily be enjoying the absolute latest Android 4.3 Jelly Bean software on both smartphones, but unlike Nexus devices they've been covered by a custom skin. If you've owned an HTC or Samsung product in the recent past, this won't be anything new, but for newcomers it's worth pointing out. Samsung has Touchwiz, while HTC offers a flat black and white looking Sense user interface.
Both have their pros and cons, but this is one area that is all about personal preference. So while it's a key difference, this is a choice that is up to you, the user. HTC Sense UI was terrible in the past, but with the One and One Max it's getting much better. They still don't fully handle the on-screen menu button on Android very well, and you'll have wasted screen space on bottom for a menu button, considering HTC only has a dedicated home and back button on the device. Samsung however, has a dedicated menu button, and this won't be an issue.
TouchWiz is a user experience full of S-Apps, functions and features, while Sense UI mainly just changes the way the phone looks and feels. Samsung has air gestures where using a finger or stylus you'll get previews of a gallery, apps, calendar entries and more before you even click or tap. TouchWiz also adds Eye Scroll and Eye Pause features. Letting users scroll down a web page with their eyes, or pause video, instead of touching the screen. These are just a few examples of the many different additions HTC doesn't offer. Many are gimmicks to end users, but some might find these useful.
 Blinkfeed vs My Magazine
Having a huge 5.7 and 5.9-inch display on both of these phones, getting content front and center is extremely important. In this aspect, HTC wins, if you ask me, and here's why. HTC has Sense UI, which delivers tons of visual features, enhances menus on the smartphone, and introduced a news aggregator called Blinkfeed. This will share news, Facebook updates, Instagram photos, weather alerts, sports scores and more all on a dedicated homescreen, which is excellent considering you have 5.9-inches on the One Max to use. Blinkfeed is one of the most important features for content consumption, and really makes it stand out vs Samsung.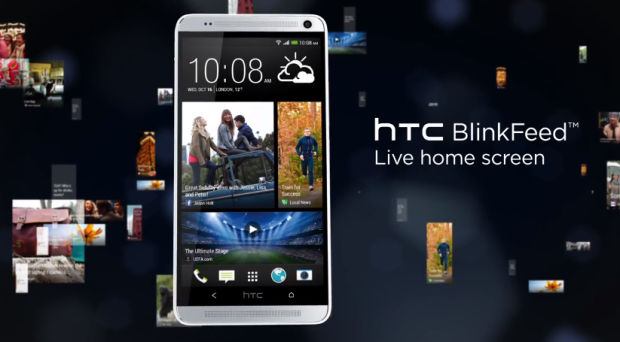 However, Samsung has something similar called My Magazine for the Note 3. Which is essentially a blend of Blinkfeed that has a similar look and feel to a popular news app called Flipboard. Samsung's trying to do the same thing here with My Magazine, which can be customized to your liking, but HTC just has more options and better customization.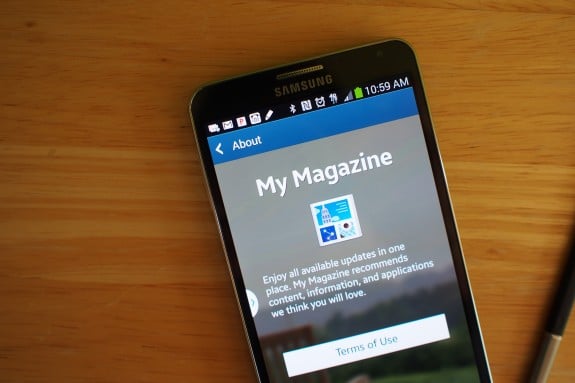 Samsung's My Magazine doesn't have the social integration, or the smooth endless scrolling for content that HTC offers. Instead an array of swipes and flips of the magazine pages will bring you more content, which again isn't as thorough as HTC's option. Both are nice, but Blinkfeed is a polished and premium feature.
Fingerprint Sensor
One major key difference between both of these phablets is on the back. Rumors and reports suggested Samsung wanted to release the Note 3 with a fingerprint reader to take on the iPhone 5S, but quality control had them cancel the entire feature. HTC however managed to continue their efforts and have delivered on that front. The HTC One Max has a fingerprint sensor on the back for added security and locking your smartphone. As well as options to have your fingerprint quick launch 3 favorite apps, which are customizable. It's little things like this that will make the user experience better, and this is something Samsung's Note 3 will sorely miss.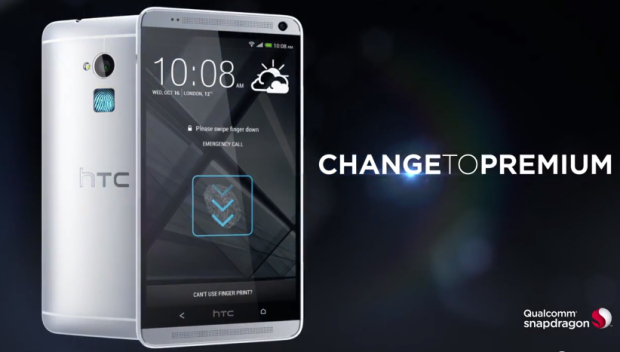 S-Pen Stylus and S-Apps
While HTC has the fingerprint sensor, Samsung has its S-Pen stylus that's built into the device. HTC will offer a capacitive stylus, but it won't work the same way as Samsung's does. One key selling point for Samsung is the many uses and features dedicated to the S-Pen stylus. From drawing on the screen, cropping people from images all with the stylus, taking notes and much more, the S-Pen does plenty of things HTC simply can't match. You might be able to quick launch apps with your fingerprint, but with Samsung you can quick launch plenty by pulling out that stylus.  Here's a video of a few must-see S-Pen features.
The Airview features and previews alone are enough to make any smartphone owner want the Galaxy Note 3, and this is one area where HTC simply can't compete with the Galaxy Note 3. Oh, and we can't forget all those apps will work and sync with the Samsung Galaxy Gear smartwatch. And we doubt HTC will be releasing a smartwatch anytime soon as it is focusing primarily on phones to hopefully make a profit next year.
13 vs 4 MP Camera
With the HTC One the company announced a new direction with the camera. Instead of fighting the megapixel race they opted for setup with 4 "Ultrapixels" instead. Which is essentially a much bigger sensor allowing for more light in photos. Which should help with overall photo quality, not to mention low light performance. HTC's received a lot of praise for the quality of photography it produces, but the One Max loses the image stabilization features the One enjoys.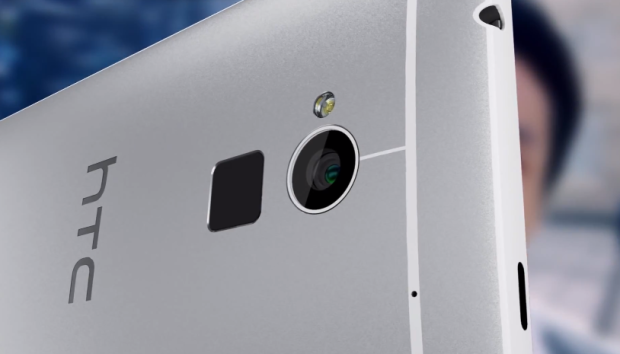 Samsung on the other hand, has continued to deliver some of the best camera experiences on Android. The Galaxy Note 3 comes with a 13 megapixel camera. In the end though, 13 megapixels only makes images bigger, not necessarily better. So for those simply uploading some images to Instagram or Facebook, 4 Ultrapixels are more than enough. If this is super important Samsung might be your best bet, but both have their pros and cons.
Both however offer full 1080p video capture, panorama and HDR modes, and much more. So the race here is pretty much a tie, unless you want extra megapixels of course.
Aluminum vs Plastic
A huge debate has been going on with smartphone buyers for years over Samsung's use of cheap plastic on its smartphones. They are still durable with a ring of metal surrounding the chassis and screen, not to mention lightweight, but many users complain of the device feeling cheap. Our Note 3 Review left us enjoying the Note 3, and that it is a premium feeling device, but it's still no match for the unibody aluminum shell of HTC.
Wrapped in aluminum the HTC One Max will look premium, feel premium, and give you that heft and assuring feel in the hand. It also means it's a lot heavier. If you're using the device with one hand it could almost be tiresome, but likely most will be holding these phones with both hands safely attached. After owning the Galaxy S4 I have zero complaints about the plastic from Samsung, and love the lightweight yet still durable feel to its devices. This takes us to our next topic, because that unibody aluminum shell means we can't access the battery on the HTC One Max.
Removable Battery and Storage
Both smartphones come with a large battery for all-day usage, as well as the option to add a micro-SD card for additional storage. You'll want to fill up a 64GB card full of movies, Breaking Bad episodes and more before a trip, so this feature is extremely useful. However, Samsung will also allow users to swap and replace the battery in their smartphone should they choose, while HTC does not. Those hardcore and heavy users will opt for Samsung simply because they can buy a spare battery and swap it out should the situation present itself on a busy day. HTC won't allow that luxury to its owners.
Boomsound Front Facing Speakers
When your smartphone has a large 5.9-inch screen, it's likely that you'll be watching the occasional video with Google Play Movies, Netflix, Hulu+ and more, and a big part of that is enjoying quality sound. HTC is the first Android manufacturer to put the speakers on the front of the phone, instead of the bottom or back. Why have sound facing the wrong way that gets muffled once set on a table, or aiming away from the viewer? This has always been a complaint of mine for as long as I can remember, and HTC solved it.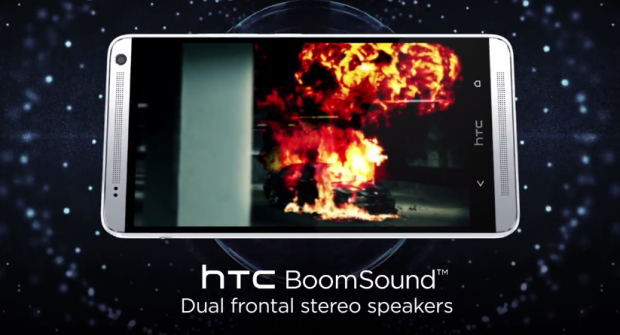 It's called Boomsound, which are their extremely impressive front facing stereo speakers. Ones that promise smartphone audio fidelity like never before. Using the HTC One, I can confirm it indeed is the best sound quality and experience from any smartphone available today, and we're expecting the One Max to offer something extremely similar, if not the exact same experience. Samsung took this approach on the Galaxy Tab series, but didn't transfer the genius idea over to smartphones. We're not sure why.
Carriers and Availability
The Samsung Galaxy Note 3 is available on almost all carriers, or at least will be shortly. They've done an excellent job releasing smartphones across nearly all regions at a fast pace, available to everyone. We have AT&T, T-Mobile, Sprint, Verizon and more all offering the Galaxy Note 3, while HTC's new device is just getting on the radar.
We've heard from Sprint and Verizon regarding a One Max coming soon, but there's absolutely zero launch dates available at the moment. It could be later this month, or it could be end of November. Especially on Verizon who takes its sweet time to launch devices. Its Galaxy S4 was a month later than all other carriers, so the same could apply here.
Adding fuel to the fire we've heard a few reports of HTC One mini supply issues, and the same could potentially plague the One Max if they don't have enough aluminum to go around. Not to mention the fingerprint scanner might cause additional delays if the supply doesn't meet quality control, which is why Samsung scrapped that feature on its phone. While we've heard no such reports of HTC having issues, we'll have to wait and see how the company holds up as this impressive phone reaches US carrier shelves.
 Which Should You Buy?
A $299 smartphone purchase (on contract) isn't something many take lightly, and the choice between these two phones is a tough one. While many have already enjoyed a Samsung Galaxy Note in the past and will automatically jump for the Note 3, the HTC One Max may be worth taking a quick look at. It offers a similar experience in terms of size, and has plenty of awesome features outlined above. As we've said in the past with any device of this size though, trying it out in a store nearest you is always a good idea. Not everyone has hands the size of LeBron James, and holding something of this magnitude isn't for everyone.
Read: Samsung Galaxy Note 3 Review
The Samsung Galaxy Note 3 is available as we speak at retailers nationwide, and at the moment there's no definitive date as to when the HTC One Max will actually arrive. For those who need something now the Galaxy Note 3 is Samsung's most powerful phone and the clear choice for many, but it also might be worth the wait to see just how well the HTC One Max holds up in our review.

As an Amazon Associate I earn from qualifying purchases.