HTC One Mini 2 Leaks with Duo Camera Missing
Before the all-new HTC One M8 became official back in March, rumors were swirling about the smartphone arriving with a smaller option at the same time, dubbed the HTC One M8 Mini.
However, March 25th came and the HTC One M8 was announced and released the same day, with no word on a smaller variant for those on a budget. While most of the attention lately has been on the Galaxy S5 and LG G3, more and more reports are starting to surface that an HTC One Mini 2 is in the works and coming soon.
Read: HTC One M8 Mini Leaks: What We Know So Far
Last week some live images of what's now being called the HTC One Mini 2 leaked online, giving potential customers a hint at what to expect, but this weekend we received our best look yet. The HTC One Mini 2 appears official, coming in multiple colors, and below is the newest reveal courtesy of evleaks.
Following the success of last year with the HTC One and One Mini, this year HTC is poised to offer something extremely similar. Shown above is what we're hearing will launch this summer as the HTC One Mini 2, no M8 branding on board, and will come with pretty competitive specs for the price.
Essentially offering a mini version of the popular HTC One M8 that launched earlier this year, the new Mini 2 comes with the same design cues, styling, and brushed all aluminum design. One major feature that is missing however, confirmed by various leaks and the photo above, is the signature "Duo Camera" of the HTC One M8.
However, aside from a different camera situation the HTC One Mini 2 appears to have many other features carried over, and that includes the dual stereo front facing speakers that made the original famous. Lately rumors are suggesting the new Mini handset will be aimed for the budget crowd, but consumers will have to wait for more details arrive.
Read: HTC One M8 Review
The image above shows users can expect the same colors as the original. Those being gunmetal gray, silver and of course champagne gold. Sadly there's no new details or reports regarding what the hardware will be like, or how it will stack up against other devices currently available.
Based on previous leaks we're hearing the HTC One Mini 2 will come with a 4.5-inch 720p HD display, and be powered by a Snapdragon 400 quad-core processor with 1GB of RAM. Users can expect 16GB of internal storage and a micro-SD slot for storage expansion, Android 4.4.2 KitKat and the new Sense UI 6 for software. The leakster goes on to mention we won't have a 4 UltraPixel camera, or the Duo Camera from the new HTC One M8, and instead HTC opted for a quality 13 megapixel camera, and a 5 MP shooter for the front.
For consumers looking for a smartphone that isn't as big as the Galaxy S5 or the long HTC One M8, the new HTC One Mini 2 could be the perfect solution. In the past few years HTC, Samsung, LG, and others have released "Mini" smartphones with low-end specs, budget prices, and of low build quality that have done relatively poor on the market.
However, based on the leaked image and specs above, the HTC One Mini 2 is aiming for a different crowd. Offering top-tier specs and a great design all in a slim and smaller 4.5-inch package, similar to the iPhone.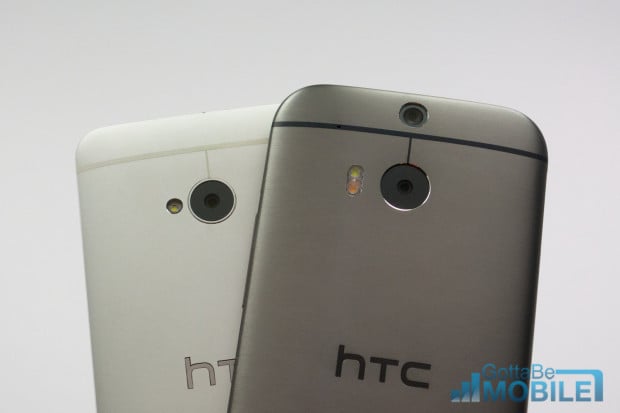 Last year the HTC One Mini arrived months and months later than the original, on AT&T here in the United States. While a release date has yet to be rumored for the new Mini 2, so far various reports have suggested it will arrive on Verizon Wireless, possibly as an exclusive, and eventually other US carriers later this summer.
Again, we're hearing a summer release for the HTC One Mini 2 detailed above, but that's yet to be remotely confirmed. With the LG G3, iPhone 6, and a new Moto X+1 coming soon, we should be hearing more details soon from HTC regarding its latest smartphone offering.
The last major key piece of information will be the price, considering this isn't as powerful as some flagship devices readily available today. Currently the top-end HTC One M8 is $649 or more outright, and $199 on a new 2-year contract, so the HTC One Mini 2 should be aiming for something much more manageable and budget-friendly. We'll update once we learn additional details.

As an Amazon Associate I earn from qualifying purchases.