HTC One Mini 2 Revealed: Here's What You Need to Know
The flagship HTC One M8 was announced and released back in late March, and since then details and leaks have started to surface that a smaller version was in the works. If the large and long 5-inch HTC One M8 isn't a good fit, the newly announced HTC One Mini 2 may be.
Back in January leaks suggested a new HTC Mini smartphone was coming soon, and over the course of the past two months most of the details have been confirmed. Last night though, HTC in London confirmed the awkwardly named but impressive looking HTC One Mini 2.
Read: HTC One Mini 2 Leaks: What We Know So Far
Confirming nearly everything we've been hearing for months and months, the new HTC One M8 has a smaller sibling that carriers over the same design, colors, aluminum unibody frame, and stunning front facing speakers all to a smaller, more affordable handset. Read on for everything you need to know about the new Mini 2, and if it's coming to the United States.
Building on the success of the original HTC One in 2013, the company eventually released a somewhat popular HTC One Mini later in the year. While it wasn't as successful as many hoped, a new approach to the Mini 2 in 2014 will likely have a few consumers interested.
In March the HTC One M8 was announced and released, and many expected the Mini to arrive at the same time, which obviously never happened. Now nearly 2 months later the HTC One Mini 2 is finally official, confirmed today by HTC themselves.
Design
The HTC One Mini 2 design is extremely similar to the flagship One M8 released earlier this year. Essentially blending the single camera setup from the original, and the design hues from the new M8, the One Mini 2 offers a very similar look and feel. Coming in a 4.5-inch package consumers can choose from any of the same original colors as the HTC One M8, and the phone features the same rounded curved and comfortable back, and all aluminum design.
HTC kept the front facing speakers in tact, the same overall design from top to bottom, but cut out one important aspect, which is the Duo Camera. There's only a single camera on the back, rather than two, and it's otherwise identical to the larger variant.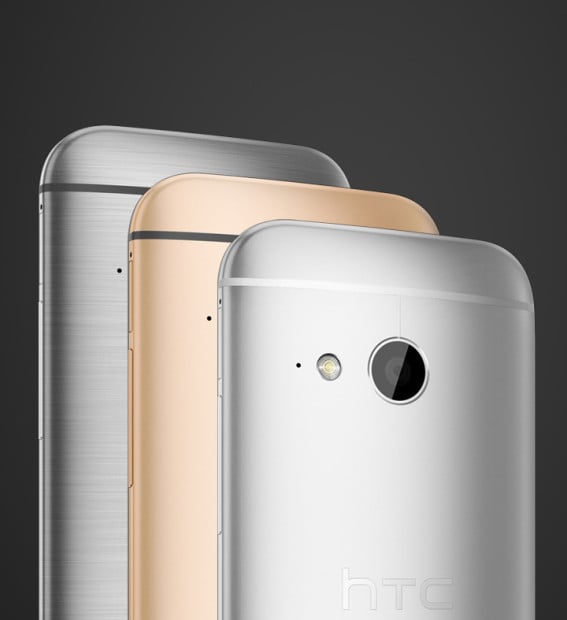 Specs
When it comes to specs high end processors and tons of RAM aren't always needed, especially for average consumers looking for a mid-range device. Most "Mini" smartphones are low end devices that don't compare to the bigger variants, but the One Mini 2 is a nice middle ground. Offering nearly top end specs, with a few cutbacks for price, but keeping the device competitive.
HTC One Mini 2 Specs
4.5-inch 720p HD display
1.2 GHz Quad-core Snapdragon 400 processor with 1GB of RAM
8GB of internal storage, and a micro-SD slot for expansion
13 Megapixel Rear and impressive 5 megapixel front camera
Android 4.4.2 KitKat and HTC Sense 6
2,100 Mah Battery
Brushed Aluminum Design
Front Facing Speakers
Most of the specs and important features from the original have been carried over, even if they aren't as high end. Users won't have the Duo camera but may enjoy the bigger 13 megapixel camera instead. The only other real compromise is the processor, which again shouldn't be an issue for nearly all consumers. The HTC One Mini 2 will still be a fast and fluid device for years to come.
US Release
Sadly the HTC One Mini 2 was announced in London as coming soon, but we have no solid details regarding a release in the United States. While we've heard a few leaks and rumors, nothing has been set in stone. Last year the Mini was an exclusive on AT&T, so it's likely we'll see it arrive for them in the coming weeks or months.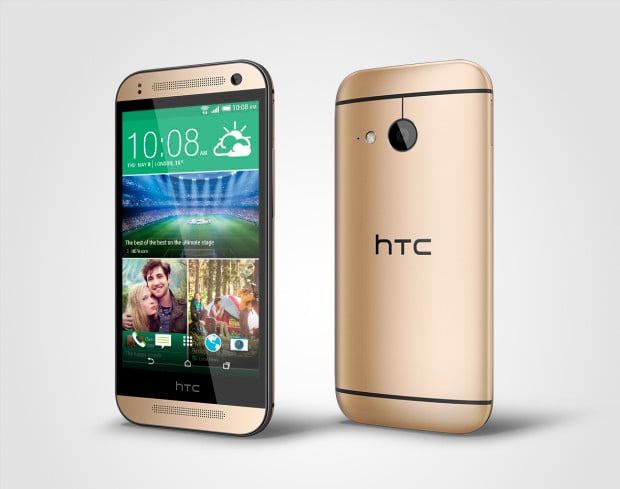 However, this morning the always accurate @evleaks confirmed the HTC One Mini 2 will be headed to Verizon Wireless, and will simply be called the HTC One Remix. Rumors are just that, rumors, but given his previous history and accuracy it's safe to assume the HTC One Mini 2 (aka Remix for Verizon) will be coming this summer.
Read: HTC One M8 Google Play Edition Hands-on
Until other US carriers make a formal announcement, we'll have to wait for more reports, leaks, and rumors to know more regarding a release stateside. That said, the phone is expected to arrive in June in Europe.
Price
The device will come in the same Silver, Grey, and Gold color variants as its bigger brother, all wrapped in a beautiful aluminum unibody frame, but so far we have no details regarding the actual price. Early reports and rumors had the Mini 2 coming in as an extremely budget friendly smartphone, but given the impressive overall package we're expecting something bit more pricey.
The HTC One Mini 2 will likely retail around $399 or $449, and should come to US carriers around the $99 mark with a new 2-year contract. Again, this is only speculation, and once HTC or carriers announce more details we'll be sure to update.