HTC One, One Max & One Mini HTC Sense 6 Updates Confirmed
Back in March the all-new HTC One M8 smartphone was announced to take on the Galaxy S5 and iPhone 6, and along with it came a newly redesigned HTC Sense 6 user interface running over Android 4.4.2 KitKat.
During the unveil live on stage HTC confirmed older smartphones in the One lineup would be updated to not only Android 4.4.2 KitKat, but the new Sense 6 software changes. We've seen KitKat arrive for all variants of the HTC One, and earlier this month for the HTC One Max, and today HTC revealed more good news for owners.
Read: HTC One M8 vs LG G3: What We Know So Far
Those enjoying the popular and still extremely impressive original HTC One (M7) smartphone from last year, good news arrived today right from HTC. It appears that the new Sense UI 6 experience is on track, in the integration phase, and should be arriving sometime in the coming months to all US carriers.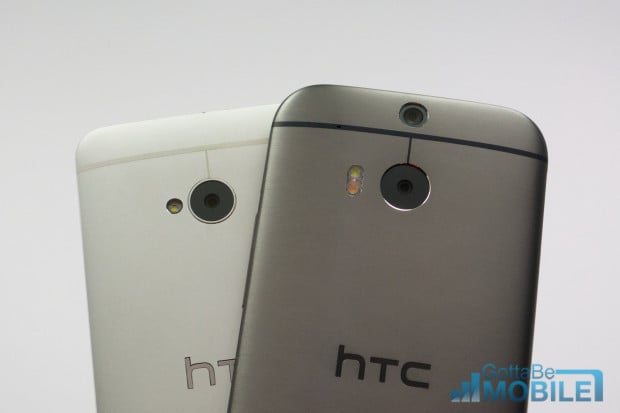 The HTC One from 2013 arrived with tons of awesome software features never before offered from HTC, or any smartphone manufacturer. HTC Blinkfeed was a news and social aggregation tool for delivering information neatly to the homescreen, Boomsound enhanced the on-board speakers, and HTC Zoe delivered video and picture highlights like never before.
For those enjoying the HTC One or new One M8, these features are some of the most popular. However, the new HTC Sense 6 unleashed back in March brought plenty of changes, and owners will want the latest and greatest.
Today HTC confirmed that all versions of the HTC One will get the new Sense UI 6 software update. That means the HTC One from carriers and unlocked models, the HTC One Max, and the smaller HTC One Mini on AT&T and around the globe.
Shown above is an image and timeline released today by HTC. Here we see the original HTC One from 2013 is currently prepped and ready to receive the new HTC Sense 6 across the United States. The only carrier that for whatever reason is behind schedule is T-Mobile, but we're expecting that status to also change to "integration" in the coming days or weeks.
What to Expect
For now there's still no exact release date, not to mention there's a certification stage next, which will then be followed by this latest software stack arriving on smartphones from all major US carriers. Usually the certification stage takes 4-6 weeks on average, which means owners of the HTC One, One Max, and One Mini can expect updates to start arriving sometime in late May, or June at the earliest.
Read: HTC One M8 Review
Owners of the original three devices from 2013 looking for more details on the new HTC Sense and everything it has to offer check out the review above, or hands-on video linked to below.
Above you'll see a quick hands-on and software tour of everything that's new from HTC Sense 6. While not all of those will be available on older models (camera features) most of the interface changes will all arrive to aging devices sometime this summer. HTC Sense 6 has a refined look and feel, more polished around the edges, and a brand new multi-tasking system.
HTC Sense 6 improves many of the annoying little user interface issues from the previous model, not to mention gives users a sleek new lockscreen. Users can expect slimmer fonts, new color themes, simpler looking icons, and possibly many of the motion launch gestures that are so popular with the HTC One M8.
While we can't confirm what all will make it into some of these older and aging devices, this is certainly good news for HTC One, HTC One Max, and HTC One Mini owners, as we now know the update is on the way and should be here relatively soon for all users.
Release Date?
Confirming a few comments made above, the HTC One (M7) flagship from last year should be seeing the new HTC Sense 6 user interface update over the course of the next 4-6 weeks, which is how long carriers usually take to certify and approve a software update.
HTC's own Jason Mackenzie took to Twitter last week and announced all current HTC One owners should have HTC Sense 6 before the end of May. Taking into consideration the comments made by HTC last week, and the new blog post this weekend, and things are right on schedule for a late May release date.
However, the HTC One is the primary focus, meaning it will likely receive the update first. If the HTC Sense 6 software update is anything like the Android 4.4 KitKat rollout it will arrive first for the original HTC One, followed by the One Max and Mini at a later date. Those users could see it arrive in May as well, but most likely it won't arrive until June.
We'll be on the lookout for more details from HTC, and will update the moment this new software begins arriving for users.

As an Amazon Associate I earn from qualifying purchases.