HTC One: The MacBook of Smartphones
Love the look and feel of your MacBook? Then you might want to make the HTC One your next smartphone. Slap an Apple logo onto the back of the HTC One and it would fit in perfectly at Apple Retail stores. In fact, the HTC One looks more like Apple's MacBooks and iPads than the iPhone 5. It's easy to imagine HTC designers used the MacBook as inspiration for the company's new flagship phone.
The HTC One is an Android phone that a lot of people haven't heard about since the company behind it doesn't have Apple's or Samsung's marketing budget. It is one of our favorite Android devices of all time and earned an Editors' Choice Award in a recent review.
Read: 5 Reasons the HTC One is Better Than the iPhone 5
While most PC companies produced plastic laptops, Apple's stressed its metallic designs for more than a decade. Those who wanted high-quality metal laptops typically had to buy business or luxury computers that retailers didn't bother to stock. Over the past year or so, Apple's competitors have launched Ultrabooks, many of which look and feel a lot like the MacBook Air. It's pretty clear that consumers generally prefer products that look and feel great. Thankfully, HTC's paid attention and broken the trend of selling plastic Android phones.
Read: HTC One Review
Like most of Apple's products, the HTC One is constructed of aluminum. This is a very big deal since almost all Android phones are plastic and simply don't come close to matching the iPhone's build quality. They often feel downright cheap.
https://www.youtube.com/watch?v=QiZMhmIWBRU
But simply swapping out plastic components for metal ones isn't the answer for combatting cheaply constructed Android phones. In the above video, HTC details how it painstakingly designed and built the HTC One using something it calls Zero Gap construction. It even went so far as to show specialized tools machining the HTC One's aluminum back.
If that looks and sounds familiar, that may be because Apple produced a similar video stressing the importance of tight tolerances, aluminum and the manufacturing process when it introduced its redesigned MacBooks.
While aluminum looks and feels great compared to cheap plastic there are some downsides. Like Apple's MacBooks, the HTC One is heavier than plastic counterparts and is denser than some might expect. All that fancy machining and designing is also expensive, which means HTC One buyers won't save any money compared to buying an iPhone 5. Many plastic Android phones are sold at deep discounts or given away as freebies by carriers to get people to sign up for two-year contracts.
One of our favorite HTC One features is that it has dual front-facing speakers. The speaker grill is made up of rows of tiny drilled holes. Anyone that's used a 15″ MacBook Pro will find the speaker design very familiar. Apple's larger MacBooks have speakers that sit next to keyboards that look very similar.
Of course the HTC One runs Android rather than Apple's iOS as you can see in the above photo, but the phone's black bezel sure does blend in nicely with the MacBook's keyboard and black bezel. The two devices look like a perfect match with the display turned off.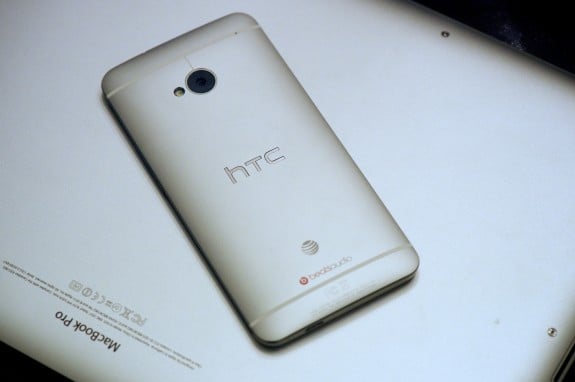 The back of the HTC One is nearly a perfect match to the MacBook Pro with Retina Display. Notice the curved, tapered edges and regulatory fine print at the bottom of each device. The HTC One isn't quite as clean as the MacBook or iPhone though since the company went ahead and placed both AT&T and Beats Audio logos on its otherwise pristine device.
Regardless if you sit in the Android or iOS camp, there's no arguing that the HTC One lives up to a high design standard. Its fit and finish is noteworthy and will make some iPhone users jealous.