HTC One Two (M8) Specs Confirmed as Rumors Swirl
The flagship HTC One smartphone has been wildly successful and HTC is already working on a successor for early next year. With multiple reports and rumors calling the new device the HTC One Two, a smartphone codenamed the HTC M8 has been making the rounds.
We've talked about this potential device before, and even seen leaks claiming it will feature a fingerprint sensor on the back above the camera, and today we're getting a confirmation regarding some of the hardware specs. Like most devices before release, leaks such as benchmark results during developer testing arise, and that's exactly what we have here showing the popular quad-core Snapdragon 800 processor on board, and more.
Some rumors and leaks surfaced earlier this month claiming what the specs would be for HTC's upcoming device, and those same reports are being confirmed today. The popular benchmark application for testing smartphones called AnTuTu has spotted the HTC M8 being tested internally, and shared with us all the features we can expect. Of course these results can be faked, but everything is lining up nicely here.
Talks of a larger 5-inch 1920 x 1080p full HD display instead of the 4.7-inch screen available on the current model. An increase to a 2.3 GHz quad-core Snapdragon 800 processor with 2GB of RAM, which sounds great now, but will be aging technology by the end of Q1 2014. So while it's a great increase, Qualcomm will be preparing a new wave of quad-core processors by then, and the HTC One Two won't look as attractive.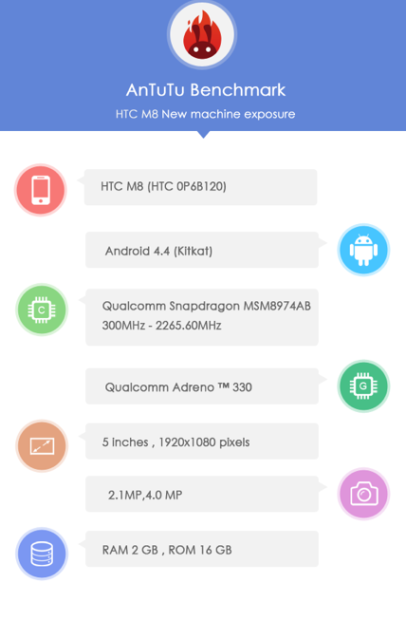 The leaked results also confirm Android 4.4 KitKat on board, which was expected, as well as the same 4 megapixel "Ultrapixel" camera, 16GB of internal storage, and upgraded graphics for enhanced gaming. Basically the same specs as the LG G2 or Galaxy Note 3 that have been available for a few months this year already, only in a new HTC smartphone next year. We're hoping a better CPU goes inside this device, but either way the new HTC M8 will be a device to get.
Leaks suggest the same front facing speakers and overall design and build quality, except we'll enjoy that bigger screen, hardware improvements, and of course the fingerprint scanner on back. We'll keep our eyes out for more details, as this device will surely leak a handful of times as the new year approaches and the Galaxy S5 makes its way to shelves.