All New HTC One for Verizon Confirmed by FCC and Leaked Photo
The leaks and details continue to pour in while consumers wait for the March 25th announcement of the all new HTC One smartphone. The successor to the flagship device last year which won tons of design awards.
We know nearly everything about the upcoming HTC M8 smartphone already, not to mention a massive 12 minute video leaked this weekend revealing the rest, but which carriers will offer it stateside, and when, is one of the few remaining questions. The all new HTC One will likely arrive on all major carriers like the model in 2013, and we've seen plenty of leaks suggesting exactly that. That said, we now have the Verizon FCC filing, as well as an official press render leak confirming Big Red will carry the new phone.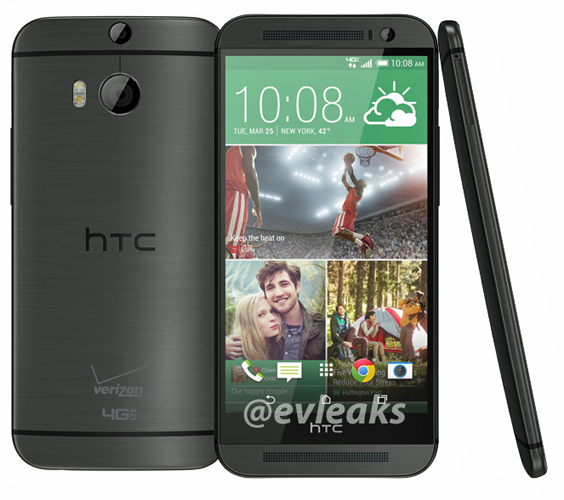 For starters, the popular @evleaks revealed an official press photo of the New HTC One with Verizon branding, all but confirming they'll be offering the device in the coming weeks or months. The same Twitter account has shown off an AT&T model as well, which will most likely be the first carrier to offer the handset. We've heard T-Mobile, Sprint, and US Cellular are also on board.
Verizon has plastered devices in the past with its logo, especially the Galaxy Note 2 home button, but the All New HTC One surprisingly only has a small Verizon 4G LTE logo on the bottom back, which is quite subtle and a nice change from previous models.
Read: All New HTC One (M8): Everything You Need to Know
The next major milestone and final hurdle needed before being released in the United States, is the smartphone needs to clear the FCC. This week a few FCC filings confirmed the four major US carriers, and below you'll clearly see the All New HTC One for Verizon Wireless has also cleared the FCC.
The original HTC One landed on all carriers last year around roughly the same few weeks period, expect Verizon. Customers on Verizon Wireless waited months and months before it officially arrived, and by that time there was plenty of competition and other devices on the horizon. If these filings show us anything, it's that the All New HTC One is set to arrive on all major US carriers, and HTC won't wait months before releasing this new phone on Verizon Wireless.
Again the 5-inch 1080p device rocks a quad-core processor with 2GB of RAM, a micro-SD card finally to extend internal storage, Android 4.4 KitKat, and dual cameras on the rear. The official announcement is scheduled for March 25th, and we're hearing a mid April release roadmap is in place.